Posted on Jan 09 2011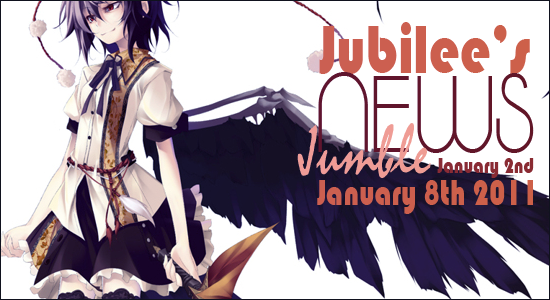 Hey all you fanatics out there! It is I, Jubilee, back once again, and welcoming all of you to the first News Jumble of 2011! After a bit of a break in December, I am ready to get the weekly train rolling again by recapping these last few news-packed weeks. From a double dosage of Pokey-news, to Sonic's big 2-0, everything you could want is right here…Just don't go chasing waterfalls.
———————————————————————————————–

Announced about a week ago on December 28, 2010, the North American release date for the newest Pokemon games, Pokemon Black & Pokemon White, has finally been confirmed! Nintendo revealed that the games would be available to American buyers on March 6, 2011 with an initial price tag of $34.99. Personally, I think I am getting White version…but that is just because of Doredia; however, I like Reshiram better as far as the legendaries go. Decisions, decisions!

With the second turn of the Pokey-news Double Hit, it was recently revealed that the dubbed version of the 13th Pokemon movie, Pokemon Zoroark: Master of Illusions, will be airing on Cartoon Network on February 5, 2011. The story follows Ash, Pikachu, and pals as they venture forth into Crown City, where at they encounter a new, never before seen Pokemon. However, when the legendary dogs, Entei, Raikou, and Suicune, show up in an unhappy manner, Ash and friends are forced into action to discover what force is upsetting the Pokemon. Currently, the 14th Pokemon movie, Pocket Monsters: Best Wishes! Victini to Kuroki Eiyu (Victini and the Dark Hero), is set to debut in Japan sometime later this summer.

Announced earlier this week, anime distributor Funimation, alongside Japanese studio Toei Animation, have reached an agreement that will allow Funimation to stream the entirety of the Dragon Ball Z anime series in North America beginning on January 15th, at 8:30 p.m. Eastern Time. Not only will each episode be uncut, but there will be both the English dubbed, and English subbed versions available. Funimation also revealed that they will stream all the other chapters of the series, including: Dragon Ball, Dragon Ball GT, and Dragon Ball Z Kai.

Famous singer Takanori Nishikawa, you know…T.M. Revolution, revealed on Tuesday that he had an inflammation of his vocal cords, and that he would be going on hiatus for a few weeks. According to the doctor's note, a polyp was discovered on the singer's left vocal cord, and the only prescription is…more cowbell. Well, that and a week of silence. Nishikawa reports that he thinks the problem stemmed from his overexertion over the past couple holiday weeks. Let's wish him a quick recovery.

Beginning on Monday, January 10th, Crunchyroll will start the simulcast of the new series Kore wa Zombie Desu ka. The series will be available in all its Cardcaptor Sakura with a chainsaw goodness in places such as: Scandinavia, both of the Americas, Africa, the Middle East, Malaysia, the Philippines, and Singapore. I know I am excited for this series!

Based on the American television series Supernatural, a new series by MADHOUSE, titled Supernatural the Animation, will be just that…Supernatural…but animated. If you have never seen the series, it follows two brothers as they hunt "otherworldly" creatures and phenomena all over America. Aside from this, Japanese actor/singer Gackt will be guest staring in the series as Andy, a character who receives special powers from a demon. Sounds pretty exciting, no?

The live-action film version of Hiroya Oku's manga Gantz is, as many of you already know, set for its premier on the 20th of this month. However, announced earlier this week by distributor New People, a special event will be hosted in Hollywood on the day of the premier. All of the film's cast will be in attendance, and audience members will be able to submit questions for the interview of the movie's stars. The seats are limited to 400, however, and the location is currently set for Mann's Chinese Theater. Do not despair if you cannot make it to this, as the movie will be available in over 300 other theaters throughout the country after the premier on the 20th.

So, a certain video containing chibi versions of characters from the series Naruto and Bleach has been teasing us, (or at least me), for several weeks. Well, we finally have a confirmation that online game operator NGames will be creating a game featuring characters "inspired" by the two immensely popular series. Along with the release of the games official name, which is Pockie Ninja by the way, the company also released a trailer…which you can watch here. The games description is listed as:
Pockie Ninja will focus on the unique life and journey of a ninja, entrusted with defeating the world's most evil and destructive warrior corporations. As the last hope of the world and the 'chosen one', the ninja needs to protect Angel City and restore the natural balance of order, utilizing extraordinary ninja skills along the way.
Personally, I think this game looks pretty awesome, and I can't wait to play it. Of course, I hope there are a few more characters than featured in the trailer (wtb Szayel & Mayuri!). I suppose we will have to wait for a bit more information though.

Neowing, the Japanese retailer/distributor, confirmed that they will begin shipping the new Blu-ray box set for Lucky Star on May 27th. The newest box set of the popular series will contain roughly 400 minutes of extras, Japanese and English soundtracks/subtitles, and two extra discs containing the 2009 live event "Lucky Star in Budokan: Anata no Tame Dakara." As far as pricing goes, this set is currently going for 39,900 yen, (or about $475).

So, as the Zelda fans know, the newest game in the series, The Legend of Zelda: Skyward Sword is anticipated for release on the Wii this year. However, Nintendo revealed in an interview that the game was actually only half done. This is leading to speculation that the game might not meet its targeted release in 2011. Although this isn't a confirmation, it isn't looking like we will see the game this year. We shall have to hope for the best!

Some new info about the Nintendo 3DS was released this past week at the Nintendo World event in Tokyo, Japan. Mainly focusing on the new device's battery life, it will take roughly three and a half hours for the machine to charge, and will run for about three to five hours while playing a 3DS game. (Note: that is with the backlight at the lowest brightness possible). Of course, playing an older DS game on the handheld will also result in a better battery life, being able to go for about five to eight hours. When you think about it, that battery life is pretty good for a device as advanced as the 3DS.

In In continuing Marvel vs Capcom 3 news, two new characters have been officially confirmed. Stepping into the fray for Capcom is this overly muscular man by the name of Mike Hagger, from Final Fight. And in Marvel's corner, the alter-ego of Jean Grey, and perhaps the most over powered of the mutants, Phoenix. With these announcements, the current total for the roster is up to 34, with a couple more character announcements to come before the game's release.

Announced by Namco Bandai Games Europe earlier this week, a brand new Sailor Moon game for the DS is set to come out in Italy later this spring. The new game, titled Sailor Moon – La Luna Splende, follows the five Sailor Princesses as they explore the different areas in the World of Dreams, (Jewel Palace, Flower Garden, and Mystery Castle). The game will also feature a customization element, with the player being able to redo Sailor Moon's outfit as they unlock more and more accessories throughout the game.

Seeing how the iconic hedgehog, Sonic, will be turning 20 this year, Sega has announced plans to mark the special occasion. Though no specific projects were revealed, many people are guessing that in addition to new games, there may also be a series of promotional events and a party.
———————————————————————————————–
Woo! 2011! I shall be back next week with a whole new knapsack of news. Make sure all you awesome fanatics are keeping tuned to the radio, as this month is jam-packed with tremendous interviews, just for YOU! Jubilee, however, is off to build the most amazing amusement park ever seen…in Roller Coaster Tycoon…and it is in the middle of a lake. Possible? Maybe not. Awesome? Absolutely.