Posted on Mar 27 2011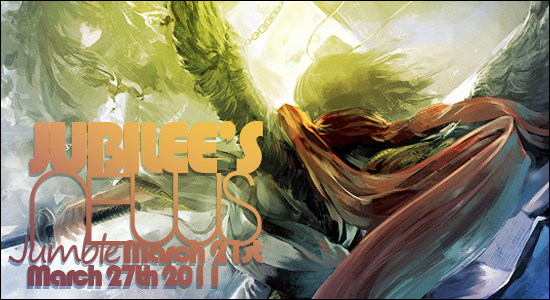 Hello Fanatics, and welcome back to the News Jumble! I am your host, Jubilee, and after a bit of a stray off the beaten path last week with my Co-op Pokemon review with DJ Christmas, we are returning to the norm. This week, however, we have news ranging from the usual Pokemon, to saving trees! I know you so excited… Cause I'm so excited. Let's start partying, partying, YEAH!
———————————————————————————————–

The Pokemon Global Link, the feature with which players can access one another's Black City/White Forst, as well as the Dream World, was officially announced a further delay. It was expected to be up about a month after the game's release, on March 30th, however, the delay is due to the recent earthquakes. We do not yet have an official set date for when it will be up, but I will make sure to let you all know.

Kodansha USA announced last Friday that they would begin publishing Naoko Takeuchi's Sailor Moon manga and its two part prequel, Codename: Sailor V, starting later this September. The series has been out of print for six years in North America, and Codename: Sailor V has never before had an official English release. The new edition will feature new cover art, extensive bonus material from Takeuchi, and touched up interior artwork.

It was officially confirmed earlier this week that the American television premier of the Iron Man anime is set for this summer. The show had its premier at Comic-Con in San Diego last year, and a full episode premier of the dub is set for April 2nd, with both Marvel and MADHOUSE presenting. Iron Man will be aired on the television channel G4, (Yay.), and is expected to run through the whole summer season.

Earlier this week, Crunchyroll's list of episodes it will be simulcasting during this Spring season was released. Although the titles do not yet have definite release plans or dates, it does give us a good idea what to expect.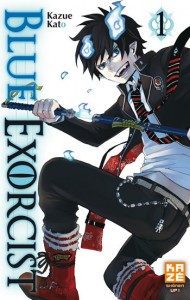 Blue Exorcist
A Bridge to the Stars
Deadman Wonderland
Hana-Saku Iroha
Lotte no Omocha
Nichijou
Sekai-ichi Hatsukoi
Sket Dance
Under the Innocent Sky
A Channel
AnoHana
Dog Days

This month's issue of Kadodawa Shoten's Monthly Shonen Ace unveiled the news that Production I.G. and CLAMP are collaborating on a new original Blood anime, titled Blood-C. CLAMP will be handling the character designs and the story, and Production I.G. will focus on the animation. It is currently expected to be released sometime this July. Many of you may know the Blood franchise, which started with the Blood: The Last Vampire film, and later went on to inspire the Blood + television series, (which you might have seen on Adult Swim not to terribly far back). Gotta say, Jubi is looking especially forward to this!

Earlier this week, Funimation filed a notice of dismissal for the lawsuit they made earlier this year against 1,337 people who allegedly downloaded and distributed an episode of One Piece. All lawsuits against the remaining defendants were voluntarily dismissed by Funimation, however, Funimation also stated that "as a matter of law" they reserve the right to re-file the claims against any and or all of the defendants . Lay down the LAW!

Being announced later this month, (and by that, I mean it has of course been announced early), in Shogakukan's Weekly Shonen Sunday will be more details on Hiromu Arakawa's newest manga series. This will be Arakawa's first new series after ending Fullmetal Alchemist last June. The new series will be titled Gin no Saji (Silver Spoon), and will premier in the magazine's 19th issue on April 6th later this year. The story will be set in the northernmost Japanese prefecture of Hokkaido, in a high school. The manga will be featured on the front cover of its premier issue, and will also contain a special clear file to commemorate the new series. It will also run weekly, which is a first for Arakawa.

The Oxford University Press announced this past Thursday that the word "hentai" will be added to the Oxford English Dictionary in its latest update this year. "Hentai" will be joining the wide resource of words, along with others such as LOL and OMG. (Which aren't really words, so I don't know why they are considered as them).
Hentai: [hen'tie] noun. A subgenre of the Japanese genres of manga and anime, characterized by overtly sexualized characters and sexually explicit images and plots.
Origin: 1990s: Japanese, literally 'abnormal, perverted.'
For you avid readers of the Jumble, you might remember a similar story to this, when "hikikomori" was added to the dictionary in the updated version last year. Also, "otaku" was added back in 2004. It is interesting to see words that are of complete Japanese origin making it into an English dictionary. If it works, use it I guess.

It was announced earlier this week that Namori's Yuruyuri manga will be getting a television anime adaptation. This manga follows four schoolgirls who take over the former tea ceremony club room and turn it into their own amusement club. The new series will be directed by Masahiko Ohta, and the scripts will be supervised/written by Takashi Aoshima. No word on the exact release date has been announced, however, we can expect more information in the next issue of Ichijinsha's Comic Yuri Hime.

It was announced earlier this week by Japanese developer Miracle Kidz that a new title, Downtown Nekketsu Monogatari 2, is currently in the works. Translated, the title is River City Ransom 2. Remember that old side scroller beat 'em up on the NES? It is planned that the game will be hitting consoles, (presumably all of them), in Japan sometime later this Summer.

In our weekly Mortal Kombat news, a new trailer was released earlier this week. Want to guess who we get to see in it? Kratos! I have to say, some of his combos look just absolutely brutal, even for Mortal Kombat! Bringing swords things to a fist fight! Geez! Anyways, if you want to check out the trailer, you can do so here, but as always, viewer discretion is advised and such. The body limbs flying around…it gets things banned in Australia.

EA announced on Wednesday that they would be following in Ubisoft's eco-friendly footseteps by ceasing the printing of the paper instruction manuals that are bundled with all video games. According to them, this will be a 40% reduction of printed materials for the company. It is planned for instructions to be available via the pause/main menus and by download on places such as EA.com. Saving plants, it is a good thing people!
———————————————————————————————–
And so does it for another week! As always though, Jubi will return yet again in a week's time with a whole new bag of goodies! I hope you had fun partyin, partyin with me this week, and if you have and questions or comments, the section for those is just below! I have a question for you though Fanatics… Which seat can I take?