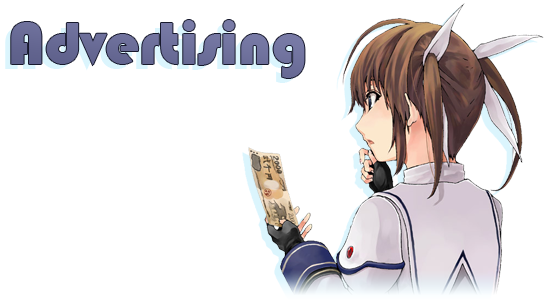 91.8 The Fan attracts a wide demographic focused on all aspects of geek culture. With over 50,000 listener hours a month on our station and 100,000 monthly readers we are confident we can reach the audience you're seeking. If you've ever been interested in touching base with the sort of community we cater to, then allow us to fit your advertising needs. Please be aware that we do not accept advertisement of any kind that includes content over PG-13.
Banner Advertisement
If you're looking for something with a bit more impact we have other banner options. We accept all banners that fit out current available size requirements whether they are animated, Flash, or static. You can view other possible options by examining our layout sheet here. We can work with you to make sure that your ad is running on a CPM, CPI, or CPC basis. This is to ensure that you're getting the proper bang for your buck!
Our graphic designers can also help in creating, modifying, or redesigning a banner just for your product. Even if you don't advertise directly with us, you can use our services to better create your marketing vision.
Audio Advertisement
Don't think a banner ad is enough? We can aide in creating a one of a kind audio advertisement just for your business and product. These audio advertisements will be voiced by our talented staff of DJs and edited by our sound engineers. This is perfect for reaching your audience in a whole new way! We will even test out possible ads on our own radio station for a total of two weeks free of charge with the combined purchase of a banner advertisement.
For more details including price, variety, and length of advertisement please message us by using the contact form below. The more detailed your initial post is the easier it is for us to establish what would work best for you and your company.