Posted on Apr 03 2011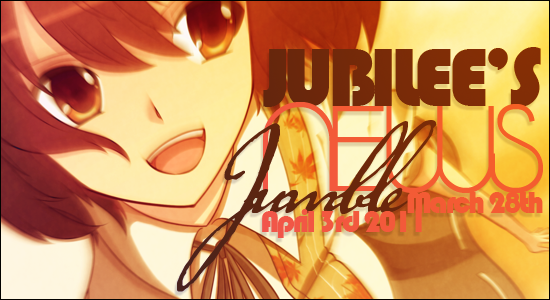 Fanatics, Fanatics, guess what?! I have news, and it is specially made for YOU! As always, I am your ever-so humble host, the Jubtastic Jubilee, and I am here to escort all of you on a journey through all of this week's most Jubnificent news stories! From an Eeveelution Extravaganza, to our usual Mortal Kombat news (Oh my goodness it is almost here!), some wild and crazy stuff is going down, so let's get to checking it out! *Pelvic Thrustage set to Maximum!*

———————————————————————————————–

The official Pokemon Black & White webpage updated earlier this week with a new mini-game that allows you to select one of the seven Eeveelutions when beaten. This will allow you to download the special Pokemon when you connect to the Global Link, which will be live for all of us later this Spring. Whichever Eeveelution you select will come equipped with its Dream World ability. Jubi got frustrated with this game, because it is similar to Breakout, and Jubi is just plain bad at that game. The Vaporeons and Flareons flying everywhere didn't help either. If you are up to the challenge, I shall link you here. You will have to register and such, but I suppose it is worth a try is you are an Eevee lover to have one as soon as the Global Link is available. Good Luck!

Just recently, TV Tokyo and Nihon Ad Systems filed a joint lawsuit against the American media distributor 4Kids Entertainment, accusing the company of "underpayments, wrongful deductions, and unmet obligations." 4Kids owes the companies a
total of $4,792,460.36. Needless to say, the two companies have also ended their deals with 4Kids.
In the agreement, the companies were permitted to audit 4Kids' Yu-Gi-Oh! business, during which they discovered the underpayments, as well as a "secret" agreement with Funimation. This agreement with Funimation allowed 4Kids to exploit the Yu-Gi-Oh! franchise via home video and hide their extra income from the Japanese companies. Therefore, 4Kids has been paying TV Tokyo and Nihon Ad Systems a smaller percentage than was actually owed. Funimation is listed nowhere as a defendant.

Sadly, this past Wednesday (March 30th), Sawako Noma, who had served as the president of publisher Kodansha for 24 years, passed away due to heart failure. She was 67, and her son, Yoshinobu, will be taking up her old position next month. Our hearts go out to her family, and we will always remember her for her great work.

It was unveiled this past week in Square Enix's Young Ganganmagazine that a live action television adaptation of the Arakawa Under the Bridge manga series has been confirmed for this Summer. Additionally, a film adaptation of the series has been confirmed for sometime in 2012. Both the new television series and the new film are part of the same effort, so we will likely see similar, (if not the exact same), casts.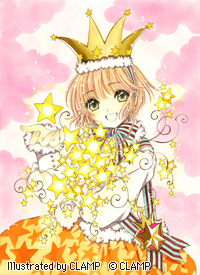 CLAMP recently offered an illustration to support an online fundraiser for the Great Eastern Japan Earthquake…and of course I must report on it, for it is Cardcaptor Sakura related! CLAMP created an illustration of Sakura for a collaborative video with Sakura Tange, the voice actress of Sakura Kinomoto. The video also features one of the anime's opening theme songs, "Platinum" by Maaya Sakamoto, which required special permission from the music label Flying Dog. Yay Sakura! *Happy Face!*

The video rental/streaming website Netflix announced earlier this week that they were adding several anime series from the North American distributor Viz Media. Some of the bigger titles include all 167 episodes of Inuyasha (No Final Act yet though), the complete series of Hikaru no Go, Bleach (ep. 1-109), Honey and Clover, Naruto, NANA (Seasons 1 & 2 of the last 3).

It was tweeted earlier this week by Tomomasa Takuma that he had talked to both a lawyer and Kadokawa Shoten about a lawsuit filed against a blogger who criticized Takuma and Goro Taniguchi's Code Geass: Shikkoku no Renya manga. Taniguchi directed and co-created the original Code Geass: Lelouch of the Rebellion television anime series, and is scripting the current spinoff's story. It takes place in the same Code Geass universe, but back in the Edo era of Japan when a young boy named Renya meets "Reifu C.C."
The lawsuit, however, is against the "Code Geass: Shikkoku no Renya no Toyo to Settei Machigai ni Tsukkomu Blog." This Blog wrote numerous complaints, the most serious of which was a criticism that the manga plagiarized Takashi Noguchi's 1992 historical manga, Yagyu Reppuken Renya. The current Code Geass manga is on hiatus, but Takuma assures us that it unrelated to the current hassle surrounding the Blog. No word is up on when it will resume.

The nominees for the 2012 Great Graphic Novels for Teens were released on Friday by the Young Adult Library Services Association, a part of the American Library Association. There were only three manga titles that made the list; however, all of them were published in Japan by Hakusensha, and in North America by TokyoPop. The three nominees were: Ririko Tsujita's The Secret Notes of Lady Kanoko, Yuki Fujimoto's The Stellar Six of Gingacho, and Masami Tsuda's Eensy-Weensy Monster. Congratulations, and best of luck to all of this year's nominees!

An article from Joystiq reported that Mega Man creator Keiji Inafune, who you may remember left Capcom not all that long ago, is planning to start two separate companies of his own. One will be named Comcept, and will focus on organized events, books, and mobile games. The other will be named Intercept, and will be in charge of the actual gaming products. It's nice to see Inafune really trying to make a difference once again in the gaming world, after leaving Capcom as a sort of "voice of reason." I know many people have high hopes for these companies right now, and I am sure they will not disappoint!

Mike Morhaime, one of the head honchos of Blizzard Entertainment, said in a interview with GameTrailers earlier this week that Blizzard is now in the works to release an MMO for consoles sometime in the future. Granted, this is the only sliver of information we got, but, boy, is it a doozy! Hopefully they are planning to release a bit more info at Blizzcon this Fall, (which I am guessing they will since they dropped this little snippit). There was no indication of relation to the World of Warcraft series, so we will just have to idly wait and see! *Taps fingers…* Oh hurry up already!

In the first half of our Mortal Kombat double take, the character select screen for the new game was leaked online earlier this week! If you look closely, you can pick out a couple characters who have not yet been announced. Aside from the obvious Quan Chi and Robot Sub Zero, I think I can see Shang Tsung, Kano, Nightwolf, Baraka, and … Sheeva?!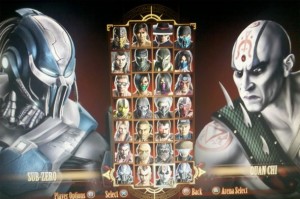 Sheeva is just a wild guess on my part, but the bottom row, second from the left looks like her, no? This kind of ruins the whole unveil characters with their gameplay trailers thing that they were going for, but, I am sure we will all still be interested in seeing them in action. It is neat to see who all else is appearing in here though. I was getting worried that Shang Tsung and Quan Chi hadn't made the cut. But moving on to Story 12…

Early on this week, it was also revealed that Kenshi, the blind swordsman with telekinetic powers, and Scarlet, a new character who is a Jade/Mileena/Kitana palette swap, will be available as downloadable content shortly after the game's release on April 21st. Scarlet, apparently, is based on a glitch from older games that would turn Jade/Mileena/Kitana into a reddish color, which makes sense seeing as how Kitana is blue and Mileena is Pink and Jade is just a copy of them both, but green. There is also speculation that the old boss character, Kintaro, from MK3 will be DLC in the same timeframe.
It is interesting to see Kenshi coming back, as it seems he is the only character introduced in the PS2/Xbox era of Mortal Kombat to really survive approval. Not to say he isn't interesting, but I was hoping we would see the return of Nitara the vampire in this game. (Hopefully she becomes available later?) In regards to both of the confirmed characters, they each resemble the character Ermac in a way. Kenshi in that he uses telekinetic powers like Ermac, and Scarlet in the fact that she was originally a glitch before becoming her own character, (Ermac was actually available to play in MK1. If one was to do something to the system, and play Reptile in the Pit stage, the new character's name would be changed to "Ermac," short for "Error Machine.")
———————————————————————————————–
And that is it for me this week! Never fear though, as I shall be back in full pelvic thrusting fashion next week, alongside even more news of the newsiest degree. You know what I find funny about that last sentence? Word did not put a red squiggly line under the word newsiest. Wow. Anyways, comments and questions are always appreciated for conversation in the section below, so leaving one would be of the highest caliber of awesomesauce. Jubilee casts Teleport!