Posted on May 01 2011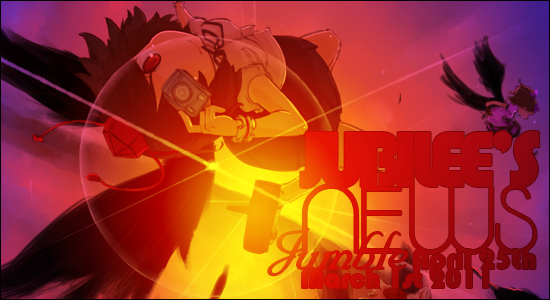 Yo Fanatics! Welcome to another edition of the News Jumble. I am your humble host, Jubilee, and this past week I went on an easter egg hunt. What did I find? News. No eggs…just news. I figured I would share, as I hoped one of you found some Cadbury eggs to share with me. Anyways, I was able to crack open everything from chart topping jutsu, to holy crap the rumors were true! You're intrigued now…I can smell it! *Sniffs*…no wait…that was just carrots.
———————————————————————————————–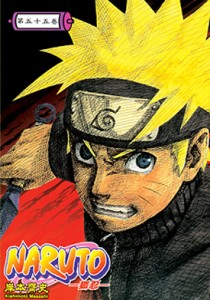 Earlier this week, the 55th and latest volume of the Naruto manga became the 11th volume from the series to rank #1 on the Oricon weekly charts. The volume, which went on sale on April 21st, sold 650,587 copies in its first week of sales. The manga has been running since 1999, and is currently up to the 51st volume in North America. BELIEVE IT!

Just in case any of you missed the news from earlier this week, Funimation is now simulcasting the Aria the Scarlet Ammo anime. Funimation announced the news of the simulcast right last weekend at Anime Boston, and simulcasted the first episode this past Tuesday at 10:00 a.m. CST (which will also be the air dates for episodes to come). The story focuses on a high school where armed detectives, or "Butei," are trained to use various weapons. Sounds interesting, no? Plus, it is free simulcasting! What is not to love?!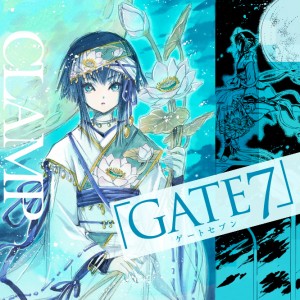 According to the official website of CLAMP, the Gate 7manga will be published in the United States in a compiled book form later this summer. The release will be concurrent with releases this year in South Korea, France, Taiwan, and Hong Kong. The story centers around a high school boy who visits a shrine and encounters three people with strange powers. Sounds interesting enough, and as always with CLAMP, the artwork looks fantastic!

Publisher Futabasha announced earlier this week that a screen adaptation of Naoyuki Ochiai's Crime and Punishment: A Falsified Romance manga is officially in the works. It has not yet been revealed if the screen adaptation will be live-action or animated, or when it will be released. The manga ran from 2007 until this past Thursday when Futabasha published the 10th and final volume.

It was revealed this past Friday that a new Lupin III television project has been officially green-lit to air on the NTV Network in Japan this fall. The last Lupin III work came out last year, Lupin III: The Last Job, so it has been roughly a year and a half since the last airing of the anime. It is not yet confirmed what this new series title will be, but we can expect it within the next few weeks, and you can expect for me to keep you updated!

Just yesterday, police in Japan arrested Tsuyoshi Kosuga, the man who is a part of the musical group cro-magnon (which composed the soundtrack for the Hyouge Mono anime), for cannabis (or marijuana) possession. According to the public report, the musician was in possession of a plastic bag with two pieces of the plant while he was in a convenience store in Kitakyushu City around 7:55 in the morning. He did admit to be planning to smoke it later that day, and claimed that he obtained the cannabis from an acquaintance at an event earlier that day.

Some exciting news for you Death Note fans, the movie and television streaming site Netflix announced just the other day that it will be adding the series to its Instant Watch streaming library. Although, the series is only available on Netflix in subbed form, as Viz holds the North American license to the anime. However, all 37 episodes of the series are available to stream. Sounds pretty sweet!

For our North American fanatics, you may be familiar with Redbox kiosks around your local grocery stores/Wal Marts/McDonalds. For everyone else, it is basically an automated machine in which people can rent DVDs/Blu-rays for $1 a night. However, the real news here is that the company has decided to expand its test range of video game rentals from these Redboxes to over 21,000 new locations starting this June. Although they specified to have PS3, 360, and Wii titles, the genres of the titles they said they will have is to range from "top releases to popular family and kids titles." Also, the video games will run for $2 a night instead of the $1 a night for DVDs and $1.50 a night for Blu-rays. (I think somebody is trying to bury Gamefly along with Blockbuster and Hollywood. Sadface…).

For all of you Portal 2 fans out there, Valve's VP of marketing, Doug Lombardi, said during an interview earlier this week that some expansions for the game are currently in development. He also stated that Valve will be announcing some DLC for it the game later this summer. In addition to that, he said that more details on what the DLC will be would be released in a couple weeks or so…so, I will be on the lookout for that!

Daishi Odashima, the director of the Soul Calibur franchise, tweeted this past Tuesday that Namco Bandai is planning to announce a new entry into the series within the next month, (most likely E3). This is going to be the first new Soul Calibur game since Soul Calibur: Broken Destiny was released back in 2009. Looks like it is about time to whip people in the face with my sword!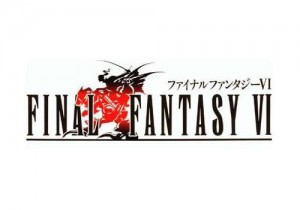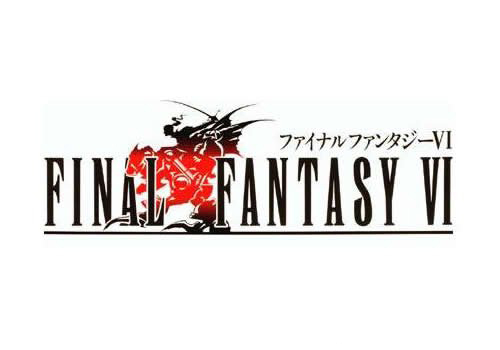 In some good Square Enix news, the company recently announced that the 1994 title, Final Fantasy VI, will be making its way onto Japan's PSN sometime later this month. Do not worry though, as thanks to the news of this port being leaked on the ESRB's website, we can safely assume it will be available to us as well in due time. However, we do not know our exact release date yet. Following the announcement of Final Fantasy V just a few weeks ago, it is nice to see the trend continuing. Bring it on you damn clown!

So, this past week, Nintendo of Japan confirmed the rumors from these past couple weeks…we are going to see a new console coming in 2012! Although the name and more intricate details of the console are still unknown, they will be unveiled in June at this year's E3. In addition to all of this, Nintendo also stated that a playable model of the new system will be available at the expo. Anyone else amazed they have a playable one already? …This news kind of came out of left field in the past couple weeks, if you know what I mean. Thoughts and concerns…I demand them!
———————————————————————————————–
I, Jubilee, would like to thank all of you readers out there for checking out yet another edition of the News Jumble! I will be returning once more in a week's time, but until then, I am off to pillage the catacombs beneath the 91.8 The Castle. Why do we have those? I dunno. What is in them? Probably zombies. I had better bring Cerulaine for protection, huh?