Posted on May 29 2011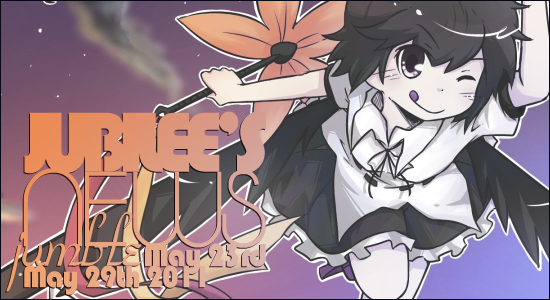 What up Fanatics?! It is I, Jubilee, and I am back yet again for yet another edition of the News Jumble, where I highlight all the stories from the anime, manga, and video game worlds that I found interesting from this past week! Summer is starting to get into full swing, and it is bringing that hot weather I don't like along with it. *shoos* Luckily, I was able to uncover news ranging from baseball, to MMO Squared, so that should help us all coo-OH MY GOD I HEAR THE ICE CREAM MAN, BRBLOLZ!
———————————————————————————————–

As part of a promotional campaign for the upcoming eighth movie in the Naruto franchise, Naruto Shippuden: Blood Prison, the movie's producers have teamed up with one of Japan's professional baseball teams, the Yomiuri Giants. Special "Naruto seats" will be offered for the Giants games versus the Yokohama BayStars in the Tokyo Dome between July 26th-28th. Not only will "Naruto seats" be in great locations, but seat holders will also receive exclusive Naruto figurine cell phone straps. Each strap will have the anime's title character in different poses depending on which game was attended. There will also be "Naruto x Giants" original game programs and posters handed out, and for those who purchase tickets to all three games, a "Super Rare! Konoha Special Box." Why can't American baseball be exciting like this?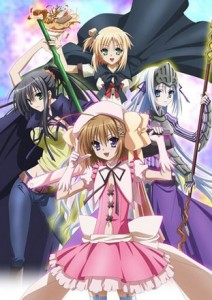 Funimation confirmed last weekend at Anime Central that they had indeed acquired the licenses to Fullmetal Alchemist: The Sacred Star of Milos and Is This A Zombie? (Kore wa Zombie Desu ka?). If you read last week's Jumble, I linked to the main site for the upcoming Fullmetal movie, and all of the trailers for it so far. That movie is currently set for a release in Japan on July 2nd. Kore wa Zombie Desu ka? was simulcast on Crunchyroll this past winter season, and I actually watched it myself…and I recommend it! Although a bit cheesy with some jokes, it isn't an overly serious anime, and is nice to just sit back and watch. Glad to see it is getting a dub. (Did you know the main character of the show is a zombie?).

Before anyone freaks out because I am doing a music news story, well, don't because it is about time I did one being on a radio station and all. For those of you who have been watching Ao no Exorcist (Blue Exorcist) this season like I have, you have probably heard "Take Off," the ending theme to the show done by an all-male Korean group, 2PM. The song sold 59,000 copies in Japan, resulting in it debuting at #4 on the Oricon single sales chart for May 16th-22nd. This also signals a new record holder for highest first week sales by a Korean group in Japan, the boys beating out Girls' Generation's song "Genie," which debuted with 45,000 copies in its first week.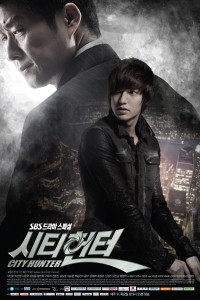 Korean television broadcaster, SBS, announced this past Wednesday that their live-action adaptation of Tsukasa Hojo's City Hunter detective action manga would be available for distribution in the United States, Vietnam, Hong Kong, and Thailand. In fact, it will be distributed to American audiences via Hulu.com! I love Hulu…oh so much…

The official site of the upcoming Blood-C television anime series confirmed this past week that the show will be premiering on July 7th on the Osaka MBS television station. It was also confirmed that a rock band known as Dustz, who also did a piece for Sengoku Basara, will be performing the opening theme song, and Nana Mizuki, who is also voicing the main character of the show, Saya, will be performing the ending song.

A Japanese website, Eiga.com, confirmed earlier this week that there will indeed be a live-action adaptation of Capcom's Ace Attorney franchise. The film will be directed by Takashi Miike, and will star Hiroki Narimiya as Phoenix Wright. The film will take place in an parallel universe in Japan, where a rise in harsh crimes has lead to a new court system which focuses more on speed rather than thorough investigations. It is also planned for the movie's filming to be finished by June, and for it to hit theaters in Japan in early spring 2012.

According to the online schedules for the Syfy channel, none of their regular anime series are scheduled after June 9th, even though two of their shows, Star Blazers: The Quest for Iscandar and Monster, are in the middle of their runs and won't be finished by that time. Syfy has aired an anime block since 2007, although the block has shifted dates and airtimes several times in the past few months. It will be surprising if this is the end of anime on Syfy, but at the same time, they seem so fickle with their shows, don't they? Seems the cancel everything after just a few seasons nowadays…Also, just because I can, why is Smackdown on Syfy? It still boggles me…

IN MORTAL KOMBAT NEWS…you thought I was done with it didn't you? Nope…found another one! Anyways, NetherRealm Studios released a video earlier this week, viewable here (NSFW and all that), that showcases some classic costumes for the characters that will be available for download soon! In a bundled package, one can receive classic costumes, (excuse my lack of spelling 'c' words with 'k'), for characters such as Scorpion, Sub Zero, Mileena, Jade, Kitana, Ermac, Reptile, along with Reptile, Sub Zero, and Scorpion's classic fatalities. TOASTY! The bundle will be released June 7th for both Xbox Live Arcade and the PSN for $4.99/400 MSP.

Hey guys! I have some Sony news that has nothing to do with the PSN! Exciting right? Anyways, earlier this week, Sony vice president and chief financial officer, Masaru Kato, revealed to a group of investors that the company is in fact working on its next console. As a direct statement, (or as direct as you can be with translations and such), "For the home console, the PS3 still has a product life, but this is a platform business, so for the future platform. When we will introduce the product I cannot discuss but development work is underway, so the costs are incurred there." Looks like Nintendo started an earlier than originally thought trend!

Just because I found it humorous, Duke Nukem Forever finally completed all development to go 'gold' this past week, meaning that the game must now only be mass produced and distributed before it is released. After beginning development all the way back in 1997, the game has traveled through several game development studios after various fallouts and problems. It is now expected for a Demo to be made available by the 3rd of June, and for the actual game to be released on June 10th-14th depending upon country. The game will be available for PC, PS3, and Xbox 360. I'm still not going to believe it till I see it on the shelf.

Regular readers will remember my report from a couple weeks ago about what the Mega Man creator, Keiji Inafune, has been up to since leaving Capcom. Well, aside from starting up his two companies which were talked about last time, he is also working on two, brand new games. One of the games will be a social media game, mainly targeted at a Japanese audience. The other is going to be a PS3 exclusive RPG that could be available in Japan as early as this August. He sounds like one busy dude…

At Square Enix's annual financial results meeting just a few days ago, it was revealed that the company is working on one more "major MMO" aside from Final Fantasy XIV. It was also expected by CEO Yoichi Wada that the company will announce the title and contents of this new MMO within the year. While we all know Final Fantasy XIV has had a rather rocky road so far, what are people's thoughts on this new announcement? I guess I will have hope for it for the time being…can't wait to hear more info down the line though.
———————————————————————————————–
So does it for another week! I hope you all enjoyed this edition of the Jumble…as I know I enjoyed this ice cream cone. I shall be back in a week's time with even more of the news you all crave, so until then, keep it cool fanatics. See what I did there? Cause it is hot outside and you should stay in the A/C, but it is also a term to mean 'awesome,' kind of like Jubi…