Posted on Jan 30 2011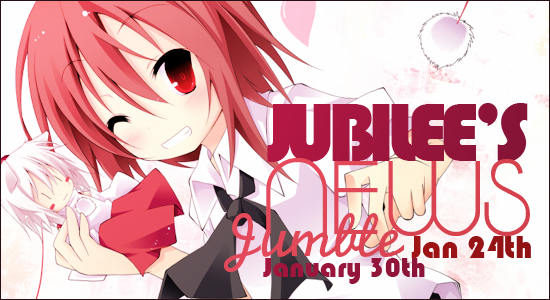 Dananana, News Jumble… News Jumble! I, Jubilee, have returned once again, and if you turn your attention to the left, you can see a giant mound of news from this past week that needs to be spiffied up! Luckily, I work fast. See? Anyways, this week I have everything from the return of Fractale, to where on the Oregon Trail is Carmen Sandiego? Now…TO THE JUB MOBILE!
———————————————————————————————–

After revealing last Wednesday, (January 19th), that Funimation would have to halt its simulcast of Fractale, the company announced on Monday that they would be able to begin re-airing the simulcasts. The copyright owners of Fractale asked Funimation to stop their simulcast due to illegal copies appearing on the internet. Funimation later followed up with the statement:
"In recent days we have been diligently tracking the online illegal distribution of the anime series Fractale and on behalf of the rights holders we have been taking the appropriate legal action. As a result, we now have the approval of the Fractale Production Committee to stream episode 2 of the series starting today. We will make the episode available at 10:45 a.m CST and we are pleased to be able to continue the Fractale simulcast each Thursday as planned."

The website for the new, up and coming anime Danboru Senki recently started airing a one hundred and ninety-seven second promotional video. The anime is described as a "near-future, plastic-model-building role-playing game," which will be based off the game Level-5 is shipping on March 17th. In the game, the player will control robots called LBX (Little Battler eXperience) that are made to battle one another. The anime, however, is set to premier on March 2nd, on TV Tokyo.

Announced on Tuesday, Rob Pereyda, the Vice President of Licensing at Crunchyroll, will be stepping down from his position as of Friday (January 28th). Pereyda, who has been with Crunchyroll since 2008, said in a statement that he "would not be leaving if things were not so strong" for Crunchyroll at this time. He did not reveal any of his future plans, or any further explanation of his leave, but he is wished the best.

Viz Media recently confirmed that they would start streaming the anime Neuro (Majin Tantei Nogami Neuro) on February 18th on their website VizAnime.com. Although the anime is upcoming, there has been no announcement or sign of the 23-volume manga series being released in North America. However, the anime is also listed on Viz Europe's site, with a manga tab that says "Coming Soon…".

Toei Animation recently added two new anime series to Hulu for our viewing pleasure. Gaiking, a remake of the 1970's robot anime Daikuu Maryuu Gaiking, is now available in its 39-episode entirety. The other anime, Digimon Tamers, is a spinoff of Digimon Adventures, (duh, Jubi). Currently, episodes 1-17, 24, and 27-51 are available, with episodes 18-23 and 25-26 planning to be made available "as soon as possible."

From a story I remember reporting on last July, the Swedish Svea Court of Appeals recently upheld the conviction on the 37-year old manga translator for possessing 39 child pornography images. He was originally charged for having 51 images, and fined 25,000 kronor ($3,900). However, the Appeal court knocked off 12 of the photos, as they did not meet the legal definition of pornography. They also lowered the fine to 5,600 kronor ($860).

The March issue of Gentosha's Monthly Comic Birz magazine officially marked the last segment in Kei Toume's Genei Hakurankai manga series. Although this particular series has not made it across the ocean to us yet, you may know Toume for some of her other works, namely Kurogane and Lament of the Lamb. Anyways, with the absence of the spot, Toume is already working on a new series for this Fall. Although she hasn't released many details on this yet, I'll make sure to keep you updated further when I can!

To finish up on Marvel vs. Capcom 3 news, the final two characters were revealed earlier this week. The last representative of Capcom will be Hsien-Ko from Drakstalkers, and the last representative for Marvel will be the ever annoying Sentinel. I will magically turn the words blue like I always do so you can watch them kick and punch things in a specifically ordered sequence.

I will go ahead and give you the good Nintendo news first. It was recently announced that Nintendo is currently working on a brand new Kirby game for the Nintendo Wii. If you would like to see a glimpse of the playstyle, I found a preview here. Granted, that is about all we know about the game at this point…as Nintendo has not set a release date or title for the game.

On Thursday, the President of Nintendo America, Reggie Fils-Aime, announced that several previously planned titles will not be available as launch titles for the 3DS. The titles include: The Legend of Zelda: Ocarina of Time 3D, Kid Icarus: Uprising, and … wait for it…Mario. That's right…Mario is going to miss the launch of Nintendo's newest system. Reggie also determined that the games will not be released until sometime after E3. Nintendo America Wheeler…I am disappoint.

So, I totally found more Mortal Kombat news for this week! As many people know, a live action rendition using characters from the Mortal Kombat series was linked on the internet several month ago, and was rumored to be a trailer for a new movie adaption. (NSFW: click here if you haven't seen it). While it won't be a movie, Warner Bros. has officially confirmed that it will be a new webseries that is set to come out sometime this spring, (to coincide with the new game's release). While this wasn't originally planned by director of the short film, Kevin Tancharoen, he will direct the series, as, of course, his mini-sode was the one to spawn so much acclaim. Nice to see Warner Bros. work with something that can only assume was made for fun…but was (and I bet will be) epically awesome.

Now, before you ask "Jubi, why the heck are you reporting on Facebook games?" let me just first remind you of how awesome both the Oregon Trail and Carmen Sandiego really were. Starting Feburary 2nd for the Oregon Trail, and February 9th for Carmen Sandiego, Facebookers will be able to take part with their friends in these two legendary learning games. Foraging with food, getting bitten by snakes, solving geographical puzzles, crossing rivers, cracking safe codes…All on with your friends on Facebook! Is it sad that these are two of the games I am looking forward to most this year? Anyways, if you want to view the trailers, I will just magically turn some words blue. Aw my gosh, I love Carmen Sandiego so much!
———————————————————————————————–
Go, go, go, News Jumble, fight for your life! I hope you all enjoyed this week's edition, and I hope to see you again next week! Until then…I shall be out practicing my foraging skills before I trek the Oregon Trail looking for friggin Carmen Sandiego! Yeah. I am excited. Do not judge me. Now…ROLL OUT!