Posted on Apr 10 2011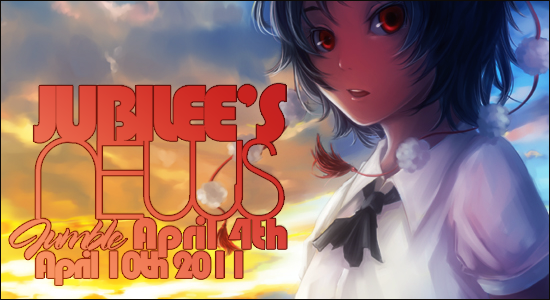 Is there something missing in your life? Does that certain something rhyme with schmooze schmumble? Well, luck for you I put this News Jumble together this week! It is I, Tangela, and I am here for yet another edition of this week's schmooze schmumble. This week's theme? Vines…and whips…and Vine Whips. If you were to look inside my vine enwrapped body, you would find everything from a surprising partnership, to Mortal Kombat's ascension to goldendom for this week's news. So, sit back, plant your roots, and absorb nutrients with me! Photosynthesis…Photosynthesis!

———————————————————————————————–

The game division of Electronic Arts, Bioware, announced on Thursday that the North American distributor, Funimation, and Japanese studio, T.O. Entertainment, have agreed to produce an "anime feature film" based on BioWare's Mass Effect franchise. It is reported that the film is already in production, and it is estimated to be released in the Summer of 2012. This is interesting, as Funimation is also working with Bioware on another anime film based off of the popular Dragon Age RPG franchise. Anyone else interested to see how these will turn out? I know I am.

The North American media distributor, Navarre Corporation, announced earlier this week that they had finally reached an agreement to sell the anime company, Funimation, to a group of investors, including Gen Fukunaga, who is Funimation's CEO. The total of the transaction was $24 million. Navarre will continue to serve as the exclusive distributor of Funimation in North America, as well as handle logistics and act as the fulfillment services provider. After nearly a year of trying to sell, it looks like this story is finally come to and end!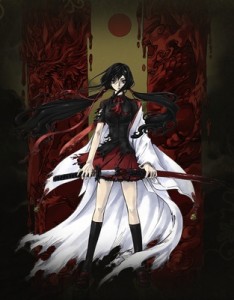 Remember the announcement that CLAMP and Production I.G. would be teaming up on the new Blood-C series? Well, it was announced yesterday that the anime will be made as a television series this July, AND a theatrical movie sometime next year! In addition, Ranmaru Kotone will be adapting the series into a manga, which will launch in Shonen Ace on May 26th. Anyone else overly excited for this, or is it just me? I mean look at how pretty it is! *drools*

Sentai Filmworks revealed earlier this week that they had acquired the North American license for the sequel to the 2009 anime Maria Holic, Maria Holic Alive!. In addition, The Anime Network announced that it plans to simulcast the series at 10 p.m. (CST) on April 10th. The first two episodes will be available to usual Network users, with the rest of the season available only to paying subscribers.

Warner Bros. announced earlier this week that the Supernatural: The Anime Series will be released on DVD/Blu-ray, for download, and video on demand in North America later this year on July 26th. Jared Padalecki, who plays Sam in the actual television series, dubbed all 22 episodes of the first season, whereas co-star of the series Jensen Ackles, who plays Sam's brother Dean, only dubbed "select" episodes. The series will sell for $49.98 for the DVD set, and $54.97 for the Blu-ray version.

It was reported earlier this week that 4Kids Entertainment had filed for protection under Chapter 11 of the U.S. Bankruptcy code. Basically, this means that they will be able to keep business assets, (which may or may not include licenses), while they attempt to reorganize the company. This isn't surprising following the lawsuit TV Tokyo and Nihon Ad Systems filed against 4Kids for underpayments on the Yu-Gi-Oh! license last week. Not sure where they will move from here…but they still are breathing.

The issue of Kodansha's Bessatsu Shonen Magazine that released yesterday announced that School Rumble author Jin Kobayashi will be launching a new series titled Ichiro Heian! in the next issue. The advertisement in this issue showed that the story will have "black-haired girl x bicycle = long distance romance comedy!".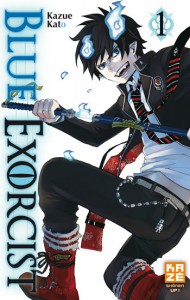 Aniplex of America announced on Friday the list of sites where the new series Blue Exorcist will be simulcast at in North America and Canada. It will premier on April 20th, at 10:00 a.m. PST, 3 days after it premiers in Japan. In North America, it will be available on Hulu, Anime News Network, Viz Anime, and Crunchyroll. In Canada, it will be viewable on both Crunchyroll and ANN. Coming into this season, this was the series I have been the most excited for, so I have been waiting for this news personally. I'm pleased with what I have seen so far this season, in both X-Men and Tiger & Bunny, so I am doubly looking forward to it now!

Funimation revealed last week at Anime Detour that they had acquired the rights for the 2009 animated feature Tales of Vesperia ~The First Strike~. It is expected that the feature will be released on DVD/Blu-ray next year. In addition to that, they also acquired the licenses to Fractale and Freezing, which are expected out sometime next year as well.

Square revealed, and actually released, the Japanese PSN version of Final Fantasy V. However, they also revealed that a European version will be released sometime shortly after the Japanese version, (which came out on April 6th, by the way), although they did not give an exact date for it. I think it is safe to assume we will see a North American version in the future with this news, as well. This new PSN version of the classic game will be completely re-mastered, with new CG cut scenes! Especially if you are a big Final Fantasy nut, I'd definitely keep an eye/ear out for this one.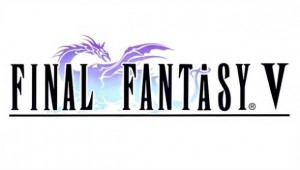 A new trailer hit the web earlier this week, and it confirms to us that a new game in the Twisted Metal franchise is indeed in the works. Click here for carnage. It looks like the game is moving back to its darker roots, (and by that I mean it is rated M for mature and not T for teen). I remember playing this game with friends back on the PS1…It was like Mario Kart out of a Stephen King novel.

It was announced on Wednesday that the newest Mortal Kombat game has officially "gone gold." This means that the game is 100% complete, and all that remains on the to-do list is mass produce it and send it to retailers. Needless to say, this affirms that the game will meet its expected release date of April 19th. Do you have your pre-orders in folks? I think you should go get them in if not.
———————————————————————————————–
So does it for another week, folks! Never fear though, as I will collect more news and store it safely under my vines until next week. Just keep me away from fire. I don't like fire. It burns. DON'T BLAZE ME BRO! Until then, however, I am off to take in more sunlight! *Wild Tangela Flees!*