Posted on Feb 06 2011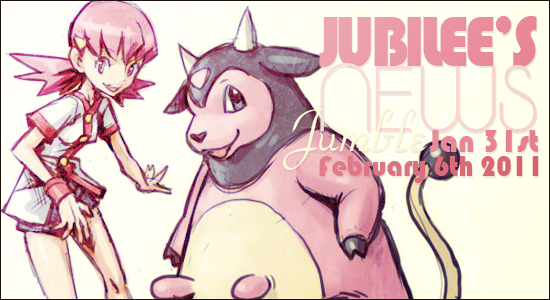 Miltank…I CHOOSE YOU! Miltank is the coolest Pokemon, no? Anyways, I am Jubilee, and you are back once again for another edition of this newsy thing that I do! I have been excavating the tomb of the great Pharaoh Kurent Uffairs all week, and I have uncovered everything from real Conan, to Mario 3D! Now then, let's get to it…and hope that we don't anger his spirit by taking his stuff. Do you remember that scene in the Mummy where the scarab is all under that guy's skin? Ew, that was dirty.
———————————————————————————————–

Shogakukan's Weekly Shonen Sunday announced on Wednesday that a new, live-action Detective Conan has been made official, and production has been given the green light. The special is being made as part of the 15th anniversary of the TV series. This is not, however, Conan's first foray into the live-action world, as a television special was made back during the show's 10th anniversary and stared Shun Oguri.

Kenzi Taketomi's Suzuki Sensei manga recently had a live-action version confirmed for it. Beginning in April on TV Tokyo (at 10:00 pm), the new show will star Hiroki Hasegawa as the self named main character who deals with everyday classroom life/problems. The manga had been running since 2005, before ending earlier this year on January 6th. In 2007, the manga won an Excellence Prize in the 11th annual Japan Media Arts Festival Awards.

Navarre Corporation, the parent company of Funimation, released its financial results for the third quarter of the fiscal year this past Monday. The main story from this is that Navarre "has not yet received an adequate offer" in its attempts to sell Funimation (You know, which they have been trying to do for over a year). They are still attempting to sell, but they did state that if no adequate offer is made by the end of the fourth quarter (March 31st), they will more than likely halt the process for a while.

World famous director James Cameron recently confirmed this past week that he still intends to direct a film adaptation of Yukito Kishiro's Battle Angel Alita manga. Cameron has been working on an adaptation since 2003, and has already commissioned a script and a year of design work. Currently though, Cameron is in works with two Avatar sequels set to come out in December or 2014 and 2015. But when asked about his stance on Battle Angel, he said, "I had to consider, do I hand Battle Angel off to another director? And then I thought, 'No, I love it too much.'"

Funimation, who I seem to report more and more on each week, announced earlier this week that its Funimation Anime video-on-demand content is now available via the Charter cable service throughout the entire United States. For $6.99 a month, subscribers will have complete access to everything on the channel, which includes: Eden of the East, Trigun, The Sacred Blacksmith, Shikabane Hime: Aka, and Phantom ~Requiem for the Phantom~. And, not surprisingly, Funimation announced that they are currently working on adding new shows to the channel, and "will have more launch announcements in the coming monthes."

Famous manga author Riyoko Ikeda, best known for her manga Rose of Versailles, sang at a recital earlier this week at the Palace of Versailles. Ikeda, who was originally in town for the Angouleme International Comics Festival, received an invitation from a festival organizer to perform a recital. Ikeda ended up performing a piece written my Queen Marie Antoinette, some Japanese pieces, a duet with renowned baritone singer Yoshitaka Murata, and Mozart's The Marriage of Figaro. Note: Jubi has been covering Versailles in History class for the past week, therefore leading to Jubi's extra interest.

I have even more Fractale news for this week. Funimation announced earlier this week that the simulcast of the 4th episode would be delayed. Don't worry though, as this delay has nothing to do with copyright. Due to power outages from the ice/snowstorm that recently hit the Dallas/Ft. Worth area, the Funimation offices were closed for 3 days this week. Although it has not been announced when the new episode will be available, we can expect Funimation to have it up asap. Let's just hope that
everything in their offices are in tip top shape.

Shueisha, the Japanese publisher for One Piece, recently started to produce 3.8 million copies of the 61st volume of the manga. No surprise here, but this set yet another record for most copies in a manga's first printing. Even less surprising, the previous holder of the record was the 60th volume of One Piece with 3.4 million copies. The 60th volume ended up selling 2,094,123 copies in its first four days, and almost 3 million more by this past Sunday.

Tokyopop, the anime distributor, announced earlier this week that they would be streaming their series, America's Greatest Otaku, on Hulu. The show follows Stu Levy as he travels across America visiting 20 cities and interviews 19 different fans about the "otaku" lifestyle. The 8-episode series will begin streaming on Thursday, February 24th.

People with Sony's PS Plus service are going to have something to look forward to during the next system update on Thursday. Since Double Fine's newest title, Stacking, will be hitting the PSN, the developers decided to hand out a pretty sweet gift and give away free copies to all PS Plus members. One must remain a PS Plus member for the game to remain free, but I think it is a pretty awesome deal nonetheless. Oh yeah…the game will be available on Xbox Live next Wednesday.

Nintendo of America announced earlier this week that a Wi-Fi event will be taking place to honor the release of the two newest Pokemon games, Black and White. Starting on March 6th, and lasting until April 10th, players will be able to obtain a Liberty Pass, the special item needed to unlock the Legendary Victini, via the Nintendo Wi-Fi. So happy I do not actually have to GO anywhere to get this one! For all of you European and Australian Poke-lovers, a similar event will be running from March 4th (the European release date (Aussies are on the 10th)) until April 22nd.

Shigeru Miyamoto recently announced in an interview that he is currently working on a new Super Mario Bros. game specifically for the Nintendo 3DS. As is Nintendo tradition, the game is being made purely in the interest of adapting the series to the newest technology. Quoting Miyamoto, "It's important to always use the most advanced technology for Mario in order to create something no one has ever seen before." He also said that he wishes to present the game to the public a.s.a.p…so let's hope we don't have to wait too much longer for this one!
———————————————————————————————–
So concludes another week! I shall be returning once again next week, so until then, make sure to keep warm/cool/awesome (variant on location of course). Oh hey look…it is snowing again…yay. Imma go make a SnowShata now…and it will be the saxiest SnowShata you have ever seen, (or imagined I actually went out and made)!