Posted on Feb 20 2011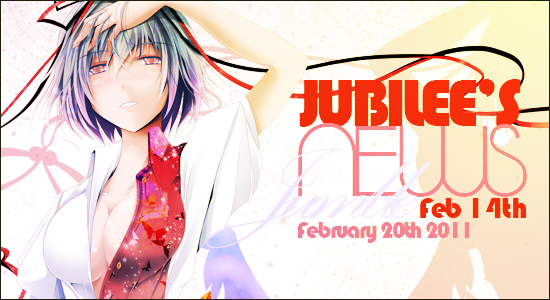 Hey you. Yeah, you. I got some awesome news in here…you should totally check it out. Anyways, I, the magnificently, and apparently, egocentric Jubilee has returned once more, with all the news you want…and none that you don't! (Hey wait…) This week, I have discovered everything from a tale of two movies, to ghost story! Boooo! So, with all that out of the way, I ask you…why are Altoids mints so curiously strong?
———————————————————————————————–

So, in follow up from last week, we have official confirmation that there will indeed be two Pokemon movies this year. Instead of us getting one Pokemon movie that has a short feature at the beginning, we get TWO! One will feature the new Mew of Generation 5, Victini, and the Pokemon White mascot Zekrom, as previously announced, and the other will feature Victini and Reshiram, the mascot of Pokemon Black. This also marks the first time in history that two feature-length Japanese animated films from the same franchise release on the same day (July 16th in Japan)!

This year's 11th issue of Shogakukan's Weekly Big Comic Spirits magazine confirmed this past week that Hideo Yamamoto will be ending his Homonculus psychological horror manga in the next issue. It is also currently planned for the 15th and final book volume of the series to ship at the end of April later this year. The story of this series centers around a man who agrees to let a medical student drill a hole in his head in order to pay off his bills. Following this experiment, the man's sixth sense is awoken, causing misfortune to not only him, but those around him. …Sounds good, no? I'm going to be on the lookout for an eventual translated version, as Viz Media has already done so with one of Yamamoto's earlier works, Voyeurs, Inc..

It was officially reported earlier this week that Kunihiko Ikuhara, director of the Sailor Moon anime, will be directing a new anime series that is predicted to begin airing sometime before the end of this year. The information about the new series is being kept at a bare minimum, but we do know that Ikuhara himself is participating in the writing of the scripts, and that the series will feature a teenager as the protagonist.

Hiro Mashima's Fairy Tail manga's 27th volume will be shipping with an original anime DVD on June 17th. The DVD will contain a 25-minute anime adaptation of the series side story "Yosei Gakuen Yankee-kun to Yankee-chan." This will be the second time Fairy Tail will bundle a DVD with a volume, with the first one coming out with the 26th volume on April 15th.

Steve Kloves, author of the screenplays for all of the Harry Potter films except the fifth one, was recently hired to look over the latest drafts for the Akira live-action film adaptation. Although the film's cast and release date have not become available yet, we do know that the film will be directed by Albert Hughes, (who also directed The Book of Eli). Albert Torres was the writer of the majority of the script, so hopefully, this live-action adaptation can be a good one!

Recently streamed on the Japanese television channel Animax's site was the first preview commercial of their newest anime adaption of Marvel's X-Men (Aw Yeah). The channel Animax will premier the series on April 1st, and has already launched both an Iron Man and Wolverine anime series. There is also a rumored Blade adaptation currently in the works, (which sounds awesome, by the way). For us, G4 plans to begin running these titles as well sometime this year…too bad no one watches G4 anymore, (oh snap, Jubi went there).

It was recently announced that the Vocaloid Festa dojin event will be co-hosting a contest to create YAMAHA's next Vocaloid singer. The contest is titled "Minna no Vocalo Keikaku," which stands for "Everyone's Vocaloid Project" contest. Between February 25th and April 24th, contestants will be able to submit their character sketches along with their personal information, the character's nickname, and a short description of the character. Also…there is no rule for nationality, so this contest is open to everyone! As of now, expect for the winning character to be announced at the second Vocaloid Festa event on May 29th.

Funimation announced yesterday at Katsucon that they had officially licensed the third season of Sgt. Frog. Funimation has already released 51 episodes of the series on DVD, after acquiring the license from ADV Films. In addition to the anime, the manga distributor of the series for us, Tokyopop, announced that they will be publishing the 21st volume of the series this May…so be on the lookout for that as well!

Sony announced earlier this week that they would be releasing some of the classic titles from the Sega Genesis on PSN in the near future. However, PS Plus subscribers will be able to download the games, not only early, but for free! Titles that can be expected include: Sonic, Sonic 2, Streets of Rage 2, Golden Axe 2, Altered Beast, and Comix Zone.

In Spain, an unnamed individual was recently arrested after trying to blackmail Nintendo. The individual in question was reported to have stolen roughly 4,000 gamers' private info from the Nintendo database. With this said info, the individual tried to contact Nintendo's Spain Headquarters and stated that if his requirements were not met, he would either post the information online or file a complaint with the Data Protection Agency. Nintendo, however, just decided to call the cops, who were able to track down the suspect in just two weeks. Good going dude…good going.

I have more Mortal Kombat news! In a new trailer released this past week, we can officially add three more characters to the rapidly growing roster. The featured character, Noob Saibot (NSFW as always with Mortal Kombat stuff), can be seen with his usual doppelganger goodness beating up characters such as Queen Sindel, Ermac, and Jade. Can't wait to see more of Ermac and Sindel…I was just wondering last week why they weren't revealed for the game yet. Glad to see they made the cut. *smiley face*

Taking place during the Black and White Mall tour at its stop in Oakridge Mall in San Jose, California, a hacked Spiritomb will be distributed alongside the legitimate Celebi. The Spiritomb will be a shiny level 50 with the moves Shadow Force, Focus Punch, Softboiled, and Safeguard…as well as the ability (3 guesses what it is…) Wonder Guard. The totally legit Spiritomb also comes in a shiny Cherish Ball, with the Pokerus, and holding a pair of Black Glasses. The totally legit Wonder Card also is reported to say "Pokémon International's Surprise!" and a grammatically-incorrect description of "SPIRITOMB might be hard to hit but really packs a wallop! Its as if this Pokémon has a Wonderful shield around it that Guards against most attacks! SPIRITOMB is legit!" Make sure to teach all your new Pokemon Fire Fang people! THE FIRE FANG IS THE ONLY OFFENSE!
———————————————————————————————–
So does it for another week! Jubilee shall be back again next week, but can you guys believe it is almost March already?! Jubilee can't. Make sure all of you guys are keeping it tuned to the radio, as more awesome interviews are to come this month, as well as keep your eyes on the front page, as awesome things always pop up there. Until next week, my loves, fare thee well!