Posted on Nov 28 2010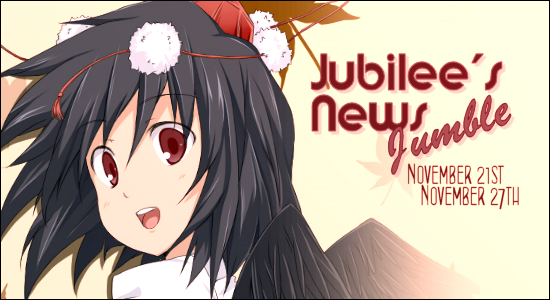 Gobble Gobble! Jubilee is back yet again, and is giving thanks to all you awesome fanatics out there! Hoping all of you enjoyed your break for Thanksgiving this week, I have gathered all of the week's best news stories, as usual! This week we have everything from Beyonce, to new Pokemon. So, lets reheat this news, and dig in!
———————————————————————————————–

Video & game production company Marvelous Entertainment, alongside anime director Hiroshi Nagahama (Detroit Metal City, Mushishi), are filing a lawsuit against Sony Music Japan International in order to stop the sales of world-famous musical artist Beyonce's newest album, I Am…Sasha Fierce. According to the lawsuit, the packaging for the album uses unauthorized anime storyboards. The first oral arguments of the case were heard by the Tokyo District Court on Wednesday, earlier this week.

Reported last Friday, Eiichiro Hasumi's third live-action movie based on Shuho Sato's manga about Japanese Coast Guard divers will be released in 12 nations outside of Japan, including the US, France, Brazil, Russia, China, Hong Kong, India, Singapore, Taiwan, Argentina, Mexico, and Peru. The newest film, titled Umizaru: The Last Message, stars actor Hideaki Ito and was filmed in stereoscopic 3D. The movie premiered in Japan on September 18th, and since then has been seen over 5 million
times and has brought in 7.8 billion yen ($93 million).

Earlier this week, the official Yu-Gi-Oh! 10th anniversary website confirmed that the opening for Yu-Gi-Oh! 3D: Bonds Beyond Time in the United States will be sometime early next year. The developer and distributor, Cinedigm, will feature the 49-minute movie in over 250 theaters on February 26th and 27th, as well as on March 5th and 6th. Also previously announced by 4Kids Entertainment, the film will be available on home video sometime in later 2011.

This week, police arrested Mayumi Konishi, a 46-year-old, unemployed Japanese woman, on account of allegedly sending a knife in the mail to an elementary school as a threat. She also stated in her deposition that she sent a knife to the home of famous voice actor Sho Hayami, (Dragon Ball Z, Macross 7). Investigators of the case discovered that Konishi enclosed a knife in an envelope and mailed it to Hayami's home located in Edogawa in late March earlier this year.

Sadly, this past Saturday, great anime director, Umanosuke Iida, passed away. Iida was best known for directing Mighty Space Miners, Tide-Line Blue, CB Chara Nagai Go World, and Hellsing. He also helped on series such as Big O, Cowboy Bebop, and Birdy the Mighty Decode. He was only 49 years old at the time of his passing.

In our weekly One Piece news, (as it always seems I am reporting on it), the anime and car manufacturer Nissan are teaming up to create a one-of-a-kind decorated vehicle to celebrate the launch of the redesigned Nissan Serena mini-van on November 29th. The special vehicle features many details based on the anime's Thousand Sunny pirate ship, such as: a lion on the front, the signature soldier-dock system on the sides, and a Jolly Roger design on the roof. A Monkey D. Luffy cosplayer is set to unveil the van at the campaign launch at Tokyo's Odaiba island.

Announced on Saturday, an anime adaptation of Kazue Kato's Blue Exorcist manga will be officially confirmed in the January issue of Shueisha's Square Jump magazine. The manga first launched in Jump Square in April of 2009, and has since then compiled 5 book volumes. As announced in an earlier Jumble, Viz Media will be publishing the first of the book volumes in North America starting next April.

In continuing coverage of the Youth Healthy Development Ordinance, both the Japan PEN Club and the Tokyo Bar Association announced earlier this week that they were in opposition to the Tokyo Metropolitan Government's new amended bill. They argue that the bill has replaced the vague term "nonexistent youth," with a term that is just as vague: "exaggerated." They also state that the new bill would "warp the freedoms of speech and expression," thus allowing the government to have authority in areas of people's privacy. The Democratic Party of Japan will be meeting with manga creators next week to collect thoughts on the issue from the industry.

Kodansha's Morning seinen magazine announced on Thursday that it plans to open an English version of their website sometime in the near future. Kodansha plans for English to be the first step in an attempt to open the site in multiple languages. The newest revamp of the Japanese site featured several new series, a new mascot character, ("Morninguma" the bear), and a new application for iPhone and Android.

Last Saturday, it was announced in Shueisha's Jump Square magazine that a theatrical anime film adaptation of Takeshi Konomi's The Prince of Tennis manga would be beginning production the following week. The manga first began all the way back in July 1999, and in its run has reached 379 installments, and sold over 40 million copies. Viz Media plans to release the 40th manga volume of the series in North America next January.

The much-hyped Uncharted film adaptation finally announced that they had found an actor to portray the films lead protagonist, Nathan Drake. In fact, the announcement came from the very actor's mouth during an interview with MTV. Mark Wahlberg, who you might know from other films such as Max Payne and The Other Guys, will be staring in the new film as Nathan Drake, under the direction of David O. Russel. It is also rumored that Russel is attempting to recruit Hollywood legends Robert De Niro and Joe Pesci to play Drake's father and uncle, respectively, in the film.

This past Tuesday, (as I'm sure some of you have already heard), the English names of the 3 starter Pokemon for Generation 5 were announced. We now have Snivy, the Grass Snake Pokemon, Tepig, the Fire Pig Pokemon, and Oshawott, the Sea Otter Pokemon. I thought Smugleaf and Wotter were so clever too…
———————————————————————————————–
Another week, another dose of leftovers for dinner tonight. Who's complaining? Not I! …Okay, maybe I am a tad tired of turkey…but that is beside the point! I shall return next week with more plentiful helpings of news. Until then…Jubi out!