Posted on Feb 13 2011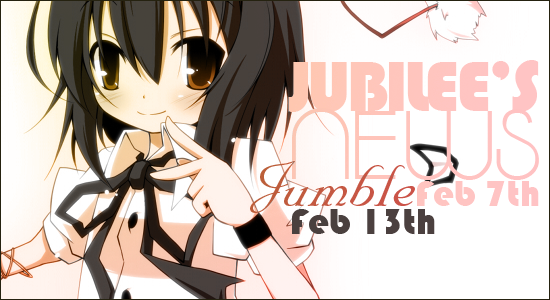 Hello once again Fanatics! It is I, Jubilee, back for yet another weekly installment of the News Jumble, home of all the week's best news stories! Being a weekly installment, I am just going to rip off the iStalk opening, as I have no idea on how to open this week's edition. So, welcome to the News Jumble, where I don't just report the news, I wrap it in a tortilla and microwave it on high for three to five minutes. Anyways, this week I have gathered everything from additional Detective Conan updates, to, my personal favorite, MORTAL KOMBAT! So, let's get Dansen.
———————————————————————————————–

Announced on Tuesday, 21-year-old actor Junpei Mizobata will be playing the main role in the upcoming, live-action version of Detective Conan that I reported about in the previous Jumble. Also, playing the support role of Ran Mori, is 18-year-old actress Shiori Kutsuna. Mizobata has already starred in an assorted variety of films, including: 81diver, Shibatora, and Hana-Kimi.

Houbunsha's Manga Times Kirara magazine announced earlier this week that the immensely popular, and by that I mean moelicious, manga K-ON! will be relaunching with a new page of strips later this spring. Not surprising really, as many people had predicted that the series was just too popular to end like it was "announced" last September. More thorough details are planned to be released in the magazine's next issue on March 9th, so I will be on the lookout for that!

In yet another big piracy bust, police arrested an 18 year old male from Katagami City for supposedly posting manga online. Using the online storage site MegaUpload, the accused supposedly allowed people to download several volumes of numerous manga titles last year between August 15th-September 3rd. In total, he made 3,800 files from over 260 different titles, and earned roughly 270,000 yen ($3,300) in advertising.

Anime Boston, which will take place from April 22nd-24th, just announced that the Japanese rock band Stereopony will be performing at this year's con. They will be alongside Girugamesh as far as musical guests go, as well as Brina Palencia, Christopher Ayres, J. Michael Tatum, Richard Epcar, and Greg Ayres as Con-guests. So, if you want to catch DJ Christmas and DJ Kusari around, and have some spare time/cash, it looks like this Con has a pretty stellar show set up for this year.

Now now…I know what you all are thinking. "More One Piece Jubi, for seriously?" Well…it is a follow up to last week, and Jubi likes consistency! Anyways, the newest volume, 61, sold 2,086,080 copies in its first three days, making it the first book to ever sell over 2 million copies in that short range of time! With each copy costing 420 yen, the total sales accumulated to 876,153,600 yen (that's roughly $10.6 million dollars, yo). Yar, har, fiddle-dee dee, indeed!

The Society for the Promotion of Japanese Animation announced earlier this week that they plan to award over $10,000 in prizes at the AMV contest being held at Anime Expo later this year. The convention/contest will take place in Los Angeles, California during the 4th of July weekend. The largest prize will be a $2,500 Best in Show award. Also, there will be $1,500 prizes for the more specific category winners.

So, it may not be directly anime related, but you all know I love my X-Men news, and I am sure many of you do as well! Earlier this week, the official trailer for the newest X-Men movie, X-Men: First Class, was posted on YouTube (Click the blue words to watch it). The movie follows Professor Xavier and Erik Lensherr (Magneto) prior to the events in any of the previous movies. In fact, it was back when Professor X could still walk (Although, there WAS that flashback in the 3rd movie…). From what I saw in the trailer, expect the two main mutants; I saw a Mystique lurking, as well as an Emma Frost! Heck yes! I even saw who I believe to be Pixie, which struck me as a fairly obscure mutant to include, (No pun intended). But, hey! I'm totally down with Pixie being in this! Now if only they would give Jubilee some screen time…and not a 10 second deleted scene. D: … The movie is currently set to be released on 6/3/2011.

Kicking off a world tour, the Distant Worlds: Music from Final Fantasy will be having their first show in New York's BAM Howard Gilman Opera House on April 1st and 2nd. The tour will be seven months, making stops in Sydney, London, Atlanta, and Chicago, to name a few. The show will be about two-hours, and will feature live music, conducted by Arnie Roth, synchronized with images on screens from the series. At this premier concert, both Roth and Uematsu, the composer of almost all of the Final Fantasy music score, will host a meet-and-greet event.

In a double dosage of Pokemon news this week, we finally have the English names for all of the Gym Leaders and Elite Four members that will be in Black & White. We have:
Striaton City Gym: Gym Leader Chili (If Snivy is chosen) – Fire
Gym Leader Cilan (If Oshawott is chosen) – Grass
Gym Leader Cress (If Tepig is chosen) – Water
Nacrene City Gym: Gym Leader Lenora – Normal
Castelia City Gym: Gym Leader Burgh – Bug (That one is original, eh?)
Nimbasa City Gym: Gym Leader Elesa – Electric
Hodomoe City Gym: Gym Leader Clay – Ground (That one is original too…)
Fukiyose City Gym: Gym Leader Skyla – Flying
Icirrus City Gym: Gym Leader Brycen – Ice
Souryuu City Gym: Gym Leader Drayden (Black Version Only) – Dragon
Gym Leader Iris (White Version Only) – Dragon
Elite Four: Elite Four Shauntal – Ghost
Elite Four Grimsley – Dark
Elite Four Marshal – Fighting
Elite Four Caitlin – Psychic (Remember the chick from Battle Castle in HGSS?)
Champion Alder – Various

According to images portrayed in the CoroCoro magazine, we could be looking at a potential second Pokemon movie being released in Japan this year. To go along with the already announced Victini & The Black Hero; Zekrom, CoroCoro supposedly insinuated that a Victini & The White Hero; Reshiram will also be released, one movie for both Black and White version's legendary Pokemon respectively. Now, it it not confirmed, but merely a highly probably likelihood from what has been seen.

Activision shockingly announced earlier this week that they would be ending the immensely popular Guitar Hero franchise. There stated reason for this was mostly "due to the decline in interest in the music/rhythm based genre." So, I'm going to put a Jubi rant on this one. Guitar Hero was the game that RESPARKED an interest in this genre. I do not understand why Activision does not just come out and say that the real reason this GAME franchise is declining is because they were releasing a new Guitar Hero every two months! Of course people aren't going to want to play it, especially when every game in the series is the exact same other than the songs! I do not see why they needed to blame the genre…DJ Hero was actually selling pretty well. Just try to have some innovations to keep the genre going! They did it once with Guitar Hero, but you can't ride a game like that forever, especially when you over-flood the market with it.

Earlier this past week, several screens from the new Mortal Kombat game, set for release this spring, were leaked. Now, normally this wouldn't be that big of a deal, but the screens contained some characters that were not previously "confirmed" for the game, namely Stryker. Yeah, Styker…you know…the security guard from MK-III who I used as a punching bag in practice mode? SO happy to see him back…not. There were also others featuring fan favorites such as Kitana, Jax, Cyrax, Reptile, Sektor, and Kung Lao. People can also expect the usuals, Scorpion, Sub Zero, Liu Kang, Johnny Cage, Sonya, (Although Johnny and Sonya haven't been in since Deadly Alliance), and Raiden. I don't think I am going to have my wish of them bringing back either Nitara or Fujin this time…but maybe that isn't so bad. I appreciate the fact they are sticking to the more retro fan favorites.
———————————————————————————————–
So concludes yet another week! Jubilee would like to extend a happy Valentine's Day to everyone tomorrow, and hopes that it is a good start to your week! Jubilee, however, will be out doing whatever it takes to get you all next week's news! WHATEVER IT TAKES! …Except for maybe rubbing sandpaper on my face…I don't think Jubilee would enjoy that. OH, or pulling Styrofoam out of a box…that always makes Jubilee cringe. Jubilee won't do that either…