Posted on Mar 06 2011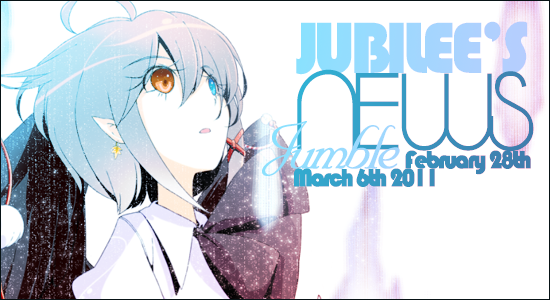 Hello, and welcome to yet another edition of Jubilee's News Jumble! I, of course and as always, am Jubilee and I, of course and as always, am here to give you all the best news stories from this past week…ya know, so you can be in the loop and all that good stuff. This week is a wide variety of gizmos, doohickeys, and whatchamacallits, (and I am surprised spell check only put a red lin under one of those…). From a dedication, to PS3 sales halts, let's fasten our seatbelts and keep both hands inside the ride at all times. (Note: 91.8 the Fan is not responsible for any lost items during the course of your ride on the News Jumble. Thanks, and enjoy your ride).
———————————————————————————————–

I am dedicating this week's News Jumble to the Pokemon franchise. I know, you are all asking, "But why Jubi? What makes this week special?" Seeing as how Pokemon Black & White hit the shelves (at least in the US) today, is there a better reason to celebrate? Yes there is. Last Sunday, the franchise celebrated its 15th (Yes…15th) anniversary of the release of Pokemon Red & Green in Japan. It will always be a part of our childhoods (even Cerulaine's), and for that, this Jumble is for you Pokeymanz. We salute you…even though you make us feel really old.

And in theme with the dedication, the official Pokemon movie website began streaming the promotional trailers for the upcoming pair of films. I will link you guys to them here. In addition to that, we learned that the voice cast will contain the talents of people such as Kouichi Yamadera, Hideki Takahashi, Mao Daichi, and singer/voice actress Nana Mizuki to name a few.

Screen Gems, which is a subsidiary of Sony Pictures Entertainment, recently licensed the rights to adapt a film based upon the Devil May Cry video-game franchise. All that we know aside from that at this point in time is that Kyle Ward will be attached to the screenplay in some way. The Devil May Cry series has sold over 10 million games worldwide…so I am expecting this movie to be pretty stellar.

It was announced earlier this week in Kadokawa Shoten's Young Ace magazine that Yoshiyuki Sadamoto will be resuming his Neon Genesis Evangelion manga series in the next issue due to be released on April 4th. Sadamoto has been on hiatus since February, and indicated not too long ago, (December-January ish) that the manga would be resuming. The series was launched all the way back in 1994, so nice to see it returning to page.

Manga publisher Viz Media recently confirmed that Yukiya Sakuragi's Inubaka: Crazy for Dogs manga is currently on hiatus in North America. In addition to that, no new volumes are on Viz Media's release schedule as of this week. Volume 17 was released on November 9th, 2010, and Volume 18 was solicited to retailers for release later this month, however, is no longer scheduled for release. The manga ended last April in Japan, and was 22 volumes in total.

Sansai Books, a Japanese publisher, announced that they would be releasing a personal computer book titled Kawaii Security later this month on March 14th. The book will contain numerous illustrations, as well as manga, to classify computer viruses and other topics from computer security. Over 30 viruses will have their very own pretty girl characters, as well as four major security softwares. The book will also feature five chapters of an original new manga titled Security Senshi Hikari. It is also reported that Aoi Nishimata , who has illustrated in visual novel software such as Shuffle and Lovedol, will be lending her assistance.

Keeping up with the exciting news of Madhouse's anime adaptation of X-Men, we finally have a roster of characters! Expect to see such classic X-Men as Storm, Beast, Cyclops, Wolverine, Emma Frost, Jean Grey, and, of course, Professor Xavier. The story is reported to be set one year after Jean Grey's death, (and I assume her part in the story will be via flashbacks aplenty), and after the X-Men organization has disbanded. However, a young mutant girl, Hisako Ichiki, has gone missing, and thus Professor Xavier summons his team from all around the world to help. Excited? I know I am…needs more Jubilee though.

It was confirmed earlier this week on Goro Miyazaki's official site that Studio Ghibli's Kokuriko-Zaka Kara anime film will be released by distributor TOHO nationwide on July 16th. This newest film of Ghibli's is an adaptation of Chizuru Takahashi and Tetsuro Sayama's manga of the same name. July 16th is looking to be a big blockbuster date this year in Japan, no? Pokemon and Ghibli…who will win?

Shenmue creator Yu Suzuki revealed something quite interesting during his "Career Retrospective" speech at the Game Developers Conference on Thursday. When asked by a fan about the possibility of seeing a proper conclusion to the series, Suzuki was reported as saying, "Well, I want to make it. About 200 people will buy it, I think. Probably Sega will let me make it. I think. It's simply a problem of budget." Will it happen folks? Being nearly 10 years since the last installment, let's hope Sega can get this rolling!

I have a double dosage of Mortal Kombat news this week Fanatics! Warner Bros. announced earlier this week that the game's first demo will be hitting PlayStation Network starting on March 8th! …if you are a subscriber to PlayStation Plus, of course. But, not to worry, as the game will be available to all on PlayStation network by March 15th! The demo will feature Scorpion, Sub-Zero, Johnny Cage, and Mileena as playable characters, as well as The Living Forest and The Pit as fighting stages. And, sorry Xbox owners, but there is no official word on when the demo will be hitting Xbox Live as of yet; however, Warner Bros. assures us that it will arrive at a later date.

In round 2 of Mortal Kombat news, it was unveiled that the newest installment in the series will be sporting a new play-mode…the Challenge Tower. In this mode, players will be faced with 300 various tests ranging from fighting with no arms, to performing fatalities, to even classic tests such as Test your Might/Sight. So, if you would like a sneak peak at the new mode…click here (NSFW…It is Mortal Kombat, yo…but too awesome for you to miss). Also…is that Zombie Goro I see?

PlayStation 3 shipments in Europe were sent to a Dutch warehouse this past week due to a court order that was issued in part with a patent lawsuit by the Korean company LG. The ban was issued for 10 days, however, Sony has been seeking to have it lifted, while LG has been looking to have it extended. Not only that, but LG has also been making a legal effort to have the lot of the PS3's destroyed.
LG claims that Sony has been in violation of several LG owned Blu-Ray patents in the PS3. It is reported that these patents involve how information on the Blu-Ray's are reproduced, and how data streams are handled. With the PS3 stocks starting to wither, Sony could potentially lose quite a chunk of revenue. Throw in the worry that LG could actually win this case, (and if that were to happen, a portion of sales from EVERY PS3 sold worldwide would be granted to them), and I would say it is quite the conundrum.
———————————————————————————————–
So ends yet another thrilling journey. Don't fret to much though, as I shall return for yet another journey next week…and then an even more thrilling one the week after! Until then though Fanatics, tell me…did your March come in like a Lion or a Lamb? Mine was more like a Llama…with a hat. *Glares at Carl.*