Posted on Oct 10 2010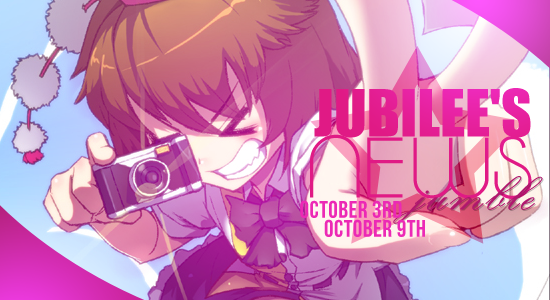 Knock, knock. Who's there? News. News who? News Jumble! I apologize, my cleverness is shot. Anyways, Jubilee is back for another week of gut-busting news action! I have all the best stories from this last week, and boy do we have a couple doozies! What do you mean doozie isn't a word, Microsoft?! From kicking chemistry to the curb with Lucky Star, to WORLD OF WARCRAFT CATACLYSM, I've got everything you want, and nothing you don't… wait a sec…
———————————————————————————————–

Released on Thursday by publisher group Chueki, a new book featuring the characters of Kagami Yoshimizu's popular comedy manga, Lucky Star, is aimed at helping students better perform in Chemistry class. In particular, the book is intended to help high-school level students prepare for college entrance exams. The book is 368 pages long, and sports over 100 illustrations done by Yoshimizu. See, learning can be fun…wish my school would get the hint.

The Japanese anime production company, Studio Kuma, is animating a new film set for release in 2011. The movie will be a "psychic horror" film called Timing. Currently, the Nerima Animation Company, of which Studio Kuma is a part, is streaming a six-minute promotional video of the film. I'm interested to see how this one turns out. For those of you who don't know, I'm kind of a stickler for horror flicks. It makes me put on my excited face, yo!

As reported in iStalk 419, the newest film in the Haruhi Suzumiya franchise, The Disappearance of Haruhi Suzumiya, is set to show in Honolulu, Hawaii on October, 29th 2010. It is being featured in the Spotlight Asia Event going on at that time, and will be shown at the Kahala Theatre. Make sure to book your tickets down to Hawaii, since who knows when the next chance to see the movie on the state(ish)-side will be.

Reported in iStalk 420, we have another slew of anime that will begin to stream online! The new anime confirmed this week, thanks to distributor Aniplex, are Togainu no Chi and Ore no Imouto ga Konnani Kawaii Wake ga Nai. Togainy no Chi follows a street-fighter in a post-apocalyptic world, whereas Imouto is a comedy anime that follows the everyday life of an ordinary high school boy, Kyosuke Kosaka. Both shows are set to begin streaming this fall, with both premiering in Japan this Sunday.

According to iStalk 422, the American comic artist Jhonen Vasquez, best known for Invader Zim, recently commented on Gainax's new fall television anime Panty & Stocking. In particular, Vasquez addressed one of the show's characters, Chuck, a green dog, who bears a striking resemblance to Vasquez's own character Gir, from Invader Zim. His full quote was:
"…took GIR out of the w***ehouse he was working in and gave him a new job! It's nice seeing him get some work, but I gotta say it's a bit on the simple side for my tastes, what with the fart and s**t jokes, but the ending is pretty ridiculous, and Gainax produces some of the only Japanese animation I can stand without wishing I was the drinking type, so I'm looking forward to more."

Japanese police have recently arrested a 42-year-old, unemployed woman named Tomoko Sasaki this past Friday because she was discovered to have been uploading anime online without the proper copyrights using a Perfect Dark software. Sasaki is the third known person arrested for uploading anime illegally with the Perfect Dark software. When questioned by reporters, Sasaki refused to comment on her current situation.

Announced in iStalk 423, Right Stuf has unveiled the website for Dirty Pair. The website contains trailers, screenshots, and a special 4-part interview with the series creator, Haruka Takachiho. In addition to that, Right Stuf is also set to offer the 2 DVD collections of the series coming out this November. Each DVD collection will be digitally remastered, offer both a subtitled and a dubbed version and will contain 24-episodes. They are set to cost $49.99.

Announced on Friday by Bandai Namco Online, a new social game titled Gundam Browser Wars is set to be released sometime this month in Japan. The game will require no software downloads, but only an up-to-date Adobe Flash Player on Windows and Mac with Japanese support. It is reported that players will be able to choose from over 200 different suits and customize them with hundreds of different items sprinkled throughout the game.

Oh Oh OH! I have X-men related news! Announced on Thursday, developers Silicon Knights, also known for their work on titles such as Too Human, Blood Omen: Legacy of Kain and Eternal Darkness, are the studio behind Activision's recently announced X-Men Destiny. The newest game in the X-Men franchise is reported to put players in the role of "new mutant recruits in a rich, branching storyline that features a deep element of choice." It hasn't been confirmed which platforms the game will appear on, but if it is as awesome as it sounds, I might have to buy whichever platform it ends up being on. Jubilee! Shoot some fireworks to celebrate!

ZOMG! I have even bigger X-Men news! This past week at their Comic-Con New York panel, Marvel announced that Konami will be reviving the old X-Men side-scrolling most awesomest arcade game ever! The game will be available on the Xbox 360 and PS3 as a downloadable title. For those who remember this most epic of all X-Men games, the player can choose to save the world as one of 6 X-Men: Cyclops, Storm, Nightcrawler, Wolverine, Colossus, or Dazzler (cheap Jubilee ripoff!!!!!). Konami is also instituting an online drop-in multiplayer mode that will have various difficulties and can support up to 6 people. You all have no idea how excited I am about this right now…I'm going to have to buy a PS3 just for this.

As I am sure some of you already know, it was recently rumored in the New York Magazine that a Halo movie could be in the works by DreamWorks pictures. Again, I state this is rumored, but if it were to happen it would probably not be directly based off of the games, but instead the novels based on the games. It could be a potentially big announcement in the movie world, but once more it is merely rumored at this point…so don't get your hopes up too high, you Halo-maniacs.

Announced by developer Blizzard on Monday, the newest and long-awaited expansion to World of Warcraft, Cataslysm, is set to be released on December 7th, 2010! Major features of the expansion, which I'm guessing most World of Warcraft players already know, but I will list them anyways, include: the level cap being raised to 85, flying in old-world Azeroth and…oh yeah, a complete reconstruction of Kalimdor and the Eastern Kingdoms! It is all but tradition for the World of Warcraft expansions to be pushed back at least a month, but Blizzard is quite keen on releasing Cataclysm on December 7th, so let's hope for the best this time. The expansion will cost $40, and the Collectors' Edition will cost $80.
———————————————————————————————–
Hi-ho! Hi-ho! Off to look for more news I go. Note: Jubilee is not one of the 7 dwarves…although I am kind of sleepy…Anyways, make sure all you awesome fans out there are keeping it tuned to 91.8 the Fan, make sure you guys are checking out the rockin' forums and make sure you are reading the sensational content provided on the front site (Shameless self promotion is winz). If you do this all while wearing a top hat and walking your pet koala bear, you get bonus points (redeemable at all of your local marketplaces).