Posted on Jan 16 2011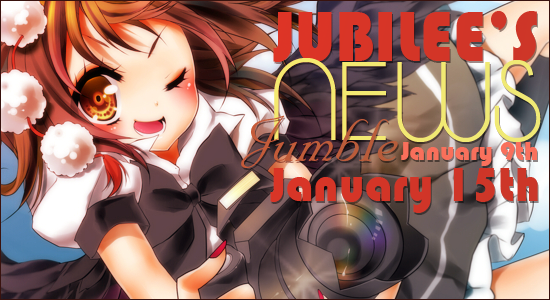 DYNAMIC ENTRY! Hello Fanatics, it is I, the one and only Jubilee, and I am here, as always, to recap this last week's news just for you! It may be snowing like crazy outside, but it is nice and toasty warm in the Jumble this week with stories ranging from iTunes goodies (aside from 91.8 the Fan), to speedy sellers. Now, without further adu…LET'S GET DANSEN!
———————————————————————————————–

This past Monday, Funimation announced that they would be releasing the Gainax anime series FLCL on the iTune's store in the United States this week. The six-episode series is currently on sale for $14.95 for high definition, $9.95 for standard, or $2.99 per episode. Funimation announced last year that they had obtained the rights to the series, and have already announced to us that a box set is due for release on February 8th.

Also in relation with this, Viz Media marked the debut of Vampire Knight Guilty and Buso Renkin on iTunes by allowing people to download the first episode of the series for free until February 1st. The remaining episodes of these series are available for $1.99 per episode, or $.99 for rental. If you would like Vampire Knight Guilty in its high definition entirety, it will cost $22.99. Buso Renkin's twenty-six episode series is currently $19.99.

This past weekend, a seller known by the name of "euf02us" placed a real life guitar replica of the one used by Yui in the K-ON!! anime on Yahoo! Japan. The guitar, signed by the 5 cast members who supplied the voices for the Ho-kago Tea Time band, received a bid for 9,999,999,999 yen. That is about $120 million. The guitar is from a promotional campaign by LAWSON, a Japanese convenience store. The guitar is one of five, and was the campaign's highest level prize. Mostly in part to the questionable bid received, the seller has decided to cancel the auction and re-offer the guitar at a later time.

Announced for November, a live-action film adaptation of Hiroshi Tanaka's manga Bakugyaku Kazoku will be opening in theaters. The series ran for ten years from 1994 to 2004, and followed a group of (previously) teenage delinquents who had banded together and grown up as a family. The movie will be directed by Kazuyoshi Kumakiri, and the main character, Tetsu, will be played by Yoshimi Toku.

It was recently revealed that Warner Bros. Entertainment hired Shane Black to direct a new, live-action movies based on the Death Note series. Mr. Black is probably best known for his help writing the Lethal Weapon movies. It was also revealed that Anthony Bagarozzi and Charles Mondry will write the script for the movie. Warner Bros. acquired the rights to the film in 2009 from the previous owners, Vertigo Entertainment. There have been rumors circulating that actor Zac Efron will star in the film, however, this has not been confirmed. Always makes a great discussion point though.

Reported on Friday, Korean civilians have been more frequently expressing their anger about the K-Pop Boom manga. The manga depicts former K-pop stars as hostesses who are revealing "dirty" secrets about the Korean entertainment industry. The manga goes so far as to actually depict the K-pop groups Girls' Generation and KARA by their names/trademark outfits. The agency of Girls' Generation is discussing "strong countermeasures" with lawyers in Japan, due to the scenes of the manga featuring terms such as "sex-for-favors" and "corruption."

Announced yesterday, a new Pokemon manga is set to release in Shogakukan's Weekly Shonen Sunday starting in March. Although this is not the first Pokemon manga to run in the magazine, it is aiming at a bit older of an audience than previous mangas. Nothing about the core story has been released, other than the fact that it is, like stated before, based on the newest Pokemon video games. I am excited to see what this one is all about.

In book-ish news, Tokyopop recently revealed that they had signed a distribution agreement with Diamond Book Distributors, a company who handles novel sales to bookstores. Tokyopop and their soon to be previous distributor, HarperCollins, have been together since 2006. Although moving to a new distributor, HarperCollins and Tokyopop do plan to continue publishing together. Diamond Book Distributors will be taking over on July 1st, and already distribute for some big name companies, such as: Dark Horse Comics, Bandai Entertainment, and Udon Entertainment.

As was confirmed last month, Sega is planning to release a Dreamcast Collection sometime in February for the PC and Xbox 360. The collection will feature four classic Dreamcast games including: Crazy Taxi, Sonic Adventure, Sega Bass Fishing, and my personal favorite, Space Channel 5: Part 2. I think this is a pretty good collection of four classics…but I don't quite get the Sega Bass Fishing choice. I mean, if they wanted to go with a fish choice, Seaman seems more like a real Sega Dreamcast classic.

So, in news that made me laugh, MGE (Merv Griffin Entertainment) is currently intending to create a new North American reality show based on the Namco classic Pac Man. Apparently, this will not be the first attempt at a television series based on the game, as one was produced for ABC back in 1982. We will have to wait to hear more about what exactly the TV show will entail, (other than the description that it will "be like the world's biggest game of tag"), but nonetheless…the idea that this could be on primetime television gets a thumbs up from me.

In continuing 3DS coverage, a new rumor has surfaced that the new device will be region coded. This will mean that each system will contain a specific code for the region it is in, which will make games imported from other countries unplayable. Quite honestly, I never understood the reason this was done for game systems, as the systems were made to play games. Why limit them just because of their region? There are some really good games that only come out in Japan, or other countries, that we will never be able to play unless we purchase a game system with the specific region code. Let's hope that this rumor turns out to be just that, a rumor…and nothing else.

So, FINALLY, we have a teensy bit of information about Silicon Knight's new game, X-Men: Destiny. It has been revealed so far that the game will take place in a time period where human hatred of mutants is at a high, and the X-Men have recently suffered a significant loss. Gambit, Magneto, Quicksilver, and Surge are all confirmed to make appearances. The game will feature X-Genes, which will allow you to build/customize your character with the powers of other mutants. There will be a choice/consequence system.
Although this is not too much to go on at this point, it is something. I am excited for this game, and cannot wait until some more information is leaked about it. All I know now…is that my character will be able to shoot fireworks. Or at least, they better be able to!

In World of Warcraft news, (Wait, wait…I put it last…see…I am nice) World of Warcraft: Cataclysm officially became the fastest selling PC game of all time, with 4.7 million copies selling since its December 7th release date last year. Not surprisingly, the old title holder was World of Warcraft: Wrath of the Lich King. Nonetheless, the numbers of the game's popularity really put into prospective the amount of moolah Blizzard is raking in. Just think, $40 x 4.7…then, add that to 4.7x$15(x 12 months for a full year). I expect Diablo III to melt my eyeballs out of their sockets with awesomeness. That is all.
———————————————————————————————–
Well, there you have it folks! Another week past, another week of news in the books. It is still snowing outside, but I shall venture forth to claim all of next week's news in the name of the Jumblies! Are you staring at my Jumblies…? I hope so. I am off to team up with a group of Night Elves and explore the Tower of Azora, for I am the noble Thunderhawkx, defender of the Alliance.