Posted on Jun 05 2011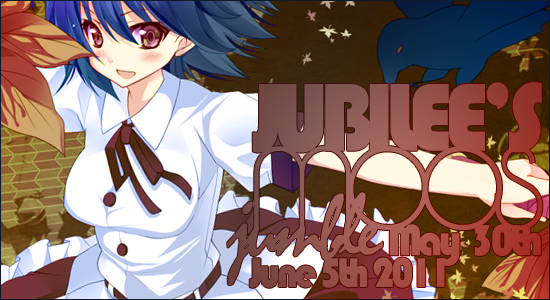 Welcome fanatics! Welcome to the first News Jumble of June! I feel like renaming it to the News Juneble for the month…No? Yeah, I totally didn't think that was a good idea either. Anyways, this past week I have managed to scrap together news ranging from the new, upcoming anime series Adult Swim will be airing, to Final Fantasy V! So, sit back, relax, and enjoy!
———————————————————————————————–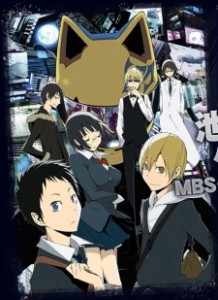 Aniplex of America announced last weekend at FanimeCon that the Durarara!! anime series will begin airing on Cartoon Network's Adult Swim programming block later this month. The 26-episode series will run on Saturdays, and will also be streamable on the Adult Swim website. The show was simulcast by Crunchyroll this past fall, and has since been dubbed by Aniplex, with the first two parts of the series already being released on DVD. The third and final part will ship later this month.

Fuyumi Ono and Ryu Fujisaki ended their Shiki horror manga this past week in the July issue of Shueisha's Jump Square magazine. The series has been running since 1998, and has a total of 11 volumes with about 2.2 million copies of the manga having been printed. The series also inspired an anime adaptation, which aired last year, and was simulcast by Funimation, who also plans to release the dubbed version of the series on DVD and Blu-ray in the spring of next year.

Capsule toy makers, Kitan Club, announced that they will be offering Hello Kitty Zombie Friends mascots later this September. Aside from a zombified Hello Kitty, there will also be zombified versions of Fifi, Mimmy, Joey and Mory, Tippy, and Tracy. The little figures will be available via random lots featuring capsule dispensing machines for about 300 yen, ($3.70). I haven't used a toy capsule machine in years…I remember begging my mother for money to buy junk…Oh the days when that was acceptable by society…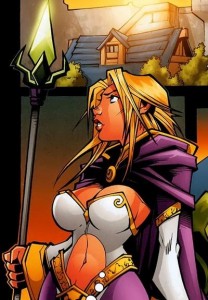 North American comic publisher Cryptozoic Entertainment recently listed the comic series Warcraft: Legends on their website. The title, based on Blizzard's popular Warcraft franchise, (no surprise Jubi is reporting it), was originally published by Tokyopop, which shut down operations in its North American branch earlier this week. Cryptozoic also listed that they re-released the first volume of the series on their digital store for iOS mobile devices. Jaina Proudmoore pic related for awesomeness!

As we are approaching E3, video game news is ramping up quite a bit…so I must report on as much as I can! An early trailer release from Namco Bandai, which can be viewed here, shows off the new Soul Calibur V. More of this game will be revealed at E3, but this is the official trailer for the expo, (not really sure why it was released a bit early, but heck yeah for us!). Thoughts? Sophitia looks awesome as usual…I hope there is a certain Seung Mina behind the scenes though.

As we know, Final Fantasy XIII is getting an upcoming sequel in Final Fantasy XIII-2, and as we can guess, the game will be displayed at E3 coming up soon. However, Gamespot.com got hold of the official trailer early, which I will link you to here! The Expo starts on Tuesday…but I just know there are some who can't wait to see more of it!

Team Ico announced earlier this week that their HD remakes of their classic Shadow of the Colossus and ICO titles will be released in Japan by this fall. September 22nd to be exact. The games will be released individually, but also be bundled together in a pack set that will also include a 100 page book. Individually, the games will cost about $49.50 apiece, and the bundle will cost about $87.00. Pretty pricey…but they will be so pretty. I'm sure we will see these released not too much longer after they are out in Japan.

At a press event earlier this week, Konami had a slew of announcements involving their Silent Hill horror franchise. Besides revealing the Silent Hill: HD Collection and Silent Hill: Downpour, they also announced that they are working on an entirely new installment to the series, Silent Hill: Book of Memories. Sadly, all we know at this point is that the game will be for the NGP from Sony so…Hopefully we will get more info at E3!

Nintendo revealed earlier this week that the first Pokemon game for the Nintendo 3DS would be available sometime next week. The game, titled Pokedex 3D, will be available on the eShop. In the game, players will start with 16 Pokemon, and will be able to gain more via the StreetPass, online via the Spot Pass, or through QR codes. Oh…and I forgot to mention…The game will be a free download. Someone with a 3DS check it out and report to me asap!

In Mortal Kombat news, (which is apparently becoming weekly again…or did it ever really stop being weekly?), a new trailer showing off Skarlet was released this past week. Avid readers will know I talked about the announcement that she would be coming in a DLC, (of which we still do not know the date), but from this trailer, we do know that she will be shown off heavily at E3. Also, leave it to them to change the spelling of her name. I will like the trailer here, but be warned…she is a blood ninja…and she likes her blood…a lot. She can stay.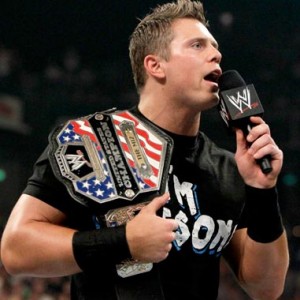 THQ announced alongside the WWE earlier this week that their next video game collaboration will not be a continuation of the Smackdown vs. Raw franchise. Instead, the new game will be called WWE'12, (which I guess means the WWE games from now on will just be named after the corporation and the year tacked on). There will also be a few new features added, such as a fatigue system. When wrestling other people, you can pinpoint parts of their body, (like in real life), forcing them to adapt to the match without, let's say, full use of their left leg, (if they are Kofi Kingston, it would probably be quite effective). There will also be new taunts, such as how Randy Orton spazzes out before he is about to use the RKO. They haven't released any gameplay footage as of yet, but hopefully we will see some soon at E3! Also, The Miz pic related for Awesomeness.

Weekly readers may remember back a bit ago that a Final Fantasy V release for PSN was announced in Japan and Europe…but not North America. Well, we don't have to worry about that anymore! Thanks to an ESRB listing for the game just recently, we now know that Final Fantasy V will be joining Chrono Trigger and Final Fantasy VI on the North American PSN sometime very soon. An exact date was not given, but it is probably safe to assume it will be before the year's end.
———————————————————————————————–
So does it for yet another week, folks! I shall be back again next week, with a full Jumble of video game news from E3! I am going to have a busy week keeping up, but I promise to touch upon all of the things I deem highlightable, and present them easily for you! Until then though, I need to go shake my groove thing, yeah yeah.