Posted on Jun 19 2011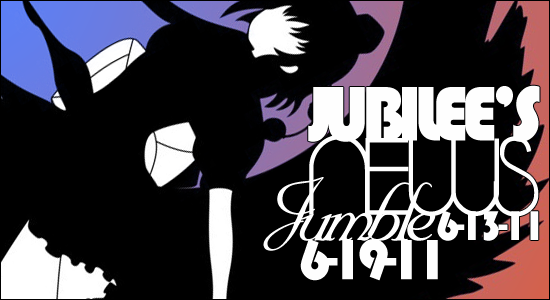 Hey all you Fanatics out there, and a very happy Fathers Day to all you awesome dads out there! I am relying on all of you to relay that message to your dads…you can do that for me right? I will give you lots of cacti for your living room…they look so nice in there, yes? More plants, that is what we need. Basically I've come to the conclusion this week that if everything of the Equine variety was instead a plant, the world would be fifteen times happier. Yup. Horseradish anyone?…Terribly set up jokes aside, I have uncovered a whole week's worth of news, and have assembled it in a nicely wrapped package just for you guys! This week, we take a journey and explore everything from Yu-Gi-Oh's world record, to a disappointing announcement about the Wii U. Let's get to it shall we?
"Your mother was a hamster and your father smelt of elderberries." To this I say…no u. NO WII U!
———————————————————————————————–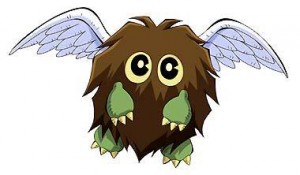 Konami announced earlier this week that Guinness World Records officially recognized Yu-Gi-Oh! as the best-selling trading card game, OF ALL TIME! The official count of cards sold as of March 31st, 2011 was an astonishing 25,175,567,833 cards. Holy crap. Just compare that to back in 2006 when they first tried to apply for the record with only 15.8 billion cards sold. Yeah. All I can say is…TAKE THAT, MAGIC! Also, Winged Kuriboh related cause I like it.

The official English twitter account for the upcoming Trigun: Badlands Rumble film announced this past Tuesday a partial list of locations and dates for the film's theatrical run in the US. Additional theaters will be added in July. Basically, I see every major city you can think of…Even Kansas City! Holy crap, I might have to go catch this!

The official website for the Naruto franchise films, and yes…there are apparently so many they need their own website, posted a full, 92-second trailer for the next upcoming movie in the franchise, Naruto Shippuden: Blood Prison. (It is kinda small…but you can view it here). This is the series' 8th feature film, and it will be opening in Japan on July 30th.

For you Tiger & Bunny fans out there, executive producer Masayuki Ozaki mentioned via Twitter that a replica of main character "Wild Tiger's" hat will be available for sale before to long. In additional news about the series, the character Kotetsu, "Wild Tiger," ranked #1 in a recent BIGLOBE poll regarding voters' favorite character in the 2011 spring anime season. I think I need a hat to go along side my Urahara one…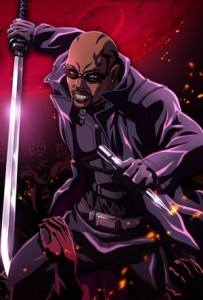 The official MADHOUSE website for their upcoming anime adaptation of Marvel's Blade began streaming a new trailer for the show, which is set to premier in Japan on July 1st, and posted character designs from the project. Hopefully someone simulcasts this one…I am rather intrigued to see Blade in anime form. I shall link you guys to the trailer, here, but be warned it is about vampires…so…ya know…there might be a bit of blood.

In additional Blade news, the Ustream website will be streaming the first episode of the new series, along with commentary by director Mitsuyuki Masuhara, live worldwide on July 1st at 9:45 pm in Japan, or 8:45 am EDT.

It was confirmed this past Wednesday that an anime adaptation of Sore ga Bokura no Nichijo, or This is our Daily Life, has been green-lit. The story focuses around Akihisa Yoshii and his magical academy's lowly ranked Class F as they battle higher rated classes to try and seize 'perks.' More details to come.

Toshihiro Fukuoka, the Chief Executive Editor of ASCII Media Works' ASCII Weekly Magazine reported this past week that the upcoming Hatsune Miku concert in Los Angeles for Anime Expo booked the entire planned allotment of 3,500 seats. Although the Nokia Theater can hold up to 7,100, the concert will use the DILAD Board system to project Crypton Future Media's Hatsune Miku character and friends. Go Miku, Go!

I'm just going to post the newest commercial for Zelda: Ocarina of Time 3D…mainly because it has Robin Williams fully equipped with a hobo beard. It scares me…Anyways, you can view the commercial here. Get it? He named his daughter after Zelda. Epic Winning. There is also this clip which goes a little more in depth, viola, which is also an enjoyable watch.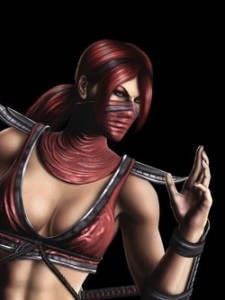 In Mortal Kombat news, and yes…I always seem to have some, NetherRealm Studio's and Warner Bros. Interactive revealed this past Tuesday that the DLC package for the newest game will be released on June 21st…so mark your calendars for me. However, in the trailer (viewable here), there are 3 OTHER characters that will be available as DLC other than the already known Skarlet. It was announced that the other 3 will be released separately during the summer, so it looks like they are trying to keep my Mortal Kombat news weekly. Yay! Anyways, besides Skarlet, we can expect to see the blind swordsman, Kenshi, one of the ninjas from MK III, Rain, and a mystery character of some sort. Friggin awesome. Kenshi was already suspected to be making a DLC appearance, but Rain is just out of left field! I loved fighting with him in MK III, so I am happy to see him making a return to the series. Everyone must download him and tell me how awesome he is when he comes out. Do it and I will give your cacti for your living quarters!

2K's public relations firm, The Redner Group, was not pleased with the negative reviews being given to Duke Nukem: Forever, as was made apparent by a couple tweets earlier this week. Such statements as "Too many went too far with their reviews…we are reviewing who gets games next time and who doesn't based on today's venom," followed by "Bad scores are fine. Venom filled reviews…that's completely different," eventually resulted in 2K stepping in and announcing that they were cutting ties with the group. "2K Games does not endorse or condone the comments made by @TheRednerGroup and confirm they no longer represent our products." When are people going to learn to NOT put things that can get you into trouble on TWITTER. Seriously…

Earlier this week, Nintendo's Global President, Satoru Iwata, confirmed that the upcoming Wii U Console will not be able to play DVD or Blu-Ray discs. Iwata listed the reasoning as adding such features would result in increased costs, due to patents, that would 'outweigh the benefits.' But, he does make a good point in saying that people interested in that aspect would probably already own devices that could play DVDs and Blu-ray. So…eh. I just find it a bit of a disappointment that this new machine that is 'up to standards' and whatnot can't play other discs…Maybe it is just me.
———————————————————————————————–
I hope you all enjoyed your ride on the News Jumble! Photos can be purchased in the kiosk just down the ramp. I hope you all enjoy your day at 91.8 the Fan! I shall be back next week with even more news, so you be back to ride again, ya? So hold your chocobos until then, YA?! Did I ever mention that my favorite things in Final Fantasy are Cactaurs?