Posted on Jul 17 2011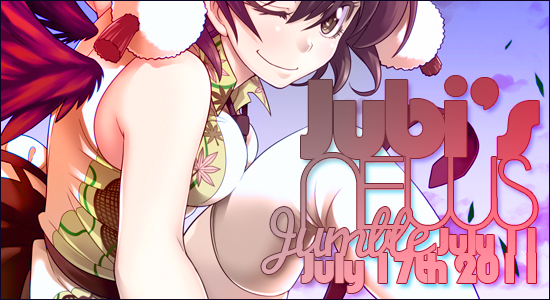 Hello Fanatics! It is I yet again, the juxtaposing Jubilee, and I am back after a bit of a vacation to bring you all what you desire! No, it isn't a lack of adjectives starting with the letter 'J' …Tis news! Everything that is hip and happened from female manga wrestling, to…well, Mortal Kombat-esque wrestling, can be found within…so let's get to it, eh?
———————————————————————————————–

The August issue of Shogakukan's Monthly Shonen Sunday magazine announced that a live-action adaptation of Takao Aoyagi's Koko ga Uwasa no El Palacio manga has been green-lit for TV Tokyo later this fall. The manga follows a man who loses his memory in a car accident, and later ends up as a referee for El Palacio…a female wrestling league. I vote Beth Phoenix to play a role…and smash the competition!

Organizers of the Otakon anime convention of Baltimore, Maryland announced this past Wednesday that they will be hosting Final Fantasy composer Nobuo Uematsu in a Q&A session as well as a charity autograph session on Friday July 29th. For those wanting to attend, $20 are all that is required, with proceeds being donated to the Red Cross for relief efforts after the Great Eastern Japan Earthquake.

This year's 33rd issue of Shueisha's Young Jump magazine announced this past week that Masakazu Katsura (DNA2, Zetman) will be drawing a one-shot manga based on the now running Tiger & Bunny superhero anime. The anime series editor, Masafumi Nishida, wrote the original manga episode, which is expected to ship in the 36th & 37th issue on August 4th. Katsura was also the lead character designer of Tiger & Bunny. If you haven't watched it yet, go hulu it…it is awesome.

Home video distributor, Discotek, announced earlier this week that it had acquired the license for the first season of Lupin III for release on DVD next spring. The first season is the most well know of the series, consisting of 23 episodes, with the first 14 being directed by famed director Hayao Miyazaki.

For you Fullmetal Alchemist fans out there, the Mainichi Shimbun's website began streaming 78 seconds of the upcoming Fullmetal Alchemist: The Sacred Star of Milos film earlier this week. This newest film focuses around the character Julia, and is directed by Kazuya Murata (Code Geass: Lelouch of the Rebellion assistant director). The film opened in Japan on July 2nd, but I felt the clip, viewable here, might satiate appetites until the movie crosses the ocean.

The official website for the Berserk anime film project began streaming a teaser trailer this past Friday. I shall link you all here. It was also revealed last week that the official title will be Berserk Golden Age Arc 1: Egg of the Supreme Ruler. This will be the first of three films in a retelling of the Golden Age arc of the manga. The first film is expected to open in Japan next January.

Last week, the official website for the K-ON! anime franchise began streaming the 2nd official teaser trailer for the upcoming film. You can watch it here. The film will be premiering in over 130 theaters in Japan on December 3rd later this year. When it shall arrive at our doorsteps is hard to say…so let this tide you over for a while.

Akita Shoten's website revealed that Go Nagai will be launching a new manga series titled Demon Lord Dante vs. Getter Robo G in the next issue on August 19th. Nagai created both series being featured in this mashup…Demon Lord Dante in 1971, and Getter Robo G in 1975.

A teensy bit of Kingdom Hearts 3 news was given by Square Enix during an interview with Famitsu magazine this past week. It was revealed that this will be the last game in the series to feature Xehanort as a main antagonist, (however, it is NOT the last game in the series). It was also stated that gamers who have been long awaiting Kingdom Hearts 3 will find some of the answers they seek in the upcoming Nintendo 3DS game, Kingdom Hearts 3D. Overall, it was stated that the title is currently 40-50% completed, so I guess we still have some time to burn. On the bright side, it was also revealed that new technology is being developed that will allow for past titles to be rendered in HD…so perhaps we could see a Kingdom Hearts collection in the future?…Maybe even a Final Fantasy one! My hopes are high.

Square Enix dropped some news earlier this week on their upcoming title for the 3DS, Final Fantasy Theatrhythm. As you can probably tell from the title, the game will be a rhythm based one in which players will form a party of four characters from various different Final Fantasy's. As you progress through the game, you will have to take on villains and monsters to classic Final Fantasy tunes, and your characters will level up in traditional RPG form, which will allow the unlocking of other bonus features and tracks. This one sounds like it could be potentially interesting…we shall have to wait and see though.

As is tradition, I have Mortal Kombat news Fanatics! This time, it is some I am really excited about, as earlier this week NetherRealm Studios released the trailer for an upcoming DLC character, Rain. Some of you may remember him from MK-III, or when I talked about him last month as upcoming for the newest game. I shall link the bloody and NSFW trailer, here. He is one of my favorites in the series, and he looks to have a lot of new and cool toys…I especially like that bubble thing. As one can see, his official date of release will be this upcoming Tuesday, (July 19th), and he will cost $5 for the DLC.

If any of you have played WWE All Stars, you know it is quite comical in its design and how the moves of wrestlers are performed. WWE and THQ seem to be wanting to continue that, with a few additions, in their newest announcement, WWE Brawl. The game will retain the expansive list of Wrestling icons, but if you watch the trailer here, you can see the differences. Yes…it is silly looking, no? I wonder if Beth can slam people off the bridge and into the spike pit…I hope so anyways…
———————————————————————————————–
And that does it for another week! Never fear though, as I shall be back yet again once I get over the fact that Harry Potter is officially over, and therefore so is my childhood. Yup…gotta go cry now. I have also come to the conclusion that Ranch is good on everything…prove me wrong. I dare ya!