Posted on Jan 23 2011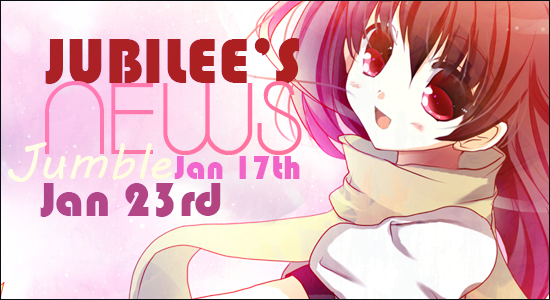 O hai Mark! Welcome to another edition of the one and only News Jumble, hosted by me, Jubilee! Here's to hoping that the week was fantastic for you all! Jubilee has gone back to classes, but that hasn't stopped him from summoning twelve news stories in one turn! This week, we have everything from figurine follies, to Square Enix cubed. Now then…let's rev it up! Yeah, I don't like that one as much either…let's just kick it into overdrive again.
———————————————————————————————–

This past Thursday, two men, Jun Fujita and Keiichi Ito, were arrested on charges of violating Japan's Copyright Act. The two allegedly modified a Kamen Rider W figure and attempted to auction it online. Thus, since the two did this without permission from Toei Animation, the copyright owners of the series, several laws were broken and the men were brought in. The final auction for the figurine was 269,001 yen ($3,300).

This past Friday, the judging committee for the 56th annual Shogakukan Manga Awards announced the winners for this year's contest. There were four sections of manga: girls', boys', children's, and general. The winner of the Girls' section was Fumi Yoshinaga's Ooku: The Inner Chamber. For Boys', it was Ken Sasaki's King Golf. In the Children's section, the winner was Natsumi Matsumoto's Yumeiro Patissiere. The General category sported two winners, Chuya Koyama's Uchu Kyodai and Shohei Manabe's Ushijima the Loan Shark. Winners are invited to ceremony on March 3rd at the Imperial Hotel in Tokyo, as well as receiving 1 million yen and a bronze statuette.

The Beezelbub anime series official website recently announced that the first series DVD, shipping on April 20th, will include a special video short titled Hashire! Beru-bo Keiji!!. The DVD will also include the first two episodes of the series and a special decorative sticker. This series is currently being simulcast on Crunchyroll…and I am quite curious if anyone is keeping up with it? It looked pretty entertaining, and I have been considering it for a while.

Section23, the North American anime distributor, announced earlier this week that the Blu-ray Edition of Guin Saga scheduled for March 29th has been postponed indefinitely. The company lists their reasoning for delay as "circumstances beyond their control," but provided no further information. The DVD collection set for release on the 29th of March as well remain unaffected by whatever the issue is, but as of now, Section23 has gone so far as to request that retailers delete the Blu-Ray Edition from their databases.

Anime licensing company, Sentai Filmworks, alongside online distributor Right Stuf have officially launched a new web page at which fans who purchased the subtitled version of Clannad After Story can upgrade to the bilingual version, set for release on April 19th. All people must do is mail their original copies to Right Stuf, and viola! However, for people who owned both volumes, an upgrade is also available for the return of those, plus $20. If people only own one of the subbed volumes, you can trade that in plus $35 for an upgrade. If people are interesting in just buying the bilingual box set, it will run for about $70 total.

The forums for Cartoon Network's Adult Swim programming block recently added a new section titled "Daten City."Sound familiar? It is a reference to the city in Gainax's 2010 series Panty & Stocking With Garterbelt. The section is listed in the same section of the forums as the Bleach and Kekkaishi ones…so I think you can see where I am going with this. Although the Adult Swim staff has not made any official announcement…it does make one draw conclusions, no?

The voice actresses of the characters Ranka and Sheryl from the Macross Frontier anime series announced yesterday that the Sony PlayStation Home network will be the hosts for a "virtual live" Macross Frontier concert. The two characters will be virtually featured in 3D computer graphics. Although there has been no official date set for the concert, it has been stated that we will be able to keep up with updates via the Macross Frontier Twitter and official website.

We finally have an exact release date for the newest Mortal Kombat game, compliments of NetherRealm Studios and Warner Bros. The game will be available for the Xbox 360 and PlayStation 3 starting on April 19th, and as I am sure regular readers will know…I like my Mortal Kombat. A new gameplay trailer was also announced with the release date, and I'm going to link that for you here. (Note: NSFW, yadda, yadda, it's Mortal Kombat, yo). It features one of my favorite characters, Mileena, who looks to have some awesome looking combos. Also, was she tagged with Kitana in one of those fights?! I think she was.

In continuing Camcom v. Marvel 3 news, two new playable characters were confirmed this past weekend. On the Capcom side, say hello to Akuma from Street Fighter. Stepping into the fray for Marvel, is Deadpool's arch-nemesis Taskmaster. If you would like to see a glimpse of their fighting styles, the official release trailer, which is right here, flaunts both characters pretty well.

In a huge news week for Square Enix, (one that warrants three stories in fact), we finally have a set release date for the highly anticipated Final Fantasy Dissidia 012. The game, set for release on the PSP (like the original), will be available on March 22nd later this year. New characters confirmed for the game include Kain, Tifa, Aerith, and Lightning. But the real story…IS YUNA'S FOOT! IT IS RIGHT THERE IN THE TRAILER! GAH, YUNA'S FOOT!

In part two of the Square Enix news, the newest game in the Kingdom Hearts series has been made official. The newest game, titled Kingdom Hearts 3D: Dream Drop Distance, will be featured on the, (you guessed it!), 3DS. Not too much else is known about the game at this point, but if you want to view a trailer of it, you can click here.

In the final third of Square Enix news, they officially confirmed Final Fantasy XIII-2 for release in Japan later this year. The game will feature the return of the character Lightning, and will be playable on the PlayStation 3 and the Xbox 360. This is not the most surprising announcement, as just a few days before on January 13th, Square Enix registered the domain name finalfantasyXIII-2game.com. I call spoilers. Also, click here for a trailer…in English.
———————————————————————————————–
Another week of news, along with the first week of the new semester, are officially over for Jubilee! I will make my return next week, with another batch of news cooked up fresh for all of you awesome fanatics. Until then, however, please take advantage of our free fayce whippings, compliments of a Mr. Hank Ishtar.