Posted on Mar 13 2011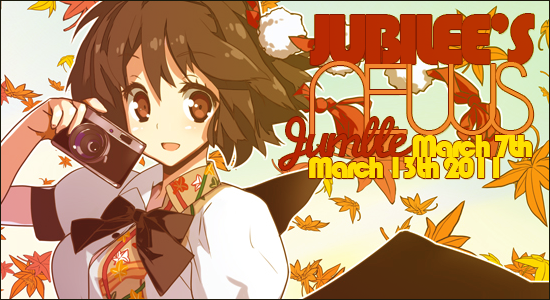 Greetings Fanatics! It is I, Jubilee, and I am here to Jubify your week by highlighting all of this week's Jubiest stories! Why are they so Jubi, you ask? Cause I said so. Anyways, this week we have everything from The Magic Tree House anime, to Lord of the Rings! Now, let's boogie…cause it is Spring Break, yo!
———————————————————————————————–

As was announced last November, Japanese publisher Media Factory green-lit a animated film adaptation of Mary Pope Osborne's popular Magic Tree House books. Well, as of this past week, we know that the film will be out sometime in 2012 due to an advertisement in the Asahi Shimbun. We also know that the film will be based on Ayana Amako's illustrations that were in the Japanese editions of the books. Hiroshi Nishikiori will be directing the screenplay which will be written by Ichiro Okouchi, (who also wrote the screenplay for Code Geass: Lelouch of the Rebellion). Although we do not know exactly which books the movie will center around, I did see a screenshot with dinosaurs…so it is looking like they might go in order. I am sure it will be amazing anyway they decide to do it!

This past week, the four-panel Black Rock-chan manga made its premier in the inaugural issue of Kadokawa Shoten's 4-Koma Nano Ace magazine on Wednesday. In the manga, both the Black Rock Shooter franchise's title character and her nemesis Dead Master are transformed into shrunk down versions named Rock-chan and De-chan. D'aww, they are so cute.

It was announced earlier this week by Japanese game company, Nihon Falcom, that their Eiy? Densetsu: Sora no Kiseki rpg franchise would be getting an original anime adaptation. The anime will be directed by Masaki Tachibana (.hack//Quantum), the scripts will be written by Makoto Uezu (School Days), and the character design is in the hands of Atsuko Nozaki (.hack//Quantum). The game franchise has already sold over one million copies, and plans to release the trilogy under the title The Legend of Heroes: Trails in the Sky on the PSP sometime in the near future.

Toei Animation announced on Wednesday that they had discovered multiple background music tracks in Dragon Ball Z Kai that could possibly infringe upon the rights of an unidentified third party(ies). Although not much information surrounds this announcement, it is reported that Toei is taking measures to replace the tracks and is discussing with others involved in the production about the investigation. Good to see some honorable action!

It was reported late last week that the Japanese animation studio Studio 4 Degrees Celsius will be collaborating with French publisher Ankama to produce a 2-D animated adaptation of the Mutafukaz comic series. The comic is described as being inspired by 1950's science-fiction, hip hop music, and wrestling. It is also reported that the film will have a budget of about $11-14 million…So, expect something extremely interesting in the least!

Shogakukan's Betsucomi magazine's April issue confirmed yesterday that a live-action adaptation of Yuki Obata's We Were There manga is in the works. For those of you that haven't read this series, it is a shojo romance that follows a young girl, Nanami Takahashi, and her difficult relationship with the high school's most popular boy, Motoharu Yano. The 14 volume manga has sold over 10 million copies since its beginning in 2002. Viz Media plans to have the 12th volume released in North America later this May.

The animation student who created the worldwide online anime short hit Fumiko's Confession, Hiroyasu Ishida, began streaming his newest anime short, rain town, online earlier this week. Ishida has been studying at the Kyoto Seika University's Faculty of Manga, and rain town was his graduation project, which he labored on for at least two years. Also, the same day the short started streaming, it won the grand prize at the 9th Independent Animation Festival. This is Ishida's second straight award, winning it last year for Fumiko's Confession. If you would like to watch the rain town short, I shall link you here.

Rocksteady Games' highly anticipated Batman: Arkham City finally has a confirmed release date! Press releases early Friday morning confirmed that the game will be available in North America on October 18th, and in Europe on October 21st. Excited? I know I am! Open the door, get on the floor, everybody walk the dinosaur!

As was to be expected, it was reported earlier this week that Pokemon Black and Pokemon White sold a combined total of 1,080,000 copies within a 24-hour period of their release on March 6th. This shattered the previous record of the franchise, which was Pokemon Diamond and Pokemon Pearl with 780,000 copies in 24-hours.

An inside source reported to Kotaku earlier this week that Activision is working on a new title called Dance Hero. The game is meant to rival Just Dance and Dance Central, but wasn't Activision done with these titles? Apparently not, as even DLC for the Guitar and DJ games are still being released. Oh you, Activision. Oh you. Anyways, it was also revealed that four songs will be available in the game: Jay Sean (ft. Nicki Minaj (Da Dun Dun)) – "2010," The Prodigy – "Out of Space," Timbaland (ft. Keri Hilson and D.O.E.) – "The Way I Are," Afrojack (ft. Evan Simon) – "Take Over Control." Apparently the music game genre isn't dead enough for Activision to copy games to make money. Oh you, Jubi. Oh you.

Microsoft sent out new job listings on Linkedln calling for potential workers on "next generation console architectures" in the Xbox division. Specifically, they are looking for a Graphics Architect, a Senior Engineer, and a Senior Performance Architect. But the real story is that we were expecting another five years or so out of this generation. Microsoft began working on the Xbox 360 two years before it was released, so by that same idea, we could possibly see a new console by 2012-2013. Seems a little soon to me, but what are your guys' thoughts?

Earlier this week, Warner Bros. released a new trailer for their upcoming title Lord of the Rings: War in the North. I shall link you to the trailer here (NSFW: There is lot of dismemberment for some reason…). The game is being developed by Snowblind, the same place that worked on Justice League Heroes and Champions of Norrath, and is expected to hit shelves sometime late this year.
———————————————————————————————–
So concludes yet another week of news! Although this next week is Jubi's Spring Break, do not fret Fanatics! I shall return yet again in a week's time, and provide all of ye with that which you so desperately crave! Until then, join the 91.8 the Fan family in extending our hearts and best wishes to those who lost in the Japan Earthquake earlier this week. Let us hope that everything will get better soon.