Posted on Nov 07 2010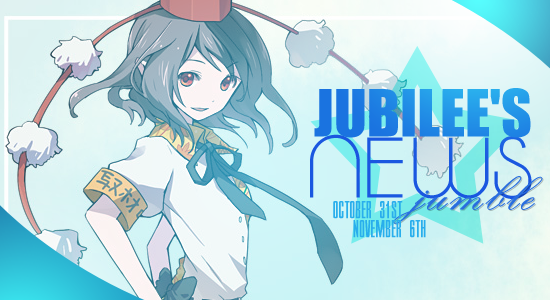 Oh look…another week of news! HEY! Wake-up out of that candy coma feelin like P. Diddy! We only have 3 weeks to prepare for a turkey hangover! This week in the jumble, I have compiled everything from Officer Jenny bustin criminals, to G4 getting dropped. Also, a special shout-out to last week's contest winner, ToyNN! I loved all the submissions, so you are the lucky person who was drawn out of my hat! Congrats! Your candy will be in the mail soon, and on its way to you!(I'll shoot you a PM on the forums). As for this week though, let's get to some awesome news!
———————————————————————————————–

Makoto Sekiguchi, a 27 year-old man from Yokohama, was arrested on Tuesday by Chikusei City police for posting images of characters from the newest Pokemon games. Sekiguchi is accused of copyright infringement for posting six images of three different characters from the new game on the Internet via his mobile phone. Sekiguchi was also reported to have said that he "thought I would show everyone the characters that haven't been made public yet." Police are still investigating how and where Sekiguchi obtained the images.

For all of you iPad owners out there, (I'm not the only one am I? o.o), Viz Media now has a new downloadable manga app available. Sadly, the app is only available on iPad, but the app itself is free for download. However, the six initial launch titles, Bleach, Death Note, Dragon Ball, Naruto, One Piece, and Bakugan, will cost $4.99 per volume. For a limited time though, the first volume of Death Note is available for free download. Viz has also reported that they plan to add Ouran High School Host Club, D. Grey-man, Rurouni Kenshin, and Vampire Knight in the near future.

A court in Amsterdam recently ordered the halt of the sale of items based upon Sanrio's Kathy character from Hello Kitty, due to being too similar to a Dutch character, Miffy. The cease-and-desist order applied for 3 countries, Netherlands, Belgium, and Luxembourg. If Sanrio is to continue selling the goods, the court will apply a fine of 25,000 Euros (~$35,000) a day.
Kathy & Miffy

Announced on Wednesday, Anthony LaMolinara will be heading the live-action adaptation of the Bubblegum Crisis anime franchise, Bubblegum Crisis – Knight Sabers. You might know LaMolinara for his work as animation director in several films such as Spider-Man, Spider-Man 2, and Hollow Man The movie itself is, of course, based off of the Bubblegum Crisis series which follows 4 women who fight with powered armor to protect a future, cybernetic Tokyo. As of now, the film is set to start shooting next May at China's Hengdian World Studios.

This past week, 5,000 school children in Kyoto, Japan were issued a manga about the life of Shigenobu Nagamori, a famous entrepreneur, and founder of Nidec, an electric motor company. The manga was published by the aforementioned company, and Nagamori stated his intention as trying to inspire the young people with his own life story of going from being a farmer's son, to the 13th wealthiest man in Japan. The manga is titled Taiyo yori mo Atsui Otoko, which means "the man who is hotter than even the sun."

This past Sunday at Italy's Lucca Comics and Game Festival, Jiro Taniguchi, creator of manga such as Benkei in New York, The Walking Man, and A Distant Neighborhood, received the honor of "La Giuria dei Premi Gran Guinigi 2010 assegna il riconoscimento come Maestro del fumetto," (gasp, gasp) or "Master of Comics" this past Sunday. It is the highest honor/award given at the festival, which has been running since 1966. Taniguchi previously won an award for Best Long Story, for his aforementioned A Distant Neighborhood, in 2003. Congrats, and keep up the awesome work!

Viz Media recently announced that they had acquired the license to the Yu-Gi-Oh! 5D's, which will begin to be released in the English Shonen Jump in early January. Also confirmed was the license for Psyren, which is also set to first appear in January. So, relating back to an earlier story, I wouldn't be surprised to see these become available on the new iPad app within the next year or so.

Announced on Wednesday by the Japanese government, manga and anime creator Leiji Matsumoto will be awarded with The Order of the Rising Sun, along with 4,173 other people this fall. This is the second most prestigious decoration in Japan, after the Order of the Chrysanthemum (which is generally only awarded to politicians, military leaders, and royalty). Matsumoto is best known for creating Space Pirate Captain Harlock and Galaxy Express 999. Matsumoto is not the first manga/anime creator to receive this honor, with people such as Studio Ghibli composer Joe Hisaishi and Square Enix chairman Yasuhiro Fukushima winning honors last year; however, it is quite the honor nonetheless.

Confirmed earlier this week, the latest film by Makoto Shinkai, Hoshi o Ou Kodomo: Children who Chase Lost Voices from Deep Below, is set to open in 2011. Shinkai is best known for his other various films including: 5 Centimeters Per Second, The Place Promised in Our Early Days, and Voices of a Distant Star. The newest film centers on a young girl who spends her days listening to mysterious music that comes from a crystal radio that she received from her father as a memento. She then goes on an adventure to meet a boy again, and through this comes to discover the beauty and cruelty of the world. Also, the Yahoo! Movies Japan website will be hosting teaser footage from the project starting on November 9th at noon.

Also in new movie news, and slightly transitioning to video game news, the newest movie in the Silent Hill franchise, Silent Hill: Revelation, has been announced, and will be filmed in 3D. Personally, I thought the first Silent Hill movies was pretty darn good, but with the addition of 3D, it seems to be taking advantage of the fad. We will have to see…the summary of the movie is listed as:
"For years, Heather Mason and her father have been on the run, always one step ahead of dangerous forces that she doesn't fully understand. Now on the eve of her 18th birthday, plagued by terrifying nightmares and the disappearance of her father, Heather discovers she's not who she thinks she is. The revelation leads her deeper into a demonic world that threatens to trap her in Silent Hill forever."

Gaming company Electronic Arts (EA) recently announced that they will be starting a new partnership with online social-networking site, Facebook. I am not sure what exactly this new partnership will bring, aside from the fact that Facebook credits will become the official currency for all EA games that will be on Facebook. I expect people will be glued to Facebook more than ever now…

This past week, satellite television provider, Direct TV, announced that they would be dropping G4 from their network line-up. A Direct TV spokesperson reported their reasoning for dropping the channel as:
"Since G4 is among the lowest rated networks based on the latest Nielsen data, we decided that it made sense to focus on preserving programming that is more relevant to our larger customer base."
Naturally, G4 is not pleased with the provider's decision, rebutting that Direct TV will be "denying G4 fans the only network that focuses on the popular gaming lifestyle." (I lol'd). As a gamer myself, I have got to say that The Goonies, Red Dawn, and Ninja Warrior do not accurately portray my lifestyle…maybe it is just me. All in favor for a G4 TV 2…all video games, all the time? (Oh wait…that never works).
———————————————————————————————–
Another week of news has passed, but, as always, do not worry! I will be back next week with all the awesome news for all of you awesome-er fanatics! Make sure you wear a jacket, so you do not catch a cold; also, do not forget to bring in your plants so they do not freeze! (Ice > Plants > Zombies). And always remember, that is a magical leopluradon Charlie!