Posted on Oct 25 2010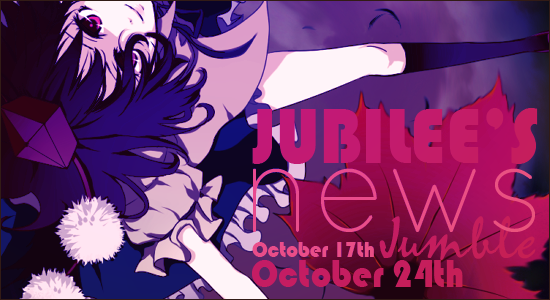 Caaaaaaarrrrlll! You can't just eat hands Carrrrrrl! …Ahem, yeah…Anyways, as usual, I, Jubilee, am back for another week of fantastic news for all you fantastic fanatics out there in 91.8 the Fan –land. Fan, fanny, fan fan. This week in the Jumble, I have gathered stories ranging from Macross Frontier, to Level-5 being tricky, and everything in between. What's in the middle you ask? The white stuff of course…(inb4 giggity).
———————————————————————————————–

Macross Frontier singer, May'n (Sheryl Nome), will have a 3D, stereoscopic film documentary of the final stage performance of the singer's 2010 summer tour. The film will be titled May'n the Movie -Phonic Nation-, and will be released in theatres on February 5th, 2011. As the title suggests, in addition to the 3D concert footage, the film will feature the studio recording of the song "Phonic Nation." Also in relation, the music video collection of Macross Frontier will ship in Japan in mid-December.

Set for release next April by Viz Media is Kazue Kato's Blue Exorcist. The manga follows a boy named Rin, who has been raised by a world famous exorcist named Father Fujimoto. However, Rin soon discovers that he is in fact the son of Satan, but still continues on with his training to become an exorcist and slay demons. The manga originally launched in Jump Square magazine in April 2009.

Universal Pictures and Illumination Entertainment, who may be known for their recent films Despicable Me and Horton Hears a Who!, recently acquired the rights from Tezuka Productions for Naoki Urasawa's Pluto manga. The movie planned is going to be half live-action and half computer graphics. The Pluto manga is a drama in which the world depicted in Astro Boy is re-imagined. Publication of Pluto began in 2004, and proceeded to win the Tezuka Cultural Award in 2005.

The Japanese publisher Nihonbungeisha announced on Tuesday that they would be releasing a new shonen comic magazine. The magazine, which will be called Sakura Hearts, is set to be released on December 9th of this year. The publishers describe their new magazine as "Moe (preciously cute) x Moe (firey)." I shall dub this…the Moe-gazine.

Anime distributor Funimation recently issued a recall for the first DVD collection of Birdy the Mighty Decode, according to Right Stuf International. Funimation later announced that the recall was issued due to a replication error on disc two of the set. The release, which was originally set for October 26th, has now been pushed back until November 30th. Any set already purchased at Right Stuf can be returned and exchanged for the November 30th edition.

Bandai announced on Thursday that they will be releasing a new BONES Crusade card game that will feature characters from five titles that have been produced by the BONES anime studio. The card game's first lineup will feature titles such as Star Driver Kagayaki no Takuto, Fullmetal Alchemist: Brotherhood, Heroman, Darker than BLACK, and Eureka Seven. Bandai is set to release the first starter set and booster packs in early January, 2011.

Beginning Saturday, Japan Anime Live, a stage performance based on Naruto Shippuden, One Piece, Bleach, Gundam, and Fullmetal Alchemist: Brotherhood, will be touring Europe. The tour is described by itself as, "the first official live event made and performed by the Japanese creators of famous manga and anime series." The show, which lasts just over two and a half hours, features performers who act as different characters from the aforementioned anime, who perform martial arts on stage. The first show will premier in Paris, France.

On November 26th, the largest Pokemon shop in all of Japan, Pokemon Center (Oh I get it…), will be opening in Osaka, Japan. The store will be about the length of two basketball courts, (8,300 meters/8,900 feet). The store will carry over 2,500 different types of Pokemon goods, and will also feature a "union room" in which Pokemon fans can meet for battles and card game tournaments. There are currently six Pokemon Centers in Japan, including one already in Osaka, which will be moving to the larger store next month.

Green-lit for next spring,Appleseed XIII, will be a computer animated series adaptation of the future police manga, Appleseed, which was created by Masamune Shirow. This new series will not be a continuation of the series, but rather a new version, or retelling, of it. The new series is being developed by the anime studio Production I.G., and is being directed by Takayuki Hamana.

To kick off Blizzcon this week, Blizzard Entertainment finally released the 5th and final playable class for Diablo III. The class is going to be a Demon Hunter, who damages foes via her double crossbows. I gotta say, after seeing the trailer for this class, (which you can view at Kotaku)…I am sold. As said before, the Demon Hunter will be one of 5 playable classes, the other 4 being the Barbarian, the Witch Doctor, the Wizard, and the Monk.
Not only that, but Blizzard later announced that Diablo III will feature a Player Vs. Player Battle Arena. From what I can tell, the arena will function much like the arenas in World of Warcraft, being your team of 3 can face another team of 3 on a predetermined map (the PvP mode will offer no random ones, which is a bit odd for Diablo). It is nice to see that Blizzard is expanding the capabilities of PvP within Diablo, as it was not the biggest part of Diablo II. Hopefully, by the end of Blizzcon a more exact date for the release will be announced, but as for now…I will just have to dream of collecting ears on my Demon Hunter.

For a change of pace, I have some new free-MMO news. Perfect World Entertainment, (Jade Dynasty,Perfect World International), unveiled their newest game, Forsaken World, back at E3 earlier this year. In addition to looking gorgeous, this game will sport some cool features, such as talents that vary depending on race instead of class, (i.e. A Human Mage and Elven Mage will have different skills), interesting social crafting skills, and a 'God' system, in which players can obtain the title of, say, 'God of Communication,' for a week for being the player with the most chat messages sent. I found the 'God' system particularly interesting, as it will cycle every week, and there will be 10 'Gods' per week. It has also been emphasized that players will be able to quest from level one, all the way to the max level, meaning…an MMO where grinding is not required! Gotta say, I am pretty excited for this game…it looks pretty awesome. Perfect World Entertainment will be opening the closed beta on October 27th, and the game is set for release in the first quarter of 2011. If you would like to view the trailer from E3, which I recommend you do, just click this word that for some reason is a different color from all the rest surrounding it.

On Tuesday, game developers Level-5 and Capcom finally announced the title of their co-op effort that has been in the dark for so long. And guess what…It IS Ace Attorney related! The game will feature both Ace Attorney and Level-5's own Professor Layton, and will be titled, of course, "Professor Layton vs. Ace Attorney". It is reported that the game will be mostly puzzle based, with the story focusing around Phoenix Wright's client being a witch. Sounds like it will be pretty awesome…and happy to see that the initial thoughts of Ace Attorney were correct. Tricky Level-5 you!
———————————————————————————————–
Holy cow! Halloween is next week already! I shall be back, though, and ready to rock the news as whatever I decide to dress up as. Speaking of which, what should I dress up as? Any suggestions? (Inb4 Lady Gaga). Also, make sure to buy candy for the neighborhood kids! Don't be one of those houses that give away apples…or worse…granola…that usually results in a egging…just a forewarning.