Posted on Aug 30 2010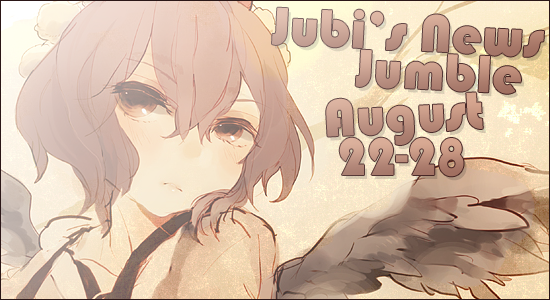 Greetings everyone out there in 91.8 the Fan-land, Jubilee is back for another week of super awesome news! From misfortune wished via Twitter, to Chocobos and Moogles part 14, Jubilee has every little article of news you could possibly want from this past week, and maybe a muffin or two as well.
———————————————————————————————–

Featured in iStalk 390, manga creator Rei Hiroe, best known for his series Black Lagoon, recently updated his Twitter account about discovering a person who had posted all of his manga in a compressed ZIP file online. Hiroe then proceed to tweet misfortune upon the unknown uploader, wishing that the person would contract pancreatic cancer. The tweet also inspired other manga creators Kazuki Kotobuki and Kouta Hirano, creator of Hellsing, to post their own opinions. Kotobuki wished for the uploader to step outside and get hit by lightning, a meteorite, or some other "constructive" form of death. Hirano wished that the uploader would contract a bizarre, previously unknown disease — therefore, the disease would be named after the uploader in medical journals, and that would be how the uploader would be remembered for posterity. Go, Go, Fight the Pirates!

Also in iStalk 390, the website Yahoo Auctions! Japan recently sold 3 spare parts and 3 decals from the life-size Gundam statue that was on display in Tokyo at the Gundam Super Expo from August 10th-19th. Overall, the pieces brought in 4,001,000 yen ($46,900). All of the proceeds went to the Japan Committee "Vaccines for the World's Children." The three pieces auctioned included an operating part of the hip joint, which was the largest piece at 55 cm long, a tip of one of the feet, and an exterior detail used throughout the body's surface.

Featured in iStalk 391, the October issue of Hakuskensha's sh?jo manga magazine LaLa has recently confirmed that Bisco Hatori's manga Ouran High School Host Club will end with a 52-page chapter in the next issue, which will be released on September 24th. However, the magazine had already announced in June that the current arc would be the final one. In response to the end of the manga, LaLa is having a "Host Club: The Last Party" campaign that will be hosting a fan art competition, votes for the fans' favorite title page illustration, and a list of favorite quotes from the series.

Also in iStalk 391, a first limited-edition manga volume of sion and Takumi Miyajima's Goulart Knights will be shipping out on December 25th, 2010 with a specially featured OVA. The OVA is officially titled Goulart Knights Evoked The Beginning Black. It is also the first animation project produced by Lantis, Bandai Visual's music label, since it was established over a decade ago.

Famous director, Satoshi Kon, suddenly passed away Tuesday evening, at the age of 47. Kon started out as a manga creator, but eventually delved into anime, where he made his name known worldwide with his debut film Perfect Blue, in 1997. Other movies Kon had worked on included Millennium Actress, Tokyo Godfathers, Paranoia Agent, and Paprika. Sadly, Kon was also in the middle of working on his newest film, Yume-Miru Kikai, at the time of his passing.

Key animator Shojuro Yamauchi also passed away on Tuesday. The legendary animator had worked on films such as Grave of the Fireflies, Spirited Away, several Lupin III movies, and Prince Mackaroo to list a few of his career's broad range. Key animators are the artists who draw the key frames which other artists form into animated sequences. In addition to being an animator, Yamauchi also worked as an animation director on films such as One Pound Gospel, Sherlock Hound, and Kiteretsu Daihyakka.

Denmark is currently facing a controversial subject due to the opening of a manga exhibit at Kunsthallen Brandts' Media Museum in the city of Odense. Many protesters are seeking to ban the gallery due to the depiction of fictional children in a sexual manner. Although the exhibit features manga of various sorts, naturally, the obscene erotic mangas such as Bondage Fairies and Pink Sniper stand out enough to cause controversy. In fact, Denmark is the only Scandinavian country in which sexual depictions of fictional children is permissible; although, the Social Democrats of the country did propose a ban in April, which is still in review.

Going back to iStalk 390, women's fashion magazine Zipper announced Monday that a live-action adaptation of the manga Paradise Kiss by Ai Yazawa has been confirmed. Actress Keiko Kitagawa, also known as Reiko in Fast and the Furious: Tokyo Drift, will be starring in the movie alongside other actors such as Osamu Mukai, Natsuki Kato, and Aya Omasa. The original manga focused on high schooler Yukari Hayasaka who is discovered by a group of up and coming fashion school students known as "Paradise Kiss."

Announced on Friday by the official website, Kara no Kyoukai – the Garden of Sinners film franchise will be releasing the final chapter in a Blu-Ray Box that will feature both English as well as Japanese subtitles. This chapter, running 30 minutes in length, is titled "Gekij?-ban Kara no Kyoukai Sh?sh?: Kara no Kyoukai," and will be featured alongside a 60-minute editied, Remix –Gate of Seventh Heaven- , compilation of the first six films. The Box should ship in Japan in early 2011, and will run for a whopping 52,500 yen ($620).

Announced by Viz Media via Facebook, the North American company has obtained the licenses for the second season of Vampire Knight, Vampire Knight: Guilty. Although the company revealed its acquisition of Vampire Knight back at Comic-Con in July, it was not confirmed until last week that the second season had also been acquired. The anime adaptation of the first season will also be re-posted to the VizAnime portal beginning this weekend.

Publisher Kodansha recently shipped DVD's to readers containing a new opening animation for a new original animation for xxxHOLiC: R?. The first xxxHOLiC: R? OAD was bundled with the 17th volume of CLAMP's original xxxHolic manga on April 23rd. xxxHOLiC: R? is set for release in Spring of 2011.

In Phoenix, Arizona, the Phoenix Public Transportation Department recently rejected an anime themed bus ad proposal from a restaurant named "Stingray Sushi." The department reportedly made their decision on the basis of its policy not to depict ads that portray violence or obscene language. The ad features Suzi Stingray, the restaurant's mascot, wielding 2 guns and wearing a short skirt. Stingray Sushi claims that they have already paid for the ad space, but that a refund is not an option. The PPTD has said they will allow the ad if the character's skirt is lengthened and her weapons are holstered.

As confirmed by iStalk 393, a new UFC based manga has surfaced, based upon the title match between Lesnar and Carwin that took place on July 4th earlier this year. The manga's creator goes by the alias of Manabelldo, who posted the manga on his page which you can view here. (http://manabelldo.exblog.jp/13011990/) Note the text box on the side for a quick copy paste translation!

Announced by Square Enix via Twitter, the Open Beta for Final Fantasy XIV will be launching in early September. The exact Tweet was listed as, "The FINAL FANTASY XIV Beta Test Phase 3 will end on August 25, then move to the Open Beta Test in early September. Get ready!" Although an exact date is not listed, it does narrow it down to within 2 weeks, just make sure if you get accepted that you do not play for more than an hour!
———————————————————————————————–
News…another week of it has passed, so it has been said…so it shall be done. If I had anything else witty to say, I would put it down, but alas, I am at a loss. Instead, let me reveal this week's winner of super Spiritomb, Quostin who answered,
"I would do an Eevee team consisting of Vaporeon, Leafeon, Espeon, Glaceon, Umbreon, and Jolteon. Eeveelutions are my favorite type of pokemon, and I would like to see how far I would go in a Championship with an eevee team, and how I would fare against powerful pokemon."
I like the dedication, and Eevee's are the win! So, be on the lookout for a PM later this week on a time when I can transfer him over to you. As for this week's question,
"Discuss your opinion on manga depicting children in sexual acts. Are you against it? Does it bother you? Jubilee wants to know, yo."
So, if you would like to be featured in next week's article as the head of the debate, either PM me your answer via the forums, or email me at Jubilee@918thefan.com! Until next time Fanatics, keep your rooms clean, hug your mothers, and tell them thanks for being awesomesauce!