Posted on Jan 10 2013

San Francisco, CA (January 8, 2013) – Crunchyroll, Inc., continues its winter simulcast announcements with the addition of Problem Children Are Coming From Another World, Aren't They?, which is set to broadcast every Friday starting on January 11th at 10:30 pm Pacific Time for its premium members. Free members will be able to view one (1) week after initial broadcast on Crunchyroll. More information can be found on www.crunchyroll.com/problemchildren.
Based on a Japanese light novel written by Taro Tatsunoko and illustrated by Yu Amano, the Problem Children Are Coming From Another World, Aren't They? anime will be produced by Diomedea.
"Three problem children – Sakamaki Izayoi, Kudou Asuka, and Kasukabe You – suddenly receive an invitation to another world known as "Little Garden" from a girl called Black Rabbit. Battles, laughter, sex appeal… anything goes in this new tale of adventure!"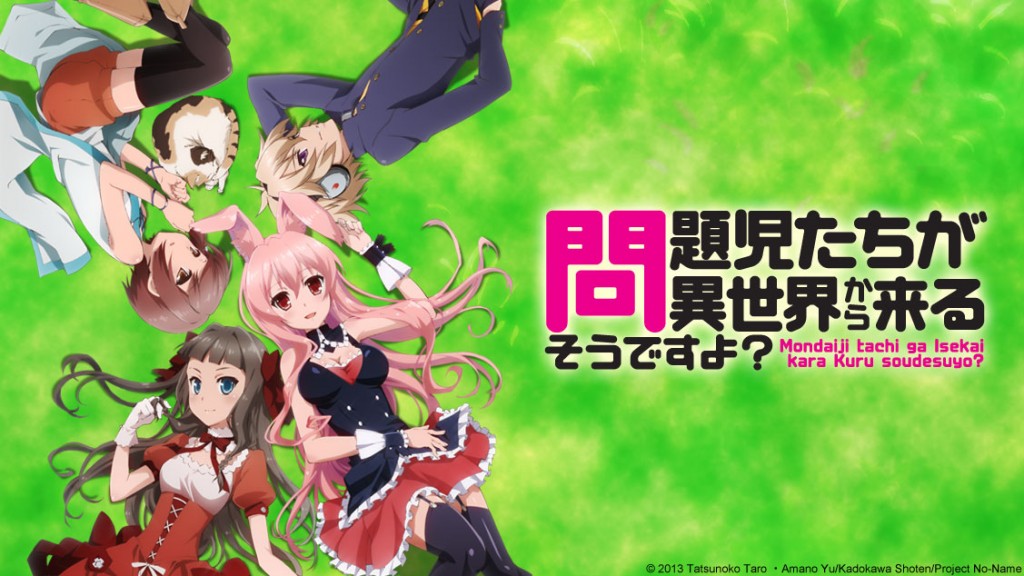 Problem Children Are Coming From Another World, Aren't They? will be available to Crunchyroll's audience in the following territories: North America, South America, Ireland, Finland, Denmark, Norway, Sweden, Iceland, and the Netherlands.
Episodes can be accessed from Crunchyroll.com, the free iPhone and iPad application, the Android application, Windows Phone, PS3™, Xbox LIVE®, Roku, Boxee, Google TV, Samsung TV, Vizio VIA, WD TV Live, additional set-top channels, and affiliate partners.
Crunchyroll premium members have access to the largest selection of anime and drama, same-day access for simulcast titles, no advertisements and can stream in up to 1080p quality on select titles. More information about the Crunchyroll membership plan can be found at: http://www.crunchyroll.com/freetrial/
About Crunchyroll, Inc.
Crunchyroll is a leading global video network and developer of social media applications for Japanese anime and Asian media. Through applications like Crunchyroll for iPhone, iPad, Android, Playstation®3, Xbox LIVE®, TV, set-top boxes, affiliate websites and its own streaming website, Crunchyroll delivers over 20,000 episodes and 10,000 hours of officially-licensed content from leading Asian media producers direct to consumers.
Crunchyroll has offices in San Francisco, Calif. and Tokyo, Japan, and is a member of the Association of Japanese Animations (AJA) and Licensing International Merchandisers' Association (LIMA). Officially launched in 2009, Crunchyroll is funded by leading venture capital firm, Venrock, Japanese entertainment giant TV TOKYO, digital publishing leader Bitway and a group of angel investors representing some of the brightest and most successful entrepreneurs in Silicon Valley. More information can be found at http://www.crunchyroll.com.