Posted on Jan 04 2013

San Francisco, CA (January 3, 2013) – Crunchyroll, Inc., is proud to announce the acquisition of the comedic Ishida & Asakura anime, which is set to broadcast every Saturday starting on January 5 at 5:00 pm Pacific Time for premium members. Free members will be able to view one (1) week after initial broadcast on Crunchyroll. More information can be found on www.crunchyroll.com/asakura.
With only 15 installments published in last year's Young King monthly manga magazine, Masao's high school gag comedy was given the green light to be produced into a series of anime shorts for this winter season. Ishida & Asakura is set to feature the voice talents of Nobuhisa Nakamoto (Legend of Duo) and Shuta Morishima (Cardfight! Vanguard, Kamisama Kiss, Tantei Opera Milky Holmes) as the main characters.
"The friendship of high school boys can be a unique and oftentimes surreal existence for outsiders looking in. Of course, the friendship between our protagonists Ishida and Asakura, are no different. Join these two crazy characters as they get into all sorts of hilarious antics this winter season!"
Ishida & Asakura will be available to the following Crunchyroll audiences: U.S., Canada, United Kingdom, Ireland, South Africa, Australia, New Zealand, Denmark, Finland, Netherlands, Norway, Sweden, Middle East, and South America.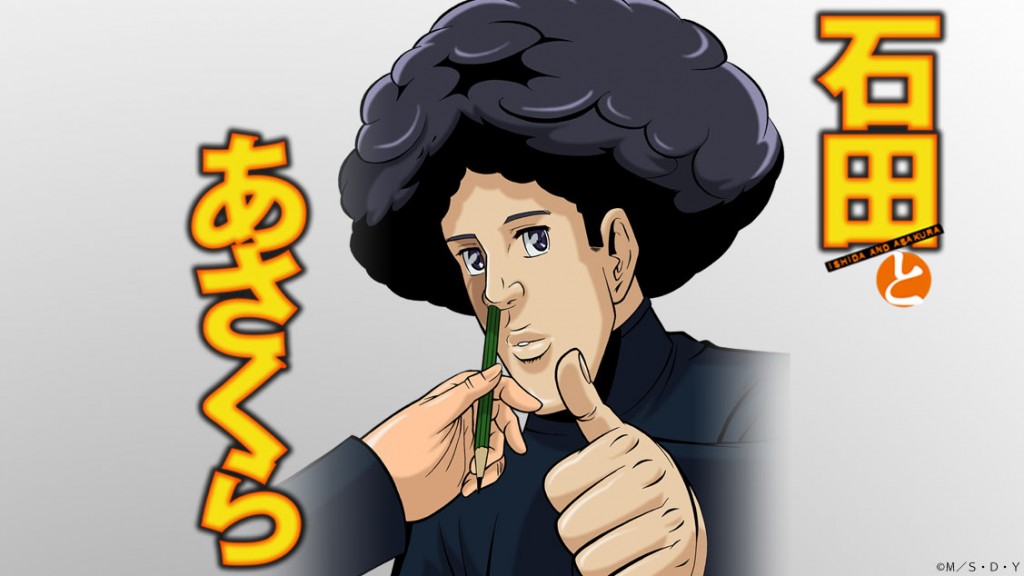 Episodes can be accessed from Crunchyroll.com, the free iPhone and iPad application, the Android application, Windows Phone, PS3™, Xbox LIVE®, Roku, Boxee, Google TV, Samsung TV, Vizio VIA, WD TV Live, additional set-top channels, and affiliate partners.
Crunchyroll premium members have access to the largest anime and drama selection, same-day access for simulcast titles, no advertisements and can stream in up to 1080p quality on select titles. More information about the Crunchyroll membership plan can be found at: http://www.crunchyroll.com/freetrial/
About Crunchyroll, Inc.
Crunchyroll is a leading global video network and developer of social media applications for Japanese anime and Asian media. Through applications like Crunchyroll for iPhone, iPad, Android, Playstation®3, Xbox LIVE®, TV, set-top boxes, affiliate websites and its own streaming website, Crunchyroll delivers over 20,000 episodes and 10,000 hours of officially-licensed content from leading Asian media producers direct to consumers.
Crunchyroll has offices in San Francisco, Calif. and Tokyo, Japan, and is a member of the Association of Japanese Animations (AJA) and Licensing International Merchandisers' Association (LIMA). Officially launched in 2009, Crunchyroll is funded by leading venture capital firm, Venrock, Japanese entertainment giant TV TOKYO, digital publishing leader Bitway and a group of angel investors representing some of the brightest and most successful entrepreneurs in Silicon Valley. More information can be found at http://www.crunchyroll.com.