Posted on Jan 13 2013

San Francisco, CA (January 9, 2013) – Crunchyroll, Inc., has acquired the anime Little Busters! as part of its winter simulcasts, and is set to broadcast every Saturday starting on January 12, at 6:00pm Pacific Time for its premium members, and January 19 for free members, starting with episode 14. The previous 13 episodes will also be available on Crunchyroll at a later date. More information can be found on www.crunchyroll.com/littlebusters.
Based on a visual novel by Key, the studio behind other smash titles like Clannad, Air, and Kanon, Little Busters! features main character Riki Naoe, who was orphaned when his parents die. However, his depression is kept at bay with his group of childhood friends, who call themselves "Little Busters." The friendships and interactions of this group of friends is the main focus of Little Busters! as they go about their daily high school lives.
The cast features Yui Horie as Riki Naoe, best known for her roles in Fruits Basket as Toru Honda and Love Hina as Naru Narusegawa, with Hikaru Midorikawa of Gundam Wing's Heero Yuy fame, as the leader of gang, Kyousuke Natsume and Tomoe Tamiyasu, who also voiced Futami Moriyama in Recorder and Randsell, as his sister, Rin Natsume.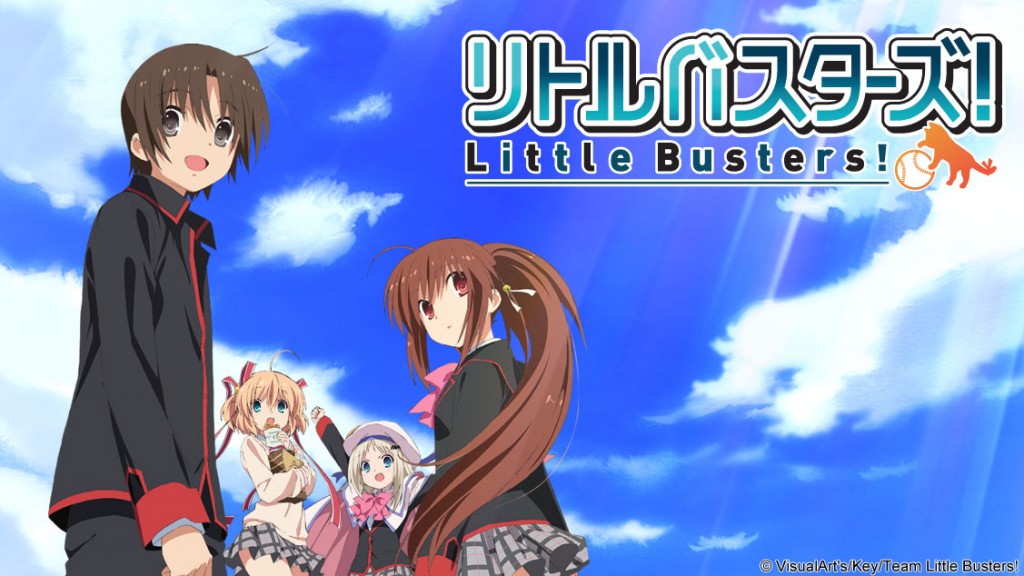 Little Busters! will be available to Crunchyroll's audience in the following territories: USA, Canada, UK, Ireland, South Africa, Australia, New Zealand, Netherlands & Scandinavia.
Episodes can be accessed from Crunchyroll.com, the free iPhone and iPad application, the Android application, Windows Phone, PS3™, Xbox LIVE®, Roku, Boxee, Google TV, Samsung TV, Vizio VIA, WD TV Live, additional set-top channels, and affiliate partners.
Crunchyroll premium members have access to a large selection of anime and drama, same-day access for simulcast titles, no advertisements and can stream in up to 1080p quality on select titles. More information about the Crunchyroll membership plan can be found at: http://www.crunchyroll.com/freetrial/
About Crunchyroll, Inc.
Crunchyroll is a leading global video network and developer of social media applications for Japanese anime and Asian media. Through applications like Crunchyroll for iPhone, iPad, Android, Playstation®3, Xbox LIVE®, TV, set-top boxes, affiliate websites and its own streaming website, Crunchyroll delivers over 20,000 episodes and 10,000 hours of officially-licensed content from leading Asian media producers direct to consumers.
Crunchyroll has offices in San Francisco, Calif. and Tokyo, Japan, and is a member of the Association of Japanese Animations (AJA) and Licensing International Merchandisers' Association (LIMA). Officially launched in 2009, Crunchyroll is funded by leading venture capital firm, Venrock, Japanese entertainment giant TV TOKYO, digital publishing leader Bitway and a group of angel investors representing some of the brightest and most successful entrepreneurs in Silicon Valley. More information can be found at http://www.crunchyroll.com.