Posted on Oct 03 2012

San Francisco, Calif. (October 2, 2012) – Crunchyroll, Inc., blazes forward with its simulcast announcements by launching Ixion Saga DT this season. Ixion Saga DT will broadcast every Sunday starting on October 7, at 10:00 a.m. Pacific Time for both its premium members, with its free members able to view one week after initial Crunchyroll broadcast. More information can be found on www.crunchyroll.com/ixion.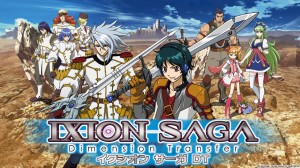 Ixion Saga DT will be available to Crunchyroll's audience in the following territories: Premium members have access worldwide except Japan while general members have access in USA, Canada, UK, Ireland, Australia, New Zealand, South Africa, Denmark, Finland, Netherlands, Norway, and Sweden.
"The protagonist, Hokaze Kon, is sent to another world called Mira, the home of a mysterious energy known as Alma. Kon appears just as Princess Ecarlate is being attacked by enemies and saves her, later accompanying her party in this new world he knows nothing about. As it turns out, the princess was on her way to the capital to be married, but as the marriage was political, she has been targeted by enemies who oppose the wedding.
Since the division of the continent into the nations of Jugglaburk and Regalt, the empire of St. Piria has monopolized the power of Alma energy, and the shadow of war looms over the world. In order to avoid war between St. Piria and those who oppose it, the emperor of St. Piria planned to wed his daughter, the 36th imperial princess, Ecarlate, to the lord of the opposing nation of Jugglaburk.
Ecarlate departed for the wedding in secret, but many of her companions were killed in the enemy attack. Only a guardian knight and a maid survived, saved along with the princess by the arrival of Kon. Later, Kon is told that he might find a way back to his own world if he goes to the capital, so he accompanies the princess and her party there. Can they make it to the capital safely?"
Episodes can be accessed from Crunchyroll.com, the free iPad and iPhone application, the Android application, Windows Phone, PS3, Roku, Google TV, Boxee, Vizio VIA, WD TV Live and additional set-top channels, and affiliate partners.
Crunchyroll premium members will have access to the largest anime and drama selection, same-day access for simulcasted titles, no advertisements and can be viewed in up to 1080p quality on selected titles. More information about the Crunchyroll membership plan can be found at: http://www.crunchyroll.com/freetrial/
About Crunchyroll, Inc.
Crunchyroll is a leading global video network and developer of social media applications for Japanese anime and Asian media. Through applications like Crunchyroll for iPhone, iPad, Android, TV set-top boxes, affiliate websites and its own streaming website, Crunchyroll delivers officially-licensed content from leading Asian media producers directly to consumers.
Crunchyroll has offices in San Francisco, Calif. and Tokyo, Japan, and is a member of the Association of Japanese Animations (AJA) and Licensing International Merchandisers' Association (LIMA). Founded in 2006, Crunchyroll is funded by leading venture capital firm, Venrock, Japanese entertainment giant TV TOKYO, digital publishing leader Bitway and a group of angel investors representing some of the brightest and most successful entrepreneurs in Silicon Valley. More information can be found at http://www.crunchyroll.com.