Posted on Oct 03 2012

San Francisco, Calif. (October 2, 2012) – Crunchyroll, Inc., continues with its simulcast announcements with the acquisition of Btooom!. Btooom! is set to broadcast every Thursday starting on October 4, at 7:00 p.m. Pacific Time for its premium members, and October 11 for free members. More information can be found on www.crunchyroll.com/btooom.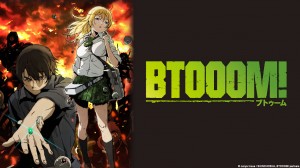 Btooom! will be available to Crunchyroll's audience in the following territories: United States, Canada, United Kingdom, Ireland, Australia, New Zealand, the Netherlands, Scandinavia, and South Africa.
Based off an original manga of the same name, Btooom! is animated by Madhouse Studios and stars voice actor Kanata Hongo, who portrayed Ryoma Echizen in the film version of Prince of Tennis and Shin in the movie Nana 2, as the lead character. He is joined by up-and-coming voice actress Suzuko Mimori as the female lead Himiko, and voice actor Toru Okawa as Kiyoshi Taira.
"The action-packed series drops 22-year old Ryota Sakamoto onto a deserted island right in the middle of a real-life version of his favorite online game, 'Btooom!' Not knowing how or why, he and other players are being forced to kill fight and kill each other with bombs, called BIMs. Now, having to fight for his very survival, can Ryota survive and find out just what is going on as the curtain rises on this explosive game."
Episodes can be accessed from Crunchyroll.com, the free iPad and iPhone application, the Android application, Windows Phone, PS3, Roku, Google TV, Boxee, Vizio VIA, WD TV Live and additional set-top channels, and affiliate partners.
Crunchyroll premium members will have access to the largest anime and drama selection, same-day access for simulcasted titles, no advertisements and can be viewed in up to 1080p quality on selected titles. More information about the Crunchyroll membership plan can be found at: http://www.crunchyroll.com/freetrial/
About Crunchyroll, Inc.
Crunchyroll is a leading global video network and developer of social media applications for Japanese anime and Asian media. Through applications like Crunchyroll for iPhone, iPad, Android, TV set-top boxes, affiliate websites and its own streaming website, Crunchyroll delivers officially-licensed content from leading Asian media producers directly to consumers.
Crunchyroll has offices in San Francisco, Calif. and Tokyo, Japan, and is a member of the Association of Japanese Animations (AJA) and Licensing International Merchandisers' Association (LIMA). Founded in 2006, Crunchyroll is funded by leading venture capital firm, Venrock, Japanese entertainment giant TV TOKYO, digital publishing leader Bitway and a group of angel investors representing some of the brightest and most successful entrepreneurs in Silicon Valley. More information can be found at http://www.crunchyroll.com.