Posted on Jan 18 2011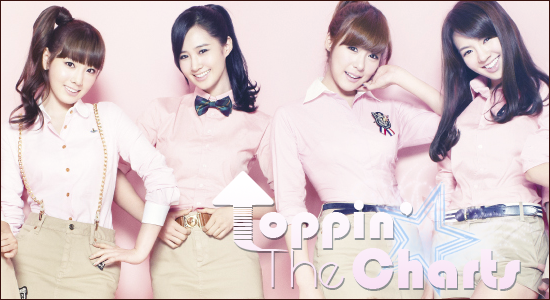 With the second edition of Toppin' The Charts I introduce to you the "Kouhaku Effect", which heavily determined last weeks standings for Japanese music. What is this effect and will it impact the charts this week? Also, will Korea continue to stick close to their tissue boxes as their favorite drama original soundtracks continue to beat out the competition? Hit the jump to find out!
Notes:
Considering I had a bit more time to work with some of the smaller details in this week's feature, I was very happy to fix some technical problems that appeared in the last one. Obviously the newest addition is the fact that you'll be able to tell how well (or poorly) the song did in comparison to last week. This is pretty common and I had planned to have it originally in the last video, but I was unsure of placement and movement. I also had more of a chance to pay attention to audio levels, which bothered me in the last edition. I was careful to make sure that some songs weren't louder than others and vice verse so there was a consistent flow. Lastly, I edited the placement of the rank numbers located in the bottom right hand of the screen. It's not a big difference, but you shouldn't see any words cut off unlike last time.
As for this week's charts I'm highly disappointed that AKB48 is also being hoisted up near the top due to the "Kouhaku Effect". I'm happy however that Kana Uemura's "The Toilet God" (or "The Toilet Goddess") has remained at number one considering the song has a bit more meaning and far less fan-service. There was a lot of cute giggles concerning the number one song, but it's a bit sad that more people didn't feel the emotion in the song simply due to the translation of the title. Here's a summary for those interested:
Uemura was not very fond of cleaning toilets, so her grandmother told her that a beautiful goddess lives in the toilet, if she cleaned it every day, this goddess would make her into a beautiful woman. As Uemura grew older, the communication gap between her and her grandmother worsened and the two grew apart. Uemura, feeling resentful, moved away from home with her then boyfriend and rarely came home to visit. Her grandmother later became more ill and was hospitalized two years after Uemura left for Tokyo. Uemura visited her, saying "Grandma, I'm home!" as she used to when she was little, before the two began to fight. Her grandmother could not say much, but made the effort to tell her to go away, and the next morning died in her sleep. Uemura believe she was waiting for her, and feels regret for hurting her grandmother, saying thank you to her at the end of the song. — Source
Despite being a ten minute song it's obvious why this is making number one. It's sentimental lyrics, the help of the "Kouhaku Effect", and the fact it's inspiring enough to get its own drama is quite impressive. Whether this song remains on the top spot for another week though is subjective considering.
Lastly, for those of you curious about the Chinese charts I have yet to find a solid source. I've gotten a few suggestions, but on further research they're either yearly or they're not necessarily the most trusted. Once again, if anyone knows of some sort of chart system for China (or Hong Kong) then let me know.
Promotion: