Posted on Sep 20 2010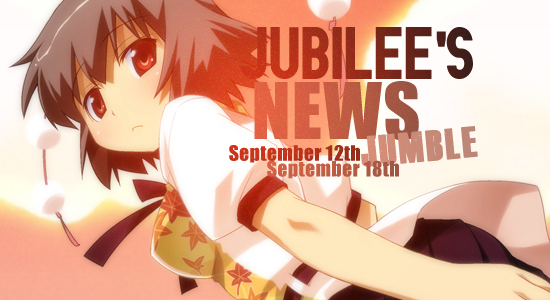 Hey, hey, hey all you fantastic fanatics out there in 91.8 the Fan-land, Jubilee is back in black for another week of news action! Eh, we all know that is a lie…and I am wearing pink. Anyways, a load of news has been dumped upon my doorstep, and I have taken the liberty to sort it by size, color, shape, and in both alphabetical and numerical order! From California Pedobears, so hot they'll melt your Popsicle, to PETA-nuts, it is all here…and ready for YOU. Also, holy crap it is almost October!
———————————————————————————————–

Featured as a news report on the television station KSBY 6 in southern California, the San Luis Obispo County Sheriff's Department has issued a warning to locals about the famous internet character Pedobear. Reported by the Department is the belief that pedophiles are using the image as a mascot of sorts, and are advised to exercise extreme caution to those who are associated with the character. If you would like to see the actual report, I shall make this word turn blue and you can click it to watch it.

The official website for Tite Kubo's Bleach franchise recently began streaming a 32-secon trailer for the fourth film in the series, Bleach: Jigoku-hen. It is also said that the film will take place in setting that is brand new to the series, which will be hitting its 10th anniversary next year! The film is set to open on December 4th, 2010 in Japan.

As of the week of September 6-12, Eiichiro Oda's immensely popular pirate anime/manga franchise, One Piece, has sold over 1 million copies of DVDs and Blu-ray Discs. In the one week alone, roughly 29,000 copies were sold, setting the total at about 1.011 million for all time. When was the last week One Piece didn't set some sort of record?

The all-star guest lineup for this year's Anime Festival Asia in Singapore have recently been announced! A total of five, yes FIVE, musicians are booked for the event, and include JAM Project, Scandal, Ichiro Mizuki, Angela, and May'n. Other guests at the con include voice actresses such as Kana Hanazawa, Kasumi Ishiki, Suzuko Mimori, Sora Tokui, Mikoi Sasaki, and Izumi Kitta, professional Cosplayer, Kaname, and anime producer, Danny Choo. The festival will take place on November 13th and 14th.

Reported on Wednesday by the media-distribution website Cruncyroll, the website will begin simulcasting the Sora no Otoshimono: Forte (Heaven's Lost Property: Forte), Panty & Stocking with Garterbelt, and Fortune Arterial: Akai Yakusoku anime series, along with obtaining 13 back catalog titles from the licensor Kadokowa Pictures. The three new series will be available in North and South America, the United Kingdom, Africa, the Middle East, Sweden, Denmark, Norway, Finland, Iceland, Ireland, the Netherlands, Portugal, Singapore, the Philippines, and Malaysia, and will stream on the same days as they first air in Japan. Sora no Otoshimono: Forte and Panty & Stocking with Garterbelt are set to air on October 1st, and Fortune Arterial is set to air on October 8th.

In an interview on Monday between movie news website Collider and actor Keanu Reeves, rumored status of the Cowboy Bebop live action movie was discussed. The direct quote of Reeves was:
I haven't heard anything back. They turned in the script and it was very expensive. I don't know if they're going to…it would cost, like, half a billion dollars to make that script. So, I don't know where it's at right now.
If the movie is to go through after the reported rewriting of the script by writer Peter Craig, Keanu Reeves is slated to star in the movie, but again, as of this point in time, nothing is confirmed, only rumored.

Musician Steven Tyler, vocalist for the American rock band Aerosmith, will be writing and singing the theme song for the live-action film version of the Space Battleship Yamato anime franchise. The song, titles "Love Lives," is Tyler's first solo work, and is set to go on sale in Japan on November 24th. The live-action movie itself will be directed by Takashi Yamazaki, headlined by Takuya Kimura, as well as other cast members such as Toshiro Yanagiba, Meisa Kuroki, Tsutomu Yamazaki. As of now, the film is set for a December 1, 2010 release date.

The McDonalds located on Tokyo's artificial island Odaiba is completely redecorating for the release of Pokemon Black & White on September 18th. The co-op between Pokemon and McDonalds only starts there though! Visitors to McDonalds throughout the country will receive special in-game items called "Liberty Tickets," which are used to meet the legendary Pokemon Victini. So, all you Poke-natics better get your tickets to Japan and get some McChicken Nuggets while you can…

The Fashion Institute of Technology's Museum, located in New York City, will be hosting a J-Fashion exhibit running from September 17, 2010, to January 8, 2011. The exhibit features over 100 outfits ranging from fashion trends such as Gothic Punk Lolita, to Forest Girl, to even Cosplay! Naoto Hirooka, a world famous designer who recently made an appearance at Otakon for those who were able to make it, will have several outfits on display in the exhibit.

Navarre Corporation, the ones who are trying to sell Funimation, held a shareholders' meeting on Wednesday, on which it was revealed that there are currently 6 companies showing interest in purchasing Funimation. The final offers of each of the companies are expected to arrive within 30-60 days, but it is not certain that any of the offers will lead to a deal. I'll keep you updated on information as the story develops, and let's hope Funimation ends up somewhere that they will really be able to thrive at.

Updated news from the Tokyo Game Show, Square Enix's online manga store, which was planned to be launched in North America and France this fall, will instead be launching this winter. On the bright side though, an iPhone/iPad application were announced for the store, and are set to release in Japan in November. Also, purchasing the manga in the store will merely require the same Square Enix account used to buy video games as of now.

For those of you who do not know yet, Pokémon Black & White versions were released in Japan earlier this week, which means that we now know all of the new Pokemon that will be available! If you would like to view a list of all 156 new Pokemon, there is a list on Serebii.com, or you can view this nifty little video that shows the images of all of them! Sorry to get some of you excited, but we will just have to wait until next Spring until the games are released here in North America. Sad face, tear.

Announced by Namco Bandai at the Tokyo Game Show earlier this week, Tekken Tag Tournament 2 has been officially confirmed! However, it has only been confirmed for release in Japanese arcades in July 2011, so no news on whether it will hit the consoles, or even make it over the sea. Nonetheless, if you would like to see the trailer, click this word with the altered color.

A brand new flash game released by PETA, People for the Ethical Treatment of Animals, puts the player in the…shoes?…of a circus elephant while he fights his captors for his freedom. The game is blood-free, unless of course the tamers get to you, as the true power of the elephant is to shoot his prod-wielding captors with peanuts, as we all know this is an elephants greatest form of defense in both captivity and the wild. So, if you have ever wanted to pelt pitchfork wielding animal haters with peanuts, I guess you can click here. Wow Jubilee…just, wow.
———————————————————————————————–
So much news…so little time! Never fear though, Jubilee will be back next week with more exciting and enthralling stories for everyone's' reading pleasure! Until then though, I am going to the Renaissance Festival, and I am going to buy a turkey leg…then I am going to parade around and act like Henry VIII. Hey you noble paladin, I'm Henry VIII! Hey you evil wizard, I'm Henry VIII! Hey you Fairy Queen, I'm Henry VIII!