Posted on Oct 31 2010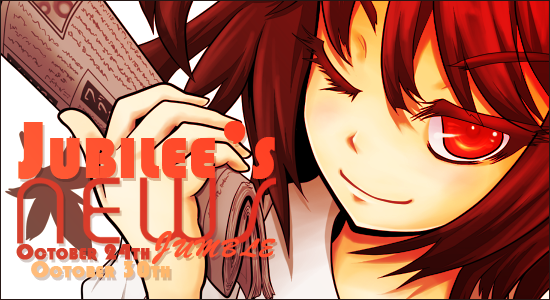 Happy Halloween all you Fanatics out there! It is I, Count Jubula, and I am here to suck your blood! (And by that I mean provide news for your viewing pleasure). In this ghoul-amorous edition, you can prey upon stories ranging from the Manga Murderer, to DSSN. So, without further Au-BOO, let us get past my terrorible puns and to the news!
———————————————————————————————–

Although this case is a couple years old, the Belgian police recently announced that they may be close to identifying the victim of the 2007 "Mangamoord" case. In 2007, a hiker discovered several body parts that were left in a park. Alongside the body was a note that said "Watashi wa Kira Dess," which is a misspelling of "Watashi wa Kira Desu," meaning "I am Kira," an obvious reference to the Death Note manga/anime series. The police spokesperson reported that a photo of the believed victim was recognized by four suspects who were previously arrested in September, as well as by a family member. Three of the suspects aforementioned were charged with murder, whereas the fourth was charged with "failing to provide assistance to a person in danger." Although further scientific testing is needed to prove the identity of the victim, the lead the police currently have looks to be the likely victim.

Announced this past week by the Anaheim International Film Festival, Summer Wars won the Audience Award for Best Animation Feature. The festival ended October 17th, and Summer Wars competed against other films such as The Ugly Duckling from Russia, and Mars from the United States. Summer Wars was created by the anime studio MADHOUSE, director Mamoru Hosoda, screenwriter Satoko Okudera, and character designer Yoshiyuki Sadamoto (the same group that worked on The Girl Who Leapt Through Time).

Funimation recently announced that they would begin simulcasting Princess Jellyfish ,or Kuragehime, beginning on Thursday, October 28th at 12:45 PM. The series originally began airing in Japan on October 14th, but is already well known for its award winning story. Speaking of which, the story follows Tsukimi Kurashita, who is a jellyfish fanatic, who moves to Tokyo to pursue her career as an illustrator. She eventually goes to live in an apartment complex that is full of female otaku, with a rule forbidding men from entering (Celadon City Gym much?). However, one day, Kurashita invites over a seemingly stylish female who turns out to be lacking the fe in their gender. Craziness ensues! Sounds…interesting!

A writer for Pokemon and creator of Minky Momo, Takeshi Shudo, passed away earlier this week at the age of 61. Shudo was rushed to the hospital early Thursday morning after collapsing at the Nara railway station in Nara City, Japan. The writer of the first three Pokemon movies was reported to have suffered from a subarachnoid hemorrhage in his head, which eventually was the cause of his passing. Our best wishes go out to his family.

Humikane Shimada, the illustrator of Strike Witches, tweeted that a theatrical film version of the Strike Witches franchise has been confirmed. Shimada also tweeted that there would "probably" be more detailed information about the project in this week's Nyantype magazine, set to come out this Saturday.

Reported on Thursday by Oricon, Karuho Shiina's Kimi ni Todoke manga's 12th volume has sold just over one million (1.004) copies as of October, 24th. This is the 7th consecutive volume to reach the one million sold milestone. In fact, the 12th volume was the fastest to reach the milestone, this past week only being its 5th for sale. All 12 volumes were present on Oricon's September Top 100 Comics chart.

Zeitgeist Films, an independent and international film distributor, announced that they will be releasing a DVD featuring a collection of Koji Yamamura's anime shorts. The DVD will be titled Franz Kafka's A Country Doctor and Other Fantastic Films, and is set for release on December 7th, 2010. Featured on the DVD are 13 animation shorts, including the Oscar nominated Mt. Head, as well as A County Doctor, which earned top prize at the Hiroshima Anime Festival.

Announced on Thursday by thenewest edition of Young Ace magazine, the artist Kabocha will be creating a new manga series based on Gainax's Aim for the Top! Gunbuster anime. As of now, the series is to first launch in the next issue on December 4th. The anime was released in the United States by U.S. Renditions in 1988 on video tape, and was one of the first English-subtitled anime releases.

Video-streaming website Animate.tv, alongside production company Frontier Works, launched a new site for a project know now as only "Halloween Town." As of now, the front page sports the silhouettes of 5 characters. Animate.tv said that more information about each of the characters will be added soon, but, of course, the site had to officially launch on Halloween.

Mega Man creator Keiji Inafune announced on Friday that he would be leaving Capcom after being with the company for 23 years. Inafune served as the Head of the R&D Management Group, Comsumer Games R&D Division, Contents Management Division, as well as being the CEO of Capcom subsidiary, Daletto, which he will also be leaving. Inafune listed several reasons for his leaving. In addition to not being able to move any higher in Capcom's developmental structure, he also felt it was a good time to start his life over again. He said he will not be taking a break, and is eager to jump into his next challenge. Wherever the winds may blow him, the best of luck to him!

Announced on Thursday by Capcom, Ghost Trick: Phantom Detective for the DS is set for a North American release on January 11th, 2011. The game, created by Shu Takumi (Ya know, the guy behind Ace Attorney), is a puzzle game that puts the player in the role of a murder victim who is trying to uncover the truth of his death. Not only that, but the box art is awesome. (Ohu!)

Announced on Friday morning, Nintendo CEO Satoru Iwata showcased for the first time the new Shop Channel on the 3DS. Instead of having two separate channels like now, Nintendo is combining the Nintendo Channel and the new Shop Channel. This will allow people to download demos and videos to the 3DS before actually buying them! Iwata also discussed that the shop would be split up into what he called 'racks.' For example, the store would have a Mario 'rack' and a Zelda 'rack.' When looking at specific games, potential buyers can view streaming footage of the game, user comments and recommendations/reviews, and a link to the homepage of the game's website.
———————————————————————————————–
It is Halloween, everybody make a scream! I am putting on my costume right now…and am getting ready to go trick or treating (Not really…sadface)! Never fear though! I will be back next week with all the news in this totally original orange plastic pumpkin candy bucket! Also, special for this edition, I am having a super spooktactular contest!
What are all of you fanatics dressing up as for Halloween? What is your favorite kind of Halloween candy? Favorite horror movie? Favorite Halloween tradition?
Focus on one question…or answer them all! An extraordinary Japanese candy prize pack will be granted to the answer I like best!So, all you fanatics out there, put on yo thinkin (witch) hats and comment below! It's free candy! I am giving it to you, for you, the fanatics, are the shizzle. Om nom nom!