Posted on Nov 14 2010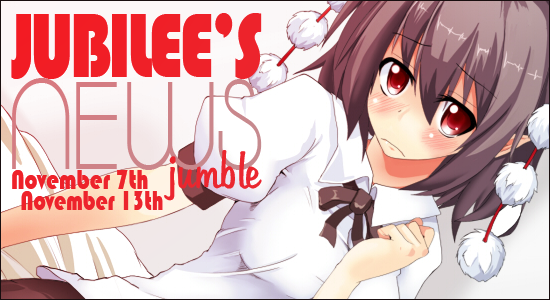 What is this? A news article! I think we should read on even though Jubilee cannot think of a better opening! That Jubilee…he is so silly…with his frilly-froo-froos and such. This week in the news, Nintendo is all over the place! We go from celebrating Mario's 25th birthday, to Nintendo looking to drop the law down…again. Happy birthday too youuu…happy birthday to you! Happy birthday dear Marioooo…we all love you! (even Bowser…but probably not). Wonder news powers activate! Form of…THE FIRST STORY!
———————————————————————————————–

As of November 8th, the beloved Mario celebrated his 25th birthday! A large party took place at the Nintendo store at which both creators and fans were gathered. Although not the most detailed news story, I feel it is nonetheless a worthy celebration! Where would video games be nowadays without that plumber? Being the most iconic video game character on the planet, it is a time when everyone can celebrate the life of Mario, and also wish him, (and us), many more happy years to come!

Emily Bronte's famous English novel, Wuthering Heights, will have a musical adaptation opening in Japan next July. This special version will feature Luna Sea singer Ryuichi Kawamura, former Morning Masume singer Natsumi Abe, and well-known voice actress Aya Hirano. It is reported that Kawamura will play the male lead, Heathcilff, and Abe and Hirano will star as the female lead character, Catherine. This will be Hirano's debut stage performance, in a year where she has gradually been moving away from voice acting by oftentimes appearing in other means of entertainment, (such as her variety show appearances).

It was recently announced that the 31st manga volume of Oh! Great's Air Gear racing tournament manga will ship in a limited edition with the new anime DVD coming out on March 17th, 2011. The special DVD will feature "Trick 2" of the Air Gear: Kuro no Hane to Nemuri no Mori –Break on the Sky-, (or Air Gear: The Black Wings and the Sleeping Forest –Break on the Sky-) anime project. The first DVD of this project will be included with the 30th manga volume, set to come out later this month on November 17th. The new project focuses on the battle between the Kogarasumaru team and the Sleeping Forest team that was depicted in the 24th and 25th manga volumes.

As reported in an earlier Jumble, Mamoru Hosoda's Summer Wars is trying to gain a nomination for an Academy Award. However, in order to qualify for the 83rd Academy Awards, films must run commercially for at least 7 straight days in a Los Angeles County theater, (who the heck came up with that rule is beyond me). So, the AMC Covina 30 theater, in the Los Angeles suburb Covina, will begin showing the film for one week starting December 10th. Also, the English-dub of the movie is set to premier on November 20th in New York City during the New York International Children's Day Festival at the Asia Society and Museum.

In One Piece news, the 60th volume of Eiichiro Oda's manga sold 2,094,123 copies in 4 days. It is the first book to sell 2 million or more copies in its first week of sales since 2008! The new volume also overthrew the previous first-week sales record held by, what other than, the 59th volume of One Piece, which sold 1,852,541 copies back in August. The series as a whole now has over 200 million copies in print, with 3.4 million of those being contributed from the 60th volume's first print, which is, guess what, another record.

Coming out later this year, 37 Japanese manga publishers recently teamed up to create a joint portal site for North American fans. A beta is set to open by the end of the year, with full distribution beginning next March. Of the many publishers, the site will include works from Kodansha, Gakken, Shogakukan, Ichijinsha, Futabasha, and Shodensha to name a small fraction.

P.A. Works, best known for their other works such as True Tears, Canaan, and Professor Layton and the Eternal Diva, are currently working on a new television project titled Mai no Maho to Katei no Hi, (Mai's Magic and Family Day). This new anime is reportedly designed to raise public awareness about the importance of family bonds, and is set to air on over 12 stations throughout Japan sometime next February. In addition to that, the anime will also be streamed for free on YouTube.

Announced earlier this week, North American anime distributor Sentai Filmworks confirmed that they will be working on the Clannad film dub, which will be released next March. This is in addition to the company also producing the dub of Clannad After Story, which is set for release next April. The company is also offering an exchange service for those people who have already purchased the subtitled version of the series.

Yesterday, the official site for the Fullmetal Alchemist: Brotherhood movie began streaming its first official teaser trailer. Tickets will begin to go on advanced sale starting on November 22nd, right before the final volume of the manga goes on sale on the 27th. There is also a promotion for people who present the manga's final volume when they purchase their advanced tickets. They will receive a rubber stamp, a shikishi autographed by series creator Hiromu Arakawa, and the chance to have their final manga volume's "Memorial Stamp Page" imprinted with a "Hagaren Memorial Stamp."

In Zaragoza, Spain, a new residential development, located in the suburb of Arcosur, will being naming their streets after famous video games in an attempt to attract new home-buyers. There will be Legend of Zelda, Super Mario Bros., Space Invaders, and Sonic the Hedgehog streets. I would so pay to live on Pac-Man Boulevard…

Recently, THQ has teamed up with acclaimed director Guillermo del Toro, (Pan's Labyrinth, Hellboy),to work on a new video game project that will be "officially" announced next month at the Spike TV Video Game Awards. In an interview last month with MTV, Del Toro described the upcoming game as:
"It's horror…but it's a very different type of horror game. It's not survival horror. It's truly a strange, geeky mix. It's a Lovecraftian thing. Let's leave it at that."
I've got to say, this partnership sounds like it has tons of potential. I'm interested to see what this one is going to be, and how well it will do. I shall keep you in the loop!

Earlier this week, Nintendo announced via their Twitter that they have filed an official copyright claim over the popular phrase "It's on like Donkey Kong." The company is planning to use the phrase as the a marketing slogan for Donkey Kong Country Returns, which is set to be released on November 21st. The company also claimed that the phrase is an old Nintendo saying that is "open to many interpretations." All I can say is…anyone who uses the phrase once they get the royalties better pay up…or else it will be on in a manner similar to that of Donkey Kong!
———————————————————————————————–
Only one more full week till Thanksgiving! So…close…yet…so…far…away! I will be back next week and rejoicing the short school week to follow, along with bringing you all more awesome-opossum news. As always, make sure you are keeping it tuned to 91.8 the Fan, and make sure you are having a good time, all the time! On one final note, I will leave you all with some words of wisdom. The, crackle, owl, horseradish, light switch, anthill, pothole, embezzlement, sunshine. I think you see where I am getting at. o_o