Posted on Nov 21 2010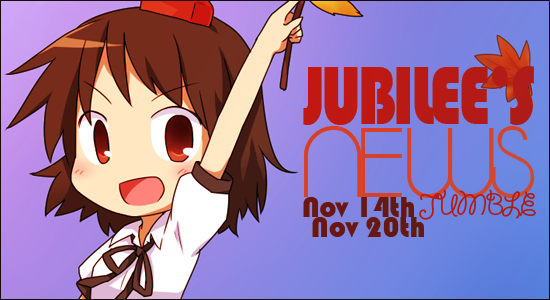 Once upon a time, there was a beautiful princess named News. One day, her loyal court jester, named Jubi, decided to jumble her. When word of Jubi's actions reached the King, he was outraged, and ordered Jubi be decapitated! Although that dedicated jester gave his life, his legacy lives on! To pay homage to his great sacrifice…I have gathered all the best stories from this past week, ranging from more legalities, to Video Game Awards nominees. May Jubi the Jester rest in peace…and may his Jumbling of Princess News never, under any circumstance, be forgotten!
———————————————————————————————–

The Tokyo Metropolitan Government recently decided to re-introduce a revised version previously rejected bill that seeks to restrict manga and anime with explicit sexual depictions of children. The earlier version of the bill was rejected in March because the term "nonexistent youth" was used to define which materials should be restricted, (i.e. Rape, incest, etc.). The term was believed the language was too vague to be properly interpreted. The revised version has removed the term "nonexistent youth," and it is also reported that other revisions avoid specific references to "characters younger than 18" to describe which materials would be restricted.

Starting in January, a new, live-action television adaptation of Masato Fujisaki's Misaki #1!! manga will be premiering. The new series will feature 26-year-old actress Karina, and will be showing at 10 pm on Wednesdays on NTV. The story of the manga centers around Misaki Tennoji, the number 1 cabaret club hostess in the Roppongi district of Tokyo. She is eventually asked by her mother to serve as a teacher for a class of troublemakers at a high end high school. As always, wackiness ensues.

Taking place from January 27th-30th, 2011, the annual Angouleme International Comics Festival recently announced nominees for its 3 biggest awards: Best Comic, Best Heritage Comic, and Best Youth Comic. There are 2 manga titles up for the year's Best Comic, Naoki Urasawa's Pluto and Edogawa Ranpo and Suehiro Maruo's Imomushi. Masashi Kishimoto's Naruto and Gosho Aoyama's Detective Conan appeared as contenders in the Youth Comic section. As for the Heritage Comic section, several manga are nominated, including: Masahiko Matsumoto's Cigarette Girl, Asao Takamori and Tetsuya Chiba's Ashita no Joe, and Shotaro Ishinomori's Sabu to Ichi Torimono Hika.

In an area of news that is probably only interesting to me, former Johnny Junior's male idol Nanami Igarashi, the son of Candy Candy shojo manga artist Yumiko Igarashi and well-known voice actor Kazuhiko Inoue, will be debuting with his first ever manga on November 27th. His manga, titled Wagahai wa Otokonoko Dearu!, follows episodes in Igarashi's own life when he experimented with cross-dressing, (the title of the manga more literally means "I am Otokonoko;" otokonoko being a Japanese term for boys and men who dress in female clothing). Don't give me that look! You know you are intrigued by the story as well!

Running from November 27th to December 19th, Tokyo's Shibuya PARCO part 1 shopping complex will be hosting a celebration of the 75th anniversary of DC Comics. 22 Japanese artists such as Masakazu Katsura (Video Girl), Katsuya Terada (Blood: The Last Vampire), and Takashi Okazaki (Afro Samurai) will be contributing artwork of their own takes on DC superheroes for the event. The event will also feature special props from the actual Superman and Batman films.

As far as new licenses go, Funimation announced this week that have acquired the live-action adaptations of the Higanjima manga, the Drop teen novel, and the Korean film The Sword With No Name. As of now, each of these titles are set for release throughout 2011.

This past Friday, Tokyo Ska Paradise Orchestra's official YouTube channel began streaming an 80-second trailer for the Jump Heroes Film. The film is a stereoscopic 3D double feature of One Piece 3D: Mugiwara Chase and Toriko 3D: Kaimaku Gourmet Adventure!!. While Tokyo Ska Paradise Orchestra is performing the theme music for this presentation, Toei Animation is producing the two, and has set the release date for March 19th, 2011.

The December issue of Shueisha's Ultra Jump magazine published a one-shot side story to Oh! Great's manga series Tenjo Tenge this past Friday. This is the same day Shueisha published the 22nd and final volume of the regular manga, (the manga's main story actually ended in August, however). Also, Viz Media announced that they would be re-launching the manga in North America next year.

As some of you may remember, there is a school, (Toyosato Elementary School), which K-ON!'s Sakuragaoka High School is based. Recently, Toyosato Elementary School was robbed of several items including guitars, cash, and K-ON! merchandise ($3,500 worth). Earlier this week, however, some of the items, including a couple of the guitars, a bass guitar, and an empty cash box, were discovered in a ditch with a crow bar and multiple footprints leaving the scene. There are currently no suspects in question for the crime.

Confirmed earlier this week, fans will be happy to know that the release date for Marvel VS Capcom 3 is dated for February 15th, 2011 in the US, and February 18th, 2011 in Europe. Also announced, was the conformation of a Special Edition of the game being available at lauch for $70. The Special Edition will have a steel case featuring bonus artwork, two DLC characters (Jill Valentine and Shuma Gorath), a 12-page comic, and a one month subscription for Marvel Digital Comics.

The newest trailer for the latest Mortal Kombat game, set to come out next Spring, was released earlier this week, and features one of the title's most iconic characters, Sub-Zero. Not only that, but the trailer vividly features the new graphics of the game, as well as new combos for the series. Gotta say, seeing this makes me even more excited about the 2D plane…especially for the tag battles/combos. (Warning: the trailer is NSFW, but you can view it here.

This past Wednesday, Spike TV announced all of the nominees that will appear on the various ballets for their annual Video Game Awards (December 11). Mass Effect 2 lead the nomination count with 10 total.
Game of the Year:
Call of Duty: Black Ops, God of War III, Halo: Reach, Mass Effect 2, Red Dead Redemption
Best PC Game:
Fallout: New Vegas, Mass Effect 2, Sid Meier's Civilization V, StarCraft II: Wings of Liberty
Best Handheld Game:
God of War: Ghost of Sparta, Metal Gear Solid: Peace Walker, Professor Layton and the Unwound Future, Super Scribblenauts
Best PlayStation 3 Game:
God of War III, Heavy Rain, Modnation Racers, Red Dead Redemption
Best Xbox 360 Game:
Alan Wake, Fable III, Halo: Reach, Mass Effect 2
Best Wii Game:
Donkey Kong Country Returns, Kirby's Epic Yarn, Metroid: Other M, Super Mario Galaxy 2
Wow…Look at all those RPGs up for awar- Hey wait a minute! -_-
———————————————————————————————–
And there you have it, another chapter finished. This week is, like, totally Thanksgiving…so go enjoy it! And for all of you out there not celebrating Thanksgiving, go eat lots of food anyways! Good pie is good.