Posted on Aug 02 2010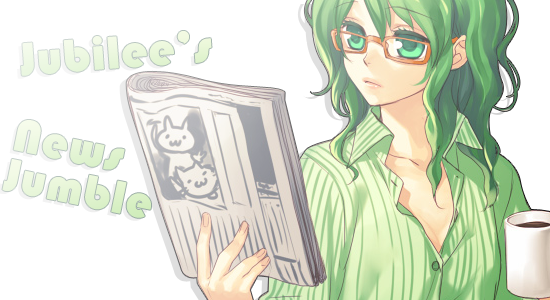 Hey everyone out there in 91.8 the Fan land, Jubilee is here with all the news you need from this last week. From voice actor hacks to a brand new legendary Pokémon, Jubilee has assembled an insurmountable army of news under your command! Just make sure to remember that news armies are fun to play with, but not to eat.
————————————————————————————————

Chiba Police arrested 37 year old Rio Nagatomi for gaining unauthorized admission to voice actor Nobutoshi Canna's blog account. Nagatomi allegedly gained Canna's password and ID through illegal means and logged onto Canna's account earlier this April. Nagatomi supposedly entered around 100 cryptic messages on the blog. When questioned, Nagatomi listed her reasoning as "I thought that he would get in touch with me if I wrote strange messages." According to the police, the two were acquaintances previous to the crime.

TheLocal, a Swedish newspaper, reported that a Swedish manga translator has been fined by authorities for possession of 51 loli images that were deemed child pornography under Sweden's current laws. The translator, who remained unnamed in the article, gave the explanation that the pictures were merely used to keep up with the latest developments in Japan. The judge in the case is welcoming second opinions from the appellate court, but as it stands as of now, the translator owes a fine of 25,000 SEK (Swedish krona) or roughly $3000.

Gainax General Production's web store has announced that a FLCL Blu-Ray box set will be available for purchase in Japan starting on August 18th. The box set will be available for $165 and features new art created by character designer Yoshiuki Sadamoto specifically for the box set. The set will also feature English subtitles as well as other extras such as promo footage from the initial DVD release. Pre-orders are available on www.play-asia.com.

In a roundtable titled "Living in the City: Hip Hop, Anime, Housing Projects," Cowboy Bebop writer Dai Sato made statements about how he feels the anime industry will be dead in Japan within the next few decades. Sato's main complaint was that much of the in-between animation work is being outsourced to people in other countries who are not fully invested into the work. For more information on the story, check out iStalk #370 here: http://918thefan.com/2010/istalk-370/.

May I also point out in iStalk 370, Joe Hahn, music video director and DJ for bands such as Linkin Park, has an exclusive remix of Supercell's song "Black Rock Shooter" available on the Black Rock Shooter OVA. The remix will also be displayed along with a stop-motion film created by Hahn.

According to iStalk 372, Manga Publisher Kodansha has been ordered to pay 550,000 yen (or roughly $6,300) for using the plaintiff's likeliness for a character in the manga Zero-sen. The plaintiff originally sued for 4.4 million yen (or roughly $50,000), but the above settlement was reached. It was discovered by the courts that creator Atsushi Kase had based the character's looks off of a photo of the plaintiff that was featured in a fashion magazine.

The Strike Witches manga, authored by Urotan, has recently been put on hiatus. Urotan has stated several causes for his hiatus from the manga, such as disorganization of the job and psychological exhaustion. Urotan did not confirm the length of the hiatus, but does say that he regrets not being able to continue the anime at this point in time.

Friday at Otakon, FUNimation released the cast lists for their upcoming dubs of Black Butler, Phantom, and Oh! Edo Rocket. Oh! Edo Rocket is set to come out on DVD this fall, and Black Butler and Phantom are set to come out in 2011. The full cast lists can be seen here: http://blog.funimation.com/2010/07/cast-announcements-black-butler-phantom-oh-edo-rocket/#more-10123.

Also, Aniplex USA announced the Durarara!! dub will begin to be released in January 2011, along with confirming part of the dub cast with Darrel Guilbeau as Mikado, Kari Wahlgren as Celty and Crispin Freeman as Shizuo. The release will be in three parts, each with two DVD's of about 8-9 episodes per volume. The DVD's will also offer both a subbed and dubbed version.

According to our friends over at Japanator, international pro cosplayer Alodia recently met with Legendary Studios about playing a part in the upcoming World of Warcraft movie. Although she was confirmed for it, further details about her involvement in the movie have not yet been released. For a bit more information on Alodia's back story, check out Red Baylon's article at http://www.japanator.com/cosplay-goddess-alodia-to-be-in-wow-movie-15945.phtml.

Saturday at Otakon 2010 at 2 p.m. local time, the Baltimore Convention Center was completely evacuated due to the sounds of a fire alarm. Authorities reported no incidents. Convention goers were forced out of the building for about an hour as the fire marshal confirmed that the building was safe. Many panels were rescheduled, and Otakon extended its operating hours for the day. It has been confirmed by an Otakon organizer that the alarm was falsely pulled, and that there was no fire.

In gaming news, Activision announced that a DS version of Goldeneye will be released at the same time as the Wii version, later this fall. It has also been confirmed that current Bond stars Daniel Craig and Judy Dench will be providing their vocal talents to their respective characters in both versions of the game.

Earthworm Jim HD recently premiered on Xbox Live a couple of weeks ago, leaving many PS3 owners feeling left out. Well, good news for PlayStation owners, Earthworm Jim HD is set to be released on the PSN this Tuesday, August 3rd according to the official PlayStation blog. The game will cost $9.99.

On Pokémon Sunday, the newest legendary was added to the roster for Black & White. Victini, a pointy eared, big eyed, winged Pokémon was confirmed as a special event Pokemon, leading people to believe this will be the Mew/Celebi/Jirachi of Generation 5. Victini was also listed as #000 in the newest Pokedex, which is a first for any Pokémon of any generation. It will be distributed via a Wi-Fi event taking place between September 18th and October 18th, 2010, in which trainers will receive a Liberty Ticket, giving them access to the newest overly cute legendary. Victini's type, ability, and move set have yet to be released.
————————————————————————————————
And that, as they say, is that! Until next week, Jubilee will be down at the stream fishing up awesome news to keep your appetite for knowledge appeased! Make sure to check out iStalk every weekday for a daily dose of Otaku culture, and as always, keep it tuned to 91.8 the Fan! Did I happen to mention that 91.8 the Fan is now available on iTunes?