Posted on Aug 08 2010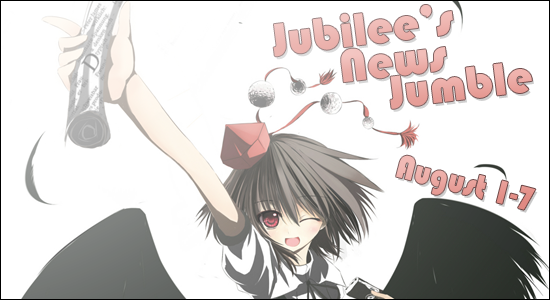 Hey all you Fanatics out there, Jubilee is here with another week's worth of news! From a recap of all the new anime licenses, to a Transformers MMO, Jubilee has lathered, rinsed, and repeated all the news to give it that glossy shine and that smooth, silky feel.
———————————————————————————————–

Last weekend at Otakon, the newest anime licenses from Bandai and FUNimation were released. From Bandai, we can look forward to seeing My-Otome 0 ~S.ifr.~, Girl Who Leapt Through Space, and A Record of the Strange Tales of the Bakumatsu Era: Code Geass. FUNimation had a slightly bigger stock announcing Girls Bravo, Strike Witches 2, Shukufuku no Campanella, Hetalia World Series, Summer Wars, and Okamisan, as well as a few movies such as, Ginmaku Hetalia Access Powers: Paint it White and Evangelion 2.0: You Can (Not) Advance. You can see the list of Bandai's featured licenses in iStalk 375, and FUNimation's in iStalk 374.

Also featured in iStalk 374, it has been confirmed that Hetalia will be getting a fourth season.This announcement revealed that the anime would be available via streaming on September 10th. This new season will consist of 24 episodes, and it is expected there will be appearances from Norway and Denmark.

With the release date for Sengaku Basara rapidly approaching, October 12th to be exact, the casts lists have finally been released. Some prominent names include Robert McCollum as Date Masamune, Johnny Young Bosch as Sanada Yukimura, Laura Bailey as Oichi, John Swasey as Oda Nobunaga, and Vic Mignogna as Akechi Mitsuhide. For a complete list of actors, check out the featured story in iStalk 375.

According to iStalk 376, anime fan DJ Initial P launched his album Anime Love Hardcore a little earlier this year. The CD has several remixed versions of songs from various anime series, such as "Heart of Madness" from Fist of the North Star, "Grip!" from Inuyasha, and "Catch You, Catch Me" from Cardcaptor Sakura. The album is available on both iTunes and the Disko Warp website.

As many of you know, Navarre and FUNimation have been split for a while, but Navarre is still looking for a buyer to sell the company to. Recently, Navarre released a report containing FUNimation's financial results for the first quarter of the fiscal year for 2011. It has also been projected that Navarre will make a strategic move regarding FUNimation within the next two quarters.

According to iStalk 377, at Otakon's Japanese Producers and Directors panel, Tomonori Ochikoshi, producer of anime projects such as Kannagi, Read or Die, and Welcome to THE SPACE SHOW, revealed his latest project airing with a late night spot. As of now, there is no confirmation on what this series is, however, during the panel one con-goer asked if the project was the adaptation of Kuragehime. Ochikoshi vaguely responded that the project had not yet been announced.

The Leaf Chronicle reported that a daylong anime convention was held in Clarksville, Tennessee on August 7, 2010. The convention was held at the Customs House Museum and all proceeds were donated to the Clarksville Cats Are Us animal shelter. The entry fee to the con was $5, and it ran from 2 p.m. to 10 p.m. The charity con sported events such as a cosplay contest, a gaming tournament, panels, and karaoke.

The Headquarters of the United States Armed Forces in Japan posted its first manga issue in collaboration with the Maritan manga creators to celebrate the 50-year alliance between America and Japan, this past Wednesday. The manga is titled "Our Alliance – A Lasting Partnership," and revolves around an American boy named Usa-Kun who is staying with a Japanese girl named Anzu's family while he is visiting Japan. It was also announced that the U.S. Armed Forces will host a booth with the Maritan staff at the Chara-Hobby Convention taking place from August 28th-29th.

Announced this weekend at the TBS Anime Festa event in Tokyo, Japan, an anime adaptation of the light novel Denpa Onna to Seishun Otoko by Hitoma Iruma has been confirmed. The story centers around a school boy named Makoto Niwa, and his odd cousin, Erio Towa. The town they live in is rumored to be watched over by aliens. It has also been said that a manga adaptation will be launched in the October issue of Dengeki G's Magazine.

Square Enix's Monthly Shonen Gangan magazine announced on Thursday that Hiromu Arakawa would be drawing a new special Fullmetal Alchemist side story manga for the September issue; which will also include a reprint of the final installment of the actual manga. It has also been revealed that Fullmetal Alchemist will grace the cover of the October issue, which will be bundled with miniature figures of the characters Roy Mustang and Black Hayate.

The next installment of the Everquest series, known as of this point as 'Everquest Next,' had teaser images released this weekend at the publisher's "Fan Faire" in Las Vegas, Nevada. Sony Online Entertainment President John Smedley gave several announcements about Everquest that were already fairly well known, before finally unveiling the images of the new game. Although the images are fairly ambiguous, you can check them out at:http://www.massively.com/photos/everquest-next/

Unlike the original Starcraft, in Starcraft II developer Blizzard is now going to review player made maps, with the power to delete those that are deemed inappropriate. The deletion of a map titled "Ultimate Tank Defence" lead to the initial controversy, with the maps author initially questioning Blizzard's actions on their battle.net forums. Many players are quite angry with the change, as in the first game, many of the maps were quite 'colorful.' When asked, Community Manager Bashiok responded with: "Because we can. Literally. We have a support department now of size and ability to enforce these types of things. It simply wasn't possible when our in-game support used to consist of approximately 20 technical support agents. We did, however, actually police Warcraft III maps to a small degree if they were reported, but it was a rather archaic process."

Sega announced the release date and box art for the newest Sonic game, Sonic Colors, this past week. The game is set to come out on November 16th for the Wii and DS, and those who preorder the game at GameStop will also receive a free Sonic hat. If you want to check out the box art, trailer, and free hat for preordering may I point you here: http://screwattack.com/blogs/ScrewAttack-News/Sonic-Colors-Release-Date-and-Box-Art-Revealed

Video game developer NetDragon, also working on the Ultima and Dungeon Keeper titles, have recently announced a Transformers MMO. Unfortunately, the initial release of the game is only scheduled for the Middle East, China, Russia, and North Africa. However, this does not mean that the MMO will not reach other countries, as only the initial release countries have been confirmed at this time.
———————————————————————————————–
And to another week of news, we bid adieu! Jubilee will be on safari next week…hunting for the best news for you to put up on your wall over the mantle place. Make sure to check out iStalk every day to get your recommended daily allowance of Otaku news. Also, if you are interested in becoming a DJ, put in an application, as now is a great time to do so! You could be the next person to be busting the tracks, and serenading all the fanatics with your beautiful voice here on 91.8 the Fan!