Posted on Aug 22 2010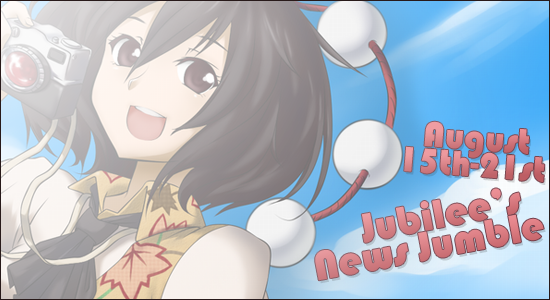 Salutations Lords and Ladies of 91.8 the Fan! It is I, Sir Jubilee, and I have returned with all the epic news loot you could possibly imagine! From a Black Rock Shooter RPG, to a flawless victory, I have all 14 flavors of news you could need for the past week!
———————————————————————————————–

Registered under Ryu's Office, the company that has brought us games such as Valkyria Chronicles 2 and Persona 3 & 4, a special teaser was leaked onto the internet containing clips of Black Rock Shooter and flashing the words "In the year 2032 AD, mankind was decimated. Before she wakes up…. She becomes RPG." Although the teaser is unlisted on youtube, you can view it here to get an idea.

Featured in iStalk 384, North American anime distributor Funimation has begun to stream the first two subbed episodes of Ga-Rei: Zero on Youtube. The series is about the Japanese Ministry of Defense's anti-paranormal Special Forces group. The group's task is to protect the civilians from supernatural and paranormal events. The series is 12 episodes long, and the complete series will be released on DVD in early 2011.

Also in iStalk 384, CEO of the media-distribution website Crunchyroll, Kun Gao, announced that his company has obtained the North American DVD rights to the 5 Centimeters Per Second film. The films full title, Byousoku 5 Centimeter – a chain of short stories about their distance, is the second film of writer and director Makoto Shinkai, which was released in Japan in 2007. The DVD release will be Crunchyroll's first, and the company hopes to be able to ship the DVD with Bang Zoom! Entertainment's recent English dub in mid Autumn.

Featured in iStalk 385, the Twitter account of Bandai Namco's Bandai Collectors division confirmed that a music video collection for the Macross Frontier anime series will be released in Japan on December 15th. The music videos will feature new footage from both the Macross Frontier television series and film projects. Also announced, the second film of the Macross Frontier series, Macross Frontier ~Sayonara no Tsubasa~, will premiere in Japan on February 26th, 2011.

The popular vocaloid idol, Hatsune Miku, will launch her first weekly manga in this year's 40th issue of Weekly Young Jump magazine on September 2nd. Author Kentar? Hayashi will debut the 4-panel manga series in full-color. Hatsune Miku was created by Crypton Future Media as the first vocaloid character, all of which are based upon YAMAHA's Vocaloid2 vocal system engine.

In a jam packed iStalk 386, a list of legal online streams has been confirmed! Featured on the Anime Network, the first four dubbed episodes of Ghost Hound are now available alongside the first episode of Neo Angelique Abyss –Second Age-, and the movie Gluttonous. From Funimation, the first two subbed episodes of series such as Linebarrels of Iron, Trigun, and Eden of the East, as well as the first episode of Sekirei ~Pure Engagement~ have been launched.

iStalk 386 also reported the results from the 2010 Pokémon World Championship in Kona, Hawaii! Over 375 people from 25 countries partook in the Poké madness, with the champions winning $100,000 in scholarships, Pokémon prize packs, and automatic invitations to the 2011 World Championships in San Diego, California. World Champion for the Trading Card Game in the Junior Division (11 or younger) was Yuka Furusawa from Japan, in the Senior Division (12-15 years old) the winner was Jacob Lesage from Canada, and in the Masters Division (16+)Yuta Komatsuda from Japan triumphed. On the video game side of things, Shota Yamamoto from Japan won the Junior Division (12 or younger) and Ray Rizzo from the United States won the Senior Division (13+).

Finally in iStalk 386, Yana Toboso, creator of the Black Butler manga/anime, recently criticized unauthorized downloads of anime and manga. Toboso said that the source of her outcry derived directly from e-mails and letters from her very own fans. E-mails would include such phrases as "I read them from ROMs I borrowed from a friend. LOL," or "I found and watched all of them on an overseas video site!" Toboso also quoted Edward Elric from Fullmetal Alchemist to further emphasis her point by saying "These actions go against the Law of Equivalent Exchange! If you continue doing them, I really cannot make either anime or manga again…"

According to the Japan Today website, the Oxford Dictionary of English officially recognized and added the word "hikikomori," along with about 2,000 other words to the books third volume. The word is listed as a noun with the definition along the lines of, "the abnormal avoidance of social contact." Hikikomori is a Japanese phenomenon in which a young person, usually male, withdraws entirely from society, isolating and often confining themselves to their home. See also, hermit, recluse, loner, and my personal favorite, twixter.

According to iStalk 387, it is rumored that Viz Media might be bringing over the first volume of Hiroshi Shiibashi's manga Nura: Rise of the Yokai Clan. Book distributor Simon & Schuster as well as online retailer Amazon have the manga currently listed for a February 2011 release. Although the manga is not actually confirmed by Viz, they did announce at Anime Expo that they had licensed the television adaptation of the manga, and have already begun streaming it, so it would not be surprising to see the manga be confirmed in the near future.

Also in iStalk 387, North American anime distributor Section23 Films recently announced that they will be releasing the Utakata and Taish? Baseball Girls anime series this November. Utakata's story centers around Ichika Tachibana, a 14-year-old girl who discovers an old, busted mirror in an unused school building. A mysterious girl named Manatsu appears from inside the mirror and offers Ichika the magical powers of Djinn. Taish? Baseball Girls follows two 14-year-old Japanese high school girls by the names of Akiko and Koume, who are trying to start a baseball team. The story takes place in 1925, a time in Japan where few baseball teams, male or female, existed in Japan. Utakata will ship on November 2nd, and Taish? Baseball Girls will ship on November 16th.

In video game news, Diablo III talk has surfaced! Game director Jay Wilson did not discuss any huge changes to the game, such as a new class reveal, but he did mention many interesting tidbits. Gear sets will make a return in the next game, but many sets will be more widely available to characters at the appropriate levels, as many characters in D2 found themselves grown out of the sets by the time all the pieces were acquired. Another point addressed was that of the infamous Diablo inventory system. Although you will still have to cram your gear together like a game of Tetris, many of the pieces are made to fit into more even numbers of boxes. Quoting Wilson, "There will be no odd shapes." Also talked about was a new crafting system being introduced to the game that allows players to salvage items they do not need, and break them down into elements that can be used to enhance other pieces of equipment. In the end though, Wilson said the overall goal of the game is to make a game with new tweaks, but still has that great classic Diablo feel.

Since Starcraft has become such a hot topic at 91.8 The Fan lately, and keeping with the Blizzard talk, Blizzard recently announced that name changes will be coming to Starcraft II. Blizzard states their reasoning as that many players did not realize how prevalently their names would be used to identify them, as it is used widely in both the game and on the forums. Although Blizzard has not announced the exact date the service will be available, they have announced that it will not be free.

Scheduled for release in 2011, the newest addition to the classic Mortal Kombat series recently confirmed both classic characters and stages that will make their returns in the newest game. Princess of Edina, and master of fans, Kitana, along with the self-destructing yellow robotic warrior, Cyrax, will be back and ready to fight for their lives, as confirmed by NeatherRealm Studios. Also confirmed are some revamps of classic fighting stages such as the Bell Tower and the Desert. Ever since the Mortal Kombat series had moved into the 3D plane, many of the games have had mixed reviews, and generally disliked from the retro gamers. The newest addition, however, looks to be a return to old form, combining the classic 2D fighting style in a 3D atmosphere, and of course everyone's favorite fatalities. To view some screenshots of the revamped game, may I point you here Living Forest looks awesome…just putting that out there.
———————————————————————————————–
Whelp, there goes another week of news…to the great infinity and beyond! Jubilee will be writhing in pain at school this next week, but all of you awesome fanatics can look forward to more news next week! I am very disappoint in last week's responses to the question, mostly because there were none!…So we will try again this week, with a bit more at stake!
"If you were to enter the Pokémon World Championships…what Pokémon would you have on your team? Would you use your favorite Pokémon, or just use what is powerful?
As a prize for this week, keeping with the Pokémon theme, I will be giving away a super-uber rare Spiritomb holding a Master Ball to the winner, in addition to featuring their answer in next week's article! So, if you want to get a piece of the action, make sure to send your answers to me either via PM on the Forums or at Jubilee@918thefan.com! I look forward to seeing what you guys come up with, and until next week, Jubilee AWAY!