Posted on Oct 17 2010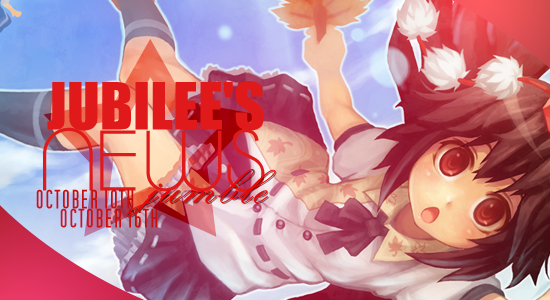 Hello, and welcome to the 6 o'clock evening news. I am your anchor, Dances with Wolfs, otherwise known as Jubilee. Our top story tonight, woman mistakes glue for eye drops! In other news, Jubilee is running out of introductions, so I will just tell a joke instead. Why doesn't the crab like to share his things with the other ocean creatures? He is shellfish! … Yeah, I didn't laugh either. Anyways, from Marveling at X-Men Japan, to gaming for a good cause, all of the best news stories from this week have been piled into one neat little stack…just don't touch anything or it migh-*CRASH.*
———————————————————————————————–

Reported in iStalk 424, Yoshiki Hayashi, one of the co-founders of the rock band X Japan, reported on Saturday at the New York Anime/Comic Con Festival that he will be teaming up with comic legend Stan Lee to create a music superhero comic book series. Lee is no stranger to working with X Japan, as he appeared in their music video for the song "Born to Be Free." It is also reported that the comic will be adapted into a motion comic and will be translated into several different languages.

So finally, after being reported a couple of months ago, the 2chan Forum's Saimoe Tournament has ended, and the moest moe character has been crowned. As of the quarterfinals, characters still in contention were: Nagi Sanzenin of Hayate the Combat Butler!, Nodoka Haramura of The Player, Koromo Amae of Saki-The Player, and Azusa Nakano of K-ON!!. The finals round narrowed it down to Nagi and Azusa. Finally, the champion was revealed on Saturday to be … drumroll … Azusa from K-ON!!. Look, look…this is my shocked face!

For all of our awesome Canadian fanatics, the Ottawa International Animation Festival announced this past week that it will be airing the Canadian premier of Munehisa Sakai's One Piece film: Strong World. Eiichiro Oda, the creator of the One Piece manga, personally oversaw the creation of the film, which was created to honor the film franchise's 10th anniversary. Not only that, but the festival will also host the North American premier of Keita Kurosaka's independent anime film Midori-Ko.

Sadly, the great manga creator Shintaro Miyawaki passed away this week on October 9th at the age of 67. His works included the Heart Collection Gekiga series, Hatsukoi Album, and Pi no Oto Stories. A service was held for him in Niiza, Saitama on Thursday morning.

Announced this past week by Studio Ghibli's public relations head, Junichi Nishioka, the 5th International Rome Film Festival will host a retrospective on the famous studio that will feature six of the studio's greatest anime films. The festival, running from October 28th-November 5th, will first screen Karigurashi no Arrietty on November 4th, followed by: Nausicaa of the Valley of the Wind, Princess Mononoke, Spirited Away, Only Yesterday, and Whisper of the Heart. There will also be several documentaries on Studio Ghibli screened, such as Yasuo Otsuka's Joy in Motion, and Hayao Miyazaki and the Ghibli Museum.

The judging committee for the 15th Animation Kobe Awards, which are some of the most prestigious awards in the Japanese animation industry, revealed its winners this past Friday. Some of the biggest awards that went out were: "Only my Railgun" by Fripside – Best Theme Song, K-On!! – Television Award, Studio Biho – Special Award, Mamoru Hosoda – Individual Award (Film Direction of Summer Wars), and The Disappearance of Haruhi Suzumiya – Theatrical Film Award. The actual awards ceremony will be held on November 28th in Kobe, Japan.

Announced in the Shonen Sunday magazine, this next Wednesday a new live-action version of Takashi Hasiguchi and Kenzo Irie's manga Saijo no Meii will be officially…well, official. The story centers around a young pediatric surgeon, and is set to premier in early January, 2011, on Tokyo TV every Monday at 10:00 p.m.

Anime merchandise maker MOVIC recently teamed up with the studio Toei Animation to begin accepting pre-orders for Heartcatch Precure! bed sheets. Each 4×8 foot, (or 130×250 cm) sheet will cost roughly 8,400 yen ($100). Not only that, but also going on sale soon are certain 'mouse pads.' These 'mouse pads' happen to be 3D, and will feature anime characters from Bleach such as Rangiku, Yoruichi, and Neliel. Hmm…I am curious what sets these 'mouse pads' apart from regular ones. Hmm…

Announced on her official blog on Sunday, voice actress Tomo Saeki was married this past weekend in the Maldives by the Indian Ocean! Although her new husband's name was not specifically mentioned, she did describe him as 5 years older than herself and "gentlemanly, but wild!" Saeki is best known for her characters Satoshi Imamiya of Magical Shopping Arcade Abenobashi and Malibu Peirou of Galaxy Angel A. Best wishes to the new happy couple!

Earlier this week, Square Enix announced that it would be extending the free trial period for Final Fantasy XIV from 30 days up to 60. It also announced that two large patches are set to be released in mid-November and are set to fix many of the major issues of the game, such as excessive lag in cities. The patches will also implement seasonal holidays beginning in mid-December for the in-world game of Eorzea.

Beginning later this month, the popular movie rental kiosk Redbox will offer video game rentals. Gamers will be able to rent any video game supplied at the kiosk for only $2 a night. Although one night is not really enough to beat a game…I can see this being a nifty way of testing games before buying them, so it gets a Jubi stamp of approval. I am curious to see if Netflix or Redbox will become the new movie rental powerhouse…

So, I am wrapping up the Jumble this week with a story that I personally thought was pretty cool. To celebrate the 25th anniversary of the Nintendo Entertainment System, Pat the NES Punk will be playing through his entire Nintendo library, all 775 games, all to benefit the Child's Play Charity. This organization helps provide hospitals with new toys and video games for sick children. Pat's goal is to raise $25,000, and you can help by donating at nintendoage.com, retroware.tv, or screwattack.com. Helping a good cause while having a good time…doesn't get much better than that!
———————————————————————————————–
Another week of news alongside a nice week of Autumn…it is good. I, Jubilee, shall return next week with another recommended dose of news for all of you fanatics! Who recommends this you ask? Jubilee does. Does that make him a doctor? Yes…yes it does. Does being a doctor make him a Wizard? No, no it doesn't. What about a witch? Maybe.