Posted on Nov 29 2009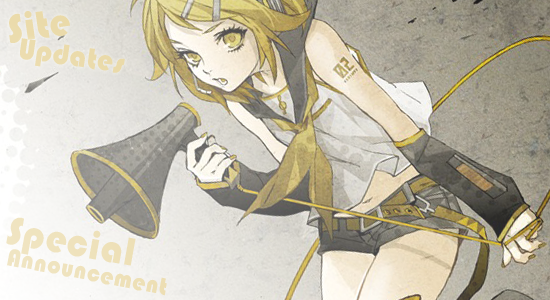 Once again, we'd like to thank all of our fans for being patient with the drastic changes occurring with the site. Today, though, we have one of our biggest announcements to date. For almost a full year, we've pledged outwardly to the internet that our biggest goal was to release an online radio station. This aspiration will become a reality on Sunday, January 3rd, 2010.
This means, 91.8 The Fan will be bringing in the new year with the best in anime entertainment. Not only will we be featuring a huge list of songs consisting of fan favorite anime, but we'll also have all the latest from Japanese, Korean, Chinese, and Taiwanese singers. We will easily be launching with a music selection of over 30,000, and from thereof consistently updating the list to include more songs, lyrics, song samples, cover art, and the best place to buy the album.
As the date gets closer we will have much more information on all the glorious features our visitors get to play with, but also up and coming is:
The ability to request a specific song from us live on-air via our Request System, phone, or IRC.
Live interviews with idols, voice actors, directors, and producers of all kinds which will allow our listeners to ask their favorites from the industry those critical questions.
Open contests for anime swag, limited edition items, CDs, or other various surprises.
Features, shows, and news 24/7! If you can't get enough of the content on the site now, think of the flow of content never stopping. Can you handle that?!
But I can't wait that long, you say! Well, don't worry, we've got you covered. Within the next two weeks, make sure to look for a special announcement where we will be giving an early sneak peek of the station itself to our lovely Fanatics. For two whole weeks before anyone else, our Fanatics will get the chance to experience all the features and music before the rest of the world. Think of it as our little Christmas gift to you. Now that is some serious bragging rights.
Not only that, but our beloved Anime Directory has also been strapped down to the surgery table for a complete face-lift. Our techies are working hard on a completely new experience never before seen on the internet. All we can do for now is tease you with the hype, but make sure to look for to it shortly after the radio launch if not sooner!
Lastly, we'd like to announce that iStalk—our beloved news show—will be getting a new feature on Wednesday of this week. Make sure to look out for it, we promise you won't be disappointed!
It is time to party! Make sure to tell all of your friends about these exciting and new changes about to happen on the horizon.