Posted on Mar 22 2012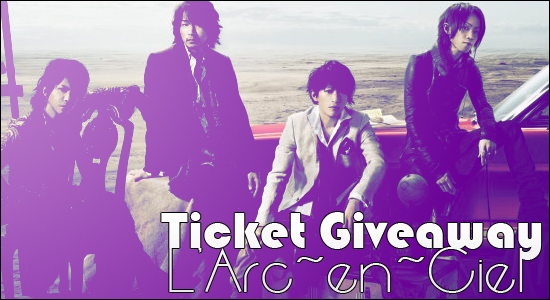 Las Vegas, NV – March 22nd, 2012 – 91.8 The Fan's popular radio station, will be giving away nine pairs (18) of tickets to the New York stop of L'Arc~en~Ciel's 2012 World Tour on March 23rd at 11AM PST, 2PM PST, and 4PM PST, courtesy of AM².
To participate, one must listen to 91.8 The Fan's radio stream at the specified times where the on-air DJ will begin the competition. Each DJ will be giving away 3 pairs of tickets each. The winners will be the first person to reply via Facebook, Twitter, and e-mail. One pair of tickets will be given away to each. For reference, 91.8 The Fan's Twitter can be found here and our Facebook can be found here. The e-mail addresses will be announced on-air at the times mentioned previously, each e-mail address will be different to ensure the give away is fair.
About The L'Arc~En~Ciel Madison Square Garden Event: Popular Japanese rock band, L'Arc~en~Ciel will be performing live at Madison Square Garden, 2 Pennsylvania Plaza New York, New York on March 25th, 2012 at 8PM EST. For tickets and more information visit their website here.
About 91.8 The Fan: 91.8 The Fan exists to provide contemporary style radio for anime and manga fans, which can be accessed internationally. 91.8 The Fan is not an automated playlist, and instead functions as a 24/7 live radio station with DJs, interviews, and contests. It promotes legal ways to consume the media via free releases, online releases, and more. Within the radio's first six months of existence they have interviewed over a hundred and twenty industry icons.
About AM²: Located in Anaheim, California ­ AM2, established in 2010, is a multi-day (3 days) 24 hour event with no general attendance/badge purchase requirement and is aspiring to be a key meeting place for fans that share a common interest in Asian music, Animation/Anime, and Comics/Manga. Nominal fees are charged for certain activities that attendees choose to participate in. AM² will be held on June 15-17, 2012 at the Anaheim Convention Center in sunny Anaheim, California. More information can be found at AM²'s official website.
Please note that all winners must respond by 4:30 PM PST or they will forfeit their pair of tickets. Good luck!