Posted on Dec 06 2010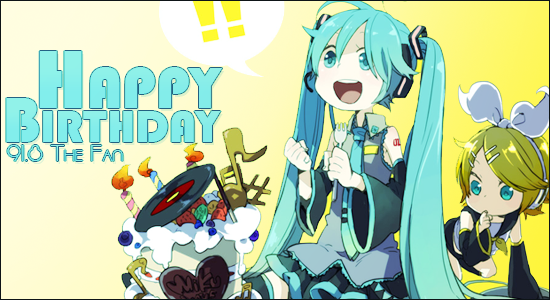 Birthday? Isn't it the holiday season? Indeed it is, but on January 3rd, 2011 we will be celebrating the birth of the radio you all hold dear. We are proud to announce that the best way the staff wanted to party was by giving our fans a chance to win free stuff!
Let's get to the juicy stuff first! There will be two lucky winners of two very special prize packages:
A copy of Super Street Fighter IV for Xbox 360 that is signed by Kyle Hebert (Ryu), Laura Bailey (Chun-Li), Travis Willingham (Guile), and the vocal director Jonathan Klein.
Don't have an Xbox 360? Well, we happen to have a shiny new God Of War III for PlayStation 3 fans to replace the top prize.
A random CD that has already been added to the station
A Bayonetta wall-scroll
An official Sawa's Phool t-shirt
So I'm sure you wanna know how to win these fabulous prizes, and there are actually two ways, since we're giving away two packages. We here at 91.8 The Fan know that our visitors have various talents, so we're giving you guys the chance to be in the spotlight by showcasing your skills in the way you choose! So pick your poison below:
Show us how good you are by drawing, constructing, painting, or inking a picture that represents 91.8 The Fan. It can be staff members, our mascot, or even something else! Whatever you decide is up to you. Any type of visual art is acceptable whether the medium is traditional or digital, but make sure that the art is made by you. In relation showing some creativity by including multiple members or themes will help in your entry's favor.


If you feel you've got the skills, why not try making a promo for 91.8 The Fan? You've heard our DJs do it and now we're giving you a chance to. So grab a microphone and a sound ediing program (such as Audacity) to create thirty seconds to two minutes of audio goodness. Make sure that any background music is Japanese, Korean, or Chinese in origin with no vocals, but feel free to insert sound effects from your favorite anime or movies.

If your entry is good enough, it might appear on the radio or the site! So if you're ready, make sure to send your submission to birthday@918thefan.com. If you have questions or concerns, e-mails us or post in the comment section below.
Keep in mind you can only submit one entry and it's due by midnight on January 1st, 2011. Make sure to follow 91.8 The Fan as we get closer to January 3rd where we'll announce more goodies for you!