Posted on Apr 29 2011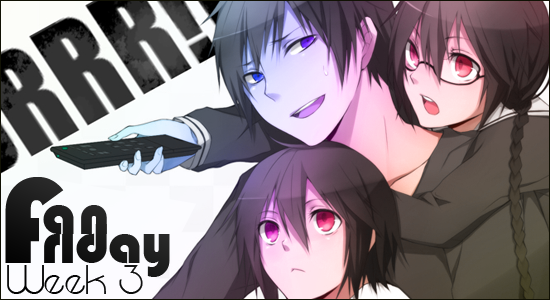 Guess what happens when I work 12 hour days on jobs that are an hour from home? Things get posted late. This is one of those times. But guess what? I get weekends off, so that's a plus.
So I bet you're wondering why you should care about my personal life. I am too, stop being so nosy.
So anyway, that contest thing. I bet you thought a drawing was going to win this week. You're wrong, because, unlike some other websites that hold contests that ask for several different types of entires and yet award prizes to the artists which will remain nameless, we actually vote based on how much everyone sucked compared to you. This week's winner is NerdWerld for his second (rather long) article.
History of Japanese Heavy Metal
Okay for those of you who don't like banging your heads, disrespecting authority, and having a great time this article will not be for you. As you may not know rock and roll has a long and influential history in Japanese history and culture, but we are going to be discussing rock's drug induced speed up younger brother and how it has transformed the Japanese music scene.
I'll go into this article how any good metal article should introduce the early bands such as Black Sabbath, Deep Purple, and Led Zeppelin. I won't go into the origins of metal because that can be quite tricky. How does this relate to Japanese culture, well one of these bands is not like the other being that Deep Purple was huge and I mean huge in Japan?
Deep Purple's legendary guitarist Ritchie Blackmore sets the stage and story for the popularity of extravagant heavy metal in Japan. 1973's monumental Who Do You Think We Are hit was an important rock and roll and heavy metal monolith. It even talked about Japan with its hit single "Woman From Tokyo". This also released a "Live in Japan" album which would later be used by other forign heavy metal acts. Ritchie Blackmore would continue to be in Deep Purple and astound the Japanese audience with is improvised performances and guitar riffs until in 1975 he left Deep Purple because new members Cloverdale and Glen Hughes were making funky, "soul-shine" music.
In 1975 Ritchie Blackmore had left Deep Purple and formed Ritchie Blackmore's Rainbow which consisted of himself and the members of a Deep Purple headliner band named Elf fronted by the late great Ronnie James Dio. Rainbow was a success from their first album all the way towards the 80's after Ronnie James Dio would be replaced by various other vocalists including Graham Bonnet (we will get back to him later) and Joe Lyn Turner.
By 1975 with the success of foreign metal bands such as Rainbow allowed Japanese homegrown acts to prosper. The first Japanese metal band to access some sort of success was Bow-Wow a.k.a Bow Wow. Though really only a blimp on the screen they were an influential heavy metal band and the first one that is documented from the land of the rising sun. However, as we will soon see they diffently won't be the last.
The late 70's brought punk rock to the tables of Japanese youth and competed like it did in both America and England for youth listeners. By this time various small punk scenes developed in Japan, as well a small metal scene backed by Deep Purple and Kiss fans helped fuel a successful metal scene. From this late 70's scene brought Earthshaker, and later their more famous contemporaties Ezo, Anthem, and Loudness.
Earthshaker's early hard rock roots would fuel some success out of Japan, but by the mid 80's they would focus on more Japanese pop songs than that of the metal community and isolate themselves. Earthshaker lost their vocalist to Lazy in 1981. Lazy unlike Earthshaker were completely inherinent of Ritchie Blackmore's guitar rifts. 1981 was the time when Lazy switched its name to Loudness and with their new vocalist Minoru Niihara and the guitar antics of Akira Takasaki Loudness pioneered a classic heavy metal sound that showed hope in the Japanese metal scene.Loudness would continue to rock stadiums home, but their Deep Purple routed music would change into a more popular act with the success of Thunder in the East. Though it selled well in America as nothing more than an exotic good the band viewed the limits of their Japanese vocalist and hired Mike Vescera in 1988 for another great hit Soldier of Fortune, though it failed to chart in America and Loudness's reign was about to end.
Sharing Loudness's success were two smaller, but equally incredible Japanese bands. These two bands Anthem led by the charismatic Eizo Sakamoto and Ezo. Ezo never got the credit it deserved in the states, but influences such modern artists as Bangles and Red Cross (not that those are metal?). Anthem were second only to Loudness in the 80's though not as successful Anthem didn't get destroyed by misguided western dreams of success. Eizo Sakamoto would help coin the two main hits: Wild Anthem and Warning Action. Anthem would continue to pump out success songs in their home country. However, the 90's represented a change in music not just in Japan, but globally. The wave of alternative rock ushered by grunge thanks to Nirvana's Nevermind released in 1991 hindered metal's dominance, and in Japan a threat from its own metal community in the form of extreme black metal on one hand and the glorious rise of Visual Kei music would end Anthem, Loudness, Earthshaker, and Ezo's reign as heavy metal kings.
In America as in elsewell metal had to hide underground and thrive as it always had, but this led to many scenes throughout the world and this happened in Japan as well. Around the beginning of the 90's the Japanese metal underground had a split. Many bands were influenced by the upcoming death metal and grindcore genres and opened to that as a influence, however there was a minority of bands who were influenced by the Bay Area Thrash Metal that brought the world Metallica, Megadeth, and of course Slayer.
The Slayer and other darker thrash bands would influence Japan's Black Metal scene. Black Metal drew on ambient sounds, and an almost punk like view of technology and the recording industry. Of these bands the two that became important were Sigh and Sabbat. While the Norweigian Black Metal scene of paganism, pseudo-satanism, death, discord, and church burnings spread these Japanese bands took the old samurai order and flipped it on its axis honoring the dead samurai of old. Sigh and Sabbath spew forth anti-Christian anthems and the reclaiming for their old family ties.
This of course made them popular with underground circuits, but there was a huge Japanese grindcore (similar to death metal) sector as well as a slow tuned down doom metal scene. Doom metal draws more from the tone of Black Sabbath songs and similar bands. A weird concoction of grindcore, death metal, and doom metal was seen in The Corrupted who you might find interestingly enough speak their lyrics in Spanish and have songs usually twenty to thirty minutes in length.
Sigh, Sabbat and Corrupted are not popular and by their lyrical themes and experimentation many could see why? However these movements didn't interfere with the old guard of Japanese metal scene to make other projects like in 1996 Anthem front men Eizo Sakamoto created Japanese metal cover band Animetal (see the play on words anime and metal). Animetal covered old anime and tokusatsu film songs in a metal style. Animetal throughout its career covered various songs, but also supplied to Rurouni Kenshin a song entitled "Eternal Future".
The underground scene of the 90's was full of bands that were typical of underground scenes else well though one could debate the weirdness and creativity of some of those bands with others of similar international scenes. By far Japan's success in metal wasn't from the underground it was from its mainstream support and in Japan the most successful style of heavy metal that until recently was an entirely Japan phenomena and that was Visual Kei Music.
Visual Kei Music? How does one describe such a phenomena? Visual Kei evolved along the outgrowth of glam metal in America, however the music coming from such bands as Buck-Tick, D'erlanger and leaders X Japan were not acoustic ballads that faded in a year from success. The Visual Kei movement was purely a Japanese phenomenon in its early years evolved eventually to what we see know as a global movement. The main success story of the movement was Luna Sea, Glay, and Sex Machine Guns, but no surprise it was the soaring guitar rifts and piano keys of X Japan that became the biggest.
X Japan originally known as just X was a Japanese band that started around 1985 with original vocalist Toshimitsu Deyama and Toshiki Hayashi. However it wasn't until 1987 that guitarist Hideto "Hide" Matsumoto joined the band that things started to become successful. It was with the released of their second album (because the first one is no comparison to the second in my opinion) Blue Blood in 1989 that the band started its slop into stardom. However, Art of Life released in 1993 was a beautiful composition of musical talent. Instead of a heavy follow-up the next album was the ballad rich Dahlia and would be the last album with Hide. By 1999 the popularity of the genre had hit is maximum and Luna Sea, Buck-Tick and X Japan would all call it quits by the end of the decade.
Japan's obsession with visual kei however can still be seen because Visual Kei's influence is almost completely hard to ignore. Even the alternative bands such as Maximum the Hormone are influenced to an extent in X Japan's flamboyant stage show. Modern metal Japanese acts such as Dir En Grey which not including German Ramnstein is the most successful non-English speaking band in the world. The Visual Kei tradition was seen Malice Mizer, though a pioneer in the movement its vocalist GACKT would embark on a successful solo career and besides hide before his late and tragic passing the only one of the movement to have a successful solo career.
The 2000's brought back heavy metal giants of the past, Deep Purple,Judas Priest, Iron Maiden, who had all released live albums in Japan were seen with the resurgence in the 90's of Europeon Power Metal who at various times such as Children of Bodom and Blind Gaurdian also released live albums from Japan. The resurgence of Anthem (For a while fronted by Graham Bonnet of Rainbow fame) , Loudness, and more recently X Japan headlining Japanese stage with domestic and forign acts at such large venues as Loud Park. It doesn't take one to understand that metal is and will be big in Japan in its future.
According to that post I made 3 weeks ago, tomorrow you all get to vote on the winner. so that people don't get upset at us if they lose, since we didn't choose because we like to give our readers the illusion of some involvement.
Also, for those of you who actually read this far, congrats, you're now at a third grade reading level, your reward is the runners up for this week: