Posted on Jan 03 2015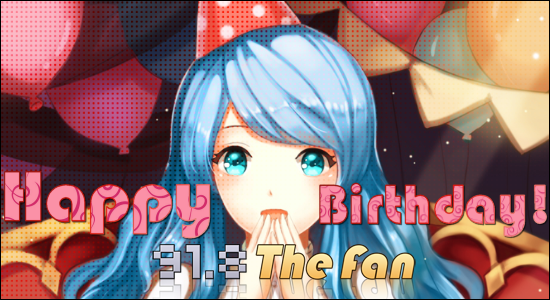 It's another year where we get to see Brie, our lovely mascot, and the radio grow older. We asked some of the staff to share their memories of some of the first songs they ever heard on the radio between now and January 3rd, 2010. Some staff members wrote their thoughts, others spoke it, and the brave few even sang it! What 91.8 The Fan memories stand out to you? Let us know in the comments!
Bobby Henshin
---
Happy Birthday 91.8 The Fan! Wow! It has been three years since I've joined The Fan, can you believe that? Back in November 2011, when gas was near $4 a gallon and single anime DVD volumes were $30 a piece. Now you can get whole seasons for that price. My how the times have changed. I sound old now…
Anyway, it has been an honor working with everyone here. This has been a big opportunity for me both as a fan of anime and a wanna be voice actor. So to everyone out there I say, thank you for staying with us and please continue to support us. We couldn't have done it without any of you. Now it's time to go save the day once more. Henshin A-Go-Go Baby!
Elk
---
The spark of inspiration Kana gave us to write for our birthday this year was "The first song you heard on 91.8 The Fan" or "The song that made you want to stay and keep listening", which also turned into "A song that brings you memories of 91.8 The Fan." Which is good because the first song I heard on 91.8 The Fan isn't on 91.8 The Fan, because I was around when we were putting together the radio, and we had placeholder music we were using to train up the first group of DJs. I listened to the same song over and over again while training because back then I think we had 2 songs to play. It was a lot easier to decide on your playlist though…
So instead of going for the first song route, I went to a good memory. A bunch of us DJs were hanging around, and I was doing my "uguu" voice. I don't remember exactly what happened, but I was pretty much dared to cover Lipstick by Orange Caramel with that voice, and I said I would. We all had a lot of fun that day. Fast forward years later and it never happened.
Until now…

Kanashimi
---
91.8 The Fan's existence is still rather surreal. I often think back on it wondering how it's even able to strive, an entity that has made it through both the fun times and the depressing times. I sometimes think that it's obviously the staff that work their butts off that make The Fan functional. Then again, the fans themselves are the only reason we exist as we currently do. Really, when it comes down to it, I believe it can all be accredited to raw passion. Everyone here loves the same subjects and while we might disagree on the small bits, it's that overarching adoration that keeps us on-air and enables us to keep working in hopes that the fans are listening.
It's difficult for me to pick a first song, realistically I could tell you the first song ever added to the station because adding music was and still is my job. There are songs I hear and I let out a sigh as if refreshing such as Jay Chou's Carnival and then there are those that get me to sing along such as Girls' Generation's Gee. Some songs I've played hundreds of times on my show through the years and others were a one time surprised. What I can confirm with certainty is all of the songs that are added remind me of the station. They remind me of the family I've gained and the friends I've lost. They empower me to continue on and seek out all of my dreams no matter how far-fetched. If 91.8 The Fan exists, why can't anything else I want to accomplish be impossible? There's nothing else in my life that has given me such strength and connected so many people together.
My memories of 91.8 The Fan stay in my heart and propel me forward. I can only thank the fans year after year, the ones who listen everyday or travel across the world to see us at a convention, for all your love and support. Without you I wouldn't have a family or the ability to wake up happy every day.
MakiMaki
---
Ahh, memories.
As we celebrate 5 years of 91.8 The Fan, I think back to what brought me here as a fan and eventually made me join the crew. Yargh! (the word "crew" made me say that out loud as I type this)
Anyways, as I sorted through the various memories of my time here, I found this little gem buried in the forums of our website: http://918thefan.com/forums/showthread.php?t=2680
HAHA! Thank goodness for forum history. I was struggling trying to remember what exactly led me to The Fan.
Twitter may have been the "direct" reason, but I now remember the reason why I even created my Twitter account: Anime music
Specifically, it was after watching the English dub of Angel Beats! on Netflix…yes, Netflix. Back in 2012 they actually had a decent catalog of anime. I think I also watched Rosario+Vampire, Clannad, School Rumble and Spice and Wolf on Netflix as well! I'm seriously laughing thinking about this, as I rarely watch dubs nowadays and Netflix is a distant memory after their subscription changes.
I've always been a fan of good music and love good soundtracks. Cowboy Bebop introduced me to the wonderful talents of Yoko Kanno in 1998 and opened the door to Japanese music appreciation itself.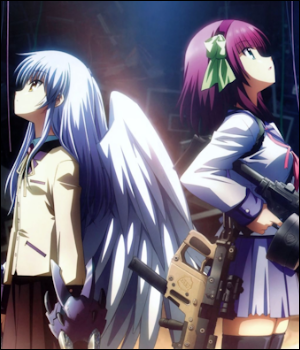 Back on topic. So I fell in love with the music from Angel Beats!, specifically, Jun Maeda's creations for the in-story band Girls Dead Monster. The story; The lessons; The music; All struck a chord within my soul. It had me thinking back of my days of highschool and some of the choices I did or did not make. The kids from Angel Beats! had various circumstances that led them to the "purgatory" world where the anime was set in. Some tried to do the right thing in their living days, others endured extraordinary burdens. In the end, each of them were given an opportunity to "live" again they way they had hoped to in their previous life. But their fears of leaving their old life kept them stuck in place.
I think about a quote from some Angel Beats! anime blog I read: "Don't be afraid your life will end, be afraid that it will never begin"
That quote resonates with me in many ways, but the greatest message I got from it is to get out and do everything you want to do. At least, try. You might fail, but at least there are no regrets of leaving things behind undiscovered.
I started playing the bass in July 2012, something that I had desperately wanted to try in highschool, but was given no encouragement. I by no means am great at playing the bass, but it's the idea that I gave it a chance and found a wonderful way to express myself that I could not have imagined a few years prior.
This leads me back to The Fan. It was Twitter that directed me here, but ultimately, it was the desire to do something different. Being amongst a community of people who were interested in many of the same things as I am was a unexpected surprise. If you know me, you'll know that I hated all things "social media" prior to 2012 and refused to use any of the tools for it (Twitter, Facebook, etc.)
However, after watching Angel Beats! I was curious about who the musicians were behind the music of the series. That led me to all sorts of research online and Twitter pages of various singers (marina nakamura, LiSA, etc.) Well to find out more I'd have to make a Twitter account, which I did in 2012. After following a variety of people, Twitter, in it's annoying, yet genius way popped @918thefan into my Suggested Follow list. I was curious and took a look at the feed. That's when I saw all sorts of activity revolving around everything from music, anime, conventions, industry interview with voice actors, etc. My eyes popped out from the amount of information that was being thrown into my eager brain!
Before I knew it, I was heading over to 918thefan.com and clicked on the "Listen Now!" button. The live stream popped up and my ears were filled with wonderful K-Pop for the first time. I can't remember the song, but I'm pretty sure it was during Kana's shift. My interest in The Fan grew and I worked up the nerve to create an account. I also felt the desire to support the station by becoming a Fanatic member and do anything I could do to help the station.
It was this ambition that led me to take a shot at applying for a DJ position at the station. I DJ'd live while I was in college at a local bar, so I figured it was time to give this hobby a resurrecting jolt into the modern age with an Asian music twist. I recorded several audition tracks, which was a lot of fun to do itself. I admit when I clicked on the "submit" button to send over my application and audition track to the station, I was pretty nervous. Even my call sign MakiMaki was born thanks to my application to the station! I was excited when I got the "you're hired" message back. I had no idea what I was getting myself into, but damned if I wasn't going to give it my best shot. If it worked, great! If it didn't, oh well at least I tried, right!?!
Over the last two years my work at the station has changed, but my desire and love for all things anime, music and all the associated elements has grown.
Happy 5th Birthday 91.8 The Fan! Hope the next 5 years will be just as fruitful and fun!!
Tyler
---
Here, Tyler talks about his first song as well as some memories of The Fan.
Zero Gravity
---
Long, long ago, I was a rather depressed individual. I had no job, I had friends that I grew rather tired of hanging out around, as I felt that their similar life of being laid back and unemployed was causing me to feel no need to expand my world. With two dogs, I essentially volunteered to stay home when the family went away on vacation. I hadn't left Connecticut since I was 16, and I had just turned 22. I had no money, no girlfriend, uninspiring friends, and my only escape was watching anime… hours upon hours of anime and browsing the internet. Finally it happened. On January 8th, 2010, my life changed forever, LittleKuriboh, from Yu-Gi-Oh Abridged had uploaded a video.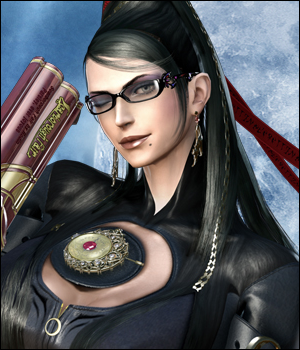 It was an ad for an online radio station called "91.8 the fan". Curiously, I followed the link to the site. And that's when the bud of my life began to bloom slowly. I remember the first song I heard was the theme to Bayonetta, "Mysterious Destiny", one of my favorite jingles to this day. Although at first it was all forum posting for me at first, I soon lurked my way into the IRC where I began meeting people and interacting with people I could connect with, some whom are not around anymore but plenty who still are.
An aspiration of mine was to do something I loved and have fun while doing it. And 918 the fan was hiring. They did conventions and met celebrities, oh how I wanted to do that. But what hope did I have? I had no DJ experience, I had no technological training, and the idea of actually talking to famous people, intimidated me. I've been applying for physical labor for the last 2, going on 3, years and no one would even give me so much as a call back. Well I applied anyway, I wanted to be a part of the action, maybe I would even get trained to do some of the skills I lacked, and I was rejected, three times.
Finally, on August of 2011, it happened. I received a message stating that I had been accepted as a DJ, and would be given the chance to try it out. I was introduced to the likes of Kana, Kibs, Elk, Cerulaine, Christmas, and more. It was all I ever wanted since I lost my last job, a chance. I can't delve into detail of my training, but they taught me everything I had to know, and it was incredible. I learned so many things, we discussed various games, anime and current events. It was like I new me had come to light. My next task came in 2012 when I was designated with two other staff members to be press at Anime Boston, my first ever convention as a member of staff… and it was one (keyword, one) of the best weekends of my life.
I had only ever attended ConnectiCon in Hartford, CT as an average weekender, who didn't do anything particularly special. But this was different, I was able to room with friends, I met celebrities and even attended a live concert of Kanako Ito, where i sat in the front row and just felt the energy. I hadn't slept in almost 24 hours though, and was so exhausted I didn't even notice Haruko Momoi talking to me and another staff member in the elevator on our way to our room, of which to this day, I still hope she didn't see me as rude, I honestly didn't know it was her until it was brought to my attention when I got off the elevator.
The BEST however, came later that summer in 2012, when I traveled for the first time, on a plane, and by myself, out of state, and flew all the way to California. At the time the furthest west I'd ever gone was North Dakota. I was in Anaheim, California for a whole week, and it was a fresh new experience for me. I met Kanashimi and Kibs personally and was about to crank up my con experience to eleven. I attended a maid cafe where the waitresses where super friendly, but I was utterly shy around girls so I felt extremely nervous, they fed you, played games with you and where just all out positive, and made you feel good. And I met the likes of Quinton Flynn and Tara Strong, and won a poster in a 100-man Janken match from character designer, animation director for Cowboy Bebop and Co-Founder of Bones studio Toshihiro Kawamoto!
It's been 2 years since Anaheim, and with changes in my life influencing, I've only been able to hit up ConnectiCon, not that I'm disappointed, ConnectiCon is getting bigger by the year! I'm hoping to hit up at least one more convention this year, but we'll see how much they need me. I still have my down moments, but that's when I like to sit back and play "Libera me from Hell", one of my absolute favorite songs from my absolute favorite anime "Gurren Lagann", to give me a morale boost. 91.8 The Fan influenced my lie in a way I can't describe. I owe them everything for finally giving me the chance to prove myself, and helping me change my outlook on life and live with more passion. It's everything I wanted, and nothing I didn't.
Please look forward to great new content in 2015!
~ DJ Zero
---
Now it's your turn! What was one of your favorite 91.8 The Fan moment? Was it a chat in the IRC? A song? An interview? Let us know below!