Posted on Jul 20 2012

July 20, 2012 – J-Pop veterans Swinging Popsicle released their new digital single, "You've Got A Friend," on iTunes America and Japan today.
Originally recorded by Carole King in 1971, James Taylor's version hit number 1 on Billboard's Hot 100 that same year, and won a Grammy for Best Male Pop Vocal Performance. Often included in Swinging Popsicle's live sets, vocalist Mineko Fujishima chose the song to thank the band's fans for "their friendship of 15 years."
Bassist and band leader Hironobu Hirata echoed the sentiment. "I feel that friends are one of the most important things in life. Respect and friendship have kept Swinging Popsicle together for 15 years, and there's no way we could continue without the support of our fans. So we want to cement our friendship with our fans through this song."
The release of "You've Got a Friend" is the band's first digital release in 4 years, following 2008's single "At Christmastime" and 2007's album "Go on."
Band members have kept busy in recent years with solo projects, including Hirata's work with Japanese R&B singer Kusuo and producing Super Sonico's Love & II+ Peace Plus, which debuted in the Oricon Top 50 in June 2012.
Links
Swinging Popsicle official website
Swinging Popsicle official Twitter (Hironobu Hirata)
Swinging Popsicle on USA iTunes
Profile
Swinging Popsicle was formed in 1995 when singer Mineko Fujishima and guitarist Osamu Shimada joined bassist Hironobu Hirata through a newspaper ad. The band's first effort was the Sunny Silent Park EP.
In 1998, their first self-titled full-length album Swinging Popsicle debuted from Sony Music Entertainment at Number 1 in the New Artists category, producing the hit singles "Joy of Living," "I Love Your Smile," and "Parade." After extensive touring, the band returned to the studio for their second album Fennec! (2000).
After starting strong with multiple Sony-label releases, Swinging Popsicle continued to build their international fan base with their independent releases of "Change" and "Orange." Four solid years of writing and performing live throughout Japan produced their most mature and powerful CD titled Transit (2004), featuring signature song "I Just Wanna Kiss You." In 2005, the band embarked on their first tour to Korea.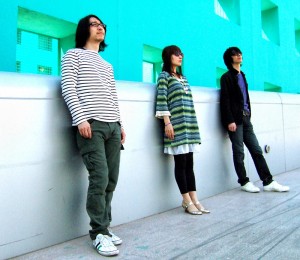 2006 marked their United States debut at Fanime MusicFest in San Jose, CA. The same year their song "Clash" was included in a compilation CD with the Korean manga "Cracker." Performing to regular sold-out one-man live shows in Japan, (some running as long as 3 hours!) the band continued to develop new material for their full-length album Go on (2007), which featured "rainbounds," "Clash," and "Chocolate Soul Music." In June 2007, they returned to America to perform at Anime Mid Atlantic in Richmond, VA, and New York City's Knitting Factory.
Swinging Popsicle has also contributed music to the NITROPLUS PC games "SUMAGA/STAR MINE GIRL," "AXANAEL," and various songs for the Nitroplus mascot Super Sonico's band, Daiichi Uchuu Sokudo.
Swinging Popsicle members have kept busy in recent years with various solo projects. Guitarist Osamu Shimada formed his own shoegazer band The Caraway, and lends support to Seikama II's Ace Shimizu Project, Face to Ace, Korean pop vocalist Taru, and popular J-Pop artist Fujii Fumiya. Vocalist Mineko Fujishima has performed backing vocals with top-selling J-Pop R&B artist Kusuo, and performs regularly with the experimental 9-drummer band DQS.
Bassist/band leader Hironobu Hirata has acted as producer for the NITROPLUS games "SUMAGA," "SUMAGA Special," "AXANAEL," and "Sonicomi," and provided musical arrangements for artists such as 7!!, Kanako Ito, Kazuhiro Watanabe, Taru (Korea), Yozoh (Korea), and Daiichi Uchuu Sokudo. Hirata also plays support bass for Kusuo and DQS, and was the band leader for Kusuo's 2012 Budokan live concert. His latest producer credit, Super Sonico's Love & II+ Peace Plus, debuted in the Oricon Top 50 in June 2012.
Swinging Popsicle was nominated as Best Japanese Rock Band by Shojo Beat magazine.
USA appearances include: Fanime (San Jose, CA), Anime Mid-Atlantic (Richmond, VA), Knitting Factory (New York City)