Posted on Oct 12 2012

October 11, 2012 – Japanese "kawaii metal" idol group Baby Metal performed a sold-out one-man show titled "I,D,Z – LEGEND 'I'" at Shibuya O-East on Saturday, October 6, in Tokyo.
The trio of Moa Metal, Su-Metal, and Yui Metal sang, danced, moshed, and screamed through a one-hour set including fan favorites "Ii Ne!" and "Headbangeeeeerrrrr!!!!!"
Set List
Baby Metal Death
Ii Ne!
Answer For Animation With You
U Ki U Ki Mid Night
Onedari Dai Sakusen
New Song by Su-Metal
Do Ki Do Ki Morning
Headbangeeeeerrrrr!!!!!
Ijime Dame Zettai
Official website: http://www.babymetal.jp
Facebook: http://www.facebook.com/BABYMETAL.jp
Videos
http://youtu.be/0GErGfHjHQ0
http://youtu.be/stmFt7GaM-Q
Baby Metal Profile
Moa Metal (Scream, Dance) / Su Metal (Vocal, Dance) / Yui Metal (Scream, Dance)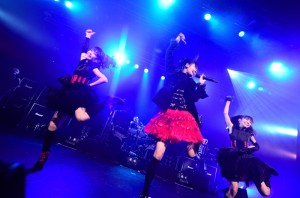 Formed in 2010, the 3-girl unit Baby Metal is based on the theme of "Kawaii Metal" (mixing the genres of J-Pop Idol and Heavy Metal). After releasing their music video for "DOKI DOKI?MORNING" in 2011 to worldwide acclaim (and shock!), Baby Metal performed at the Tokyo Idol Festival later the same year. In March, 2012, they released a collaboration single "II NE!" with Kiba of Akiba, and released their latest single, "Headbangeeeeerrrrr!!!!!" in July, 2012. Baby Metal will make their first overseas performance at Anime Festival Asia Singapore in November, 2012.