Posted on Jul 18 2012

GRIMES, Iowa, July 18, 2012 – Anime producer and distributor Right Stuf, Inc. and its Nozomi Entertainment division are pleased to announce the MARIA WATCHES OVER US, Season 2: Printemps DVD set will be available on November 6, 2012.
This new DVD set repackages the entire 13-episode second television season of Maria Watches Over Us, plus the Season 2 specials, in a single DVD keepcase. It features Japanese audio, along with English on-screen translations, and two English-language subtitle tracks: one with regular dialogue subtitles and a second, special subtitle track that retains the Japanese honorifics.
"funny, touching and engrossing" – Anime News Network
"this series is awesome" – Otaku USA
"Very recommended." – The Fandom Post
"Shelf Worthy" – Anime News Network's Shelf Life
"a truly beautiful anime" – Future Anime
The Maria Watches Over Us anime is based upon a series of novels – written by Oyuki Konno and illustrated by Reine Hibiki – that began in 1998 and spans 38 volumes. Short stories related to the series have been published in the shoujo (girls') magazine Cobalt, and a manga adaptation was serialized in the anthology magazine Margaret. The series' publisher, Shueisha, produced 14 drama CDs (featuring radio-style plays), and there are also several Internet radio plays, a live-action film adaptation and a spin-off novel series.
The anime adaptation of Maria-sama ga Miteru – also referred to by fans as "MariMite" – encompasses two, 13-episode TV seasons, a 5-episode OVA (original video animation) as its third season, and a 13-episode fourth season, which aired on Japanese television during 2009. All four seasons are licensed for English-speaking audiences by and available on DVD from Right Stuf's Nozomi Entertainment.
Maria Watches Over Us features animation by Studio DEEN (Fruits Basket, Gravitation, Rurouni Kenshin), scripting by Reiko Yoshida (ARIA, Boys Over Flowers, Story of Saiunkoku), and direction by Yukihiro Matsushita (Seasons 1-3; Blue Dragon, Sugar Sugar Rune) and Toshiyuki Kato (Season 4; Full Moon O Sagashite, CODE-E).
Visit maria-sama.rightstuf.com for more information about Maria Watches Over Us (Maria-sama ga Miteru), including detailed character profiles, trailers, downloads and more.
About Maria Watches Over Us, Season 2: Printemps
The spring term is beginning for the students at Lillian Girls' Academy. Friends are reunited, but for the Yamayuri Council, it's a bittersweet time. Yoko, Eriko, and Sei are busy preparing to depart Lillian, while Sachiko, Rei, and Shimako are doing their best to ensure that their dear sisters receive a memorable commencement. Sei's departure will leave a sizable hole in the White Roses and filling it won't be easy. But is there anyone who will appeal to Shimako enough to become the next Rosa Gigantea en bouton?
Contains the complete 13-episode second season, plus Season 2 specials.
Maria Watches Over Us, Season 2: Printemps
Format: DVD (Litebox)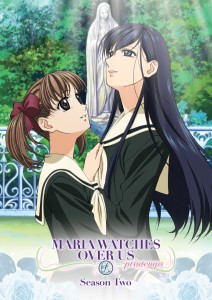 Pre-Book: 10/2/2012
Street Date: 11/6/2012
Runtime: 325 minutes
Genre: Drama
Suggested Rating: 13+
Audio: Japanese (Dolby Digital 2.0 Stereo)
Subtitles: 2 English subtitle tracks, plus English on-screen translations
Video: 4:3, Color
Catalog #: RSDVD1282
ISBN: 1-57032-720-3
UPC: 7-42617-1282-2-6
SRP: $39.99
Discs/Set: 4
Case Quantity: 30
Features: Two English subtitle tracks (standard dialogue subtitles, plus a special subtitle track that includes Japanese honorifics) and English on-screen translations. PLUS: Season 2 specials 1-6, liner notes and Nozomi Entertainment trailers.
About Right Stuf, Inc.
Currently celebrating its 25th year in business, Right Stuf, Inc. was one of the first players in the U.S. Japanese Animation ("anime") industry, as both an anime producer/distributor and a retailer. Right Stuf works to promote knowledge of its own products, as well as the anime and manga industry, in general, through its online storefront at RightStuf.com and a variety of media including podcasts and special publications. Its video and print publishing division includes the Nozomi Entertainment, Lucky Penny, and 5 Points Pictures studio-labels.
About Nozomi Entertainment
A publishing division of Right Stuf, Inc., Nozomi Entertainment is its signature label, dedicated to high-quality releases for collectors. True to the Japanese word that inspired its name, Nozomi's focus is on "what fans want." By focusing on a limited number of anime properties each year, the Nozomi production team ensures each release receives the care and attention to detail it deserves.
From anime classics like Astro Boy, Kimba and Gigantor to modern comedies, dramas and favorites such as The Irresponsible Captain Tylor, His and Her Circumstances, Gravitation, Ninja Nonsense, The Third: The Girl With the Blue Eye, Emma: A Victorian Romance, Maria Watches Over Us, Aria, Gakuen Alice, Rental Magica, Dirty Pair, Junjo Romantica and Revolutionary Girl Utena, Nozomi Entertainment releases quality programming for fans of all ages and interests.
For more information, visit www.rightstuf.com and www.nozomient.com.