Posted on Jul 28 2012

GRIMES, Iowa, July 25, 2012 – Anime producer and distributor Right Stuf, Inc. and its Nozomi Entertainment division are pleased to announce the DVD re-release of Boogiepop And Others will be available on October 9, 2012.
Boogiepop And Others, the live-action prequel to the Boogiepop Phantom animated television series, will be available for a reduced suggested retail price of $9.99. It features direction by Ryu Kaneda (Video Girl Ai movie, and Negima! TV drama) and a screenplay by Sadayuki Murai (Boogiepop Phantom, Mushishi movie, Steamboy).
Created by Kouhei Kadono, the acclaimed Boogiepop series spans more than 14 light novels, multiple light-novel spin-offs and two manga series, in addition to its live-action and animated adaptations.
A new, value-priced DVD collection for the 12-episode Boogiepop Phantom anime series is now available for a suggested retail price of $29.99.
Visit boogiepop.rightstuf.com for more information about the Boogiepop film and anime series, plus trailers and desktop wallpapers.
About Boogiepop And Others
The cold dead of night is a dangerous time to be near Shinyo Academy. Girls have begun to mysteriously disappear without a trace, and the school is alive with rumors. Some say the girls are just runaways, but with each new disappearance, a lingering fear grows ever stronger – fear that a shinigami… the very spirit of death… is prowling through the streets of the city. They say you never see it coming… a lone whistle splits the dark silence, and it suddenly appears behind you to steal your soul…
However, Nagi Kirima has never feared the darkness. She's determined to uncover the truth, but there aren't many clues to follow. A mysterious new drug that's appeared on the streets… A homeless man who's more than he seems… A girl still haunted by a serial killer who died five years ago… Nagi must take every fragment and piece together the entire story, before more students end up missing… or dead.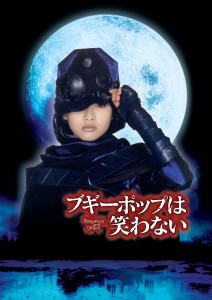 Format: DVD
Pre-Book: 9/11/2012
Street Date: 10/9/2012
Runtime: 158 minutes
Genre: Drama / Horror
Suggested Rating: 13+
Audio: Japanese (Dolby Digital 2.0 Stereo)
Subtitles: English subtitles
Video: Letterbox, Color
Catalog #: RSL9015A
ISBN: 1-57032-734-3
UPC: 7-42617-1286-2-2
SRP: $9.99
Discs/Set: 1
Case Quantity: 30
Features: History of Boogiepop, director's commentary, storyboards, "Boogiepop in Yûbari" premiere featurette, "Making of Boogiepop" featurette, cast and staff bios, original Boogiepop trailers and Right Stuf trailers.
Product specifications and content may be subject to change.
About Right Stuf, Inc.
Currently celebrating its 25th year in business, Right Stuf, Inc. was one of the first players in the U.S. Japanese Animation ("anime") industry, as both an anime producer/distributor and a retailer. Right Stuf works to promote knowledge of its own products, as well as the anime and manga industry, in general, through its online storefront at RightStuf.com and a variety of media, including podcasts and special publications.
About Nozomi Entertainment
Right Stuf's production division, Nozomi Entertainment, is dedicated to the highest quality releases. True to the Japanese word that inspired its name, Nozomi's focus is on "what fans want." By focusing on a limited number of anime properties each year, the Nozomi production team ensures each release receives the care and attention to detail it deserves.
From anime classics like Astro Boy, Kimba and Gigantor to modern comedies, dramas and favorites such as The Irresponsible Captain Tylor, His and Her Circumstances, Gravitation, Ninja Nonsense, The Third: The Girl With the Blue Eye, Emma: A Victorian Romance, Maria Watches Over Us, ARIA, Gakuen Alice, Rental Magica, Dirty Pair, Junjo Romantica and Revolutionary Girl Utena, Right Stuf and Nozomi Entertainment produce quality programming for fans of all ages and interests.
For more information, visit www.rightstuf.com and www.nozomient.com.