Posted on Jul 16 2012

SAN MATEO, Calif. — July 16, 2012 — Capcom®, a leading worldwide developer and publisher of video games, today announced that JoJo's Bizarre Adventure HD Ver. will be available to purchase from PlayStation®Network on August 21st for $19.99 and Xbox LIVE® Arcade on August 22nd for 1600 Microsoft Points.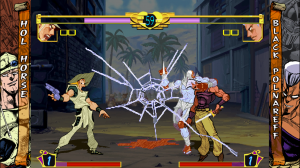 A fighting game based on the popular Japanese manga series and previously released arcade games, JoJo's Bizarre Adventure HD Ver. features stunning HD visuals and unique, original gameplay mechanics that can be seen today in other Capcom fighting titles. Fans of the series will still be able to enjoy the classic arcade style appearance with an option to play in Arcade SD Mode, preserving the high-quality pixel art seen in the original releases.
In JoJo's Bizarre Adventure HD Ver. the story centers around the powerful Joestar family, including well known hero Jotaro Kujo. Players will be able to unleash powerful super combos and perform special attacks with their characters by executing their supernatural powers, known as Stands. Each character's Stand appears in-game just as they did in the manga, offering another strategic layer of fighting and unique gameplay. For example, players can use Jotaro's Stand, 'Star Platinum' to perform 'Blazing Fist' and attack enemies together with Jotaro, causing massive damage to the opponent.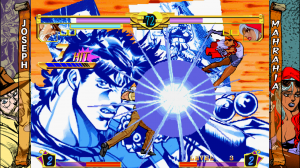 For the first time since the original Dreamcast™ version launched over eight years ago, the ability to play against competitors online will be revived in JoJo's Bizarre Adventure HD Ver. In an online matching system fans will recognise from Super Street Fighter® IV and Marvel® vs. Capcom® 3, gamers will be able to choose their opponents based on various factors including location, skill and connection speed. Battle points can be earned for characters and player points for individual player strengths, both of which will increase your skill and push you further up the global leaderboards.
JoJo's Bizarre Adventure HD Ver. introduces an all new multiplayer lobby system where fighters will be able to compete with up to eight players. It's a battle of winner stays on as players fight to keep their place in the game or be forced to become a viewer as another replaces them in the clash to be champion. Gamers will also be able to share those victorious moments from their fights and learn moves from the best via the new video function that allows them to save the replay of their fight and share it with others online.
About Capcom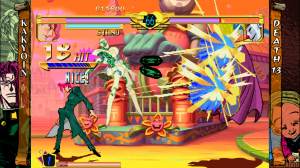 Capcom is a leading worldwide developer, publisher and distributor of interactive entertainment for game consoles, PCs, handheld and wireless devices. Founded in 1983, the company has created hundreds of games, including best-selling franchises Resident Evil ™, Street Fighter ™, Mega Man ™ and Devil May Cry ™. Capcom maintains operations in the U.S., U.K., France, Germany, Tokyo, Hong Kong and Korea, with corporate headquarters located in Osaka, Japan. More information about Capcom and its products can be found at www.capcom.com or www.capcom-unity.com.
Capcom, the Capcom logo, Devil May Cry, Mega Man and Resident Evil are either registered trademarks or trademarks of Capcom Co., Ltd. Street Fighter is a registered trademark of Capcom U.S.A., Inc. "PlayStation" is a registered trademark of Sony Computer Entertainment Inc. Xbox, Xbox 360 and Xbox LIVE are either trademarks or registered trademarks of the Microsoft group of companies.