Posted on Aug 09 2012

We have a ton of assets to share with you for Code of Princess, our upcoming mix of side-scrolling beat 'em up with action RPG peppered in, coming to Nintendo 3DS later this year.
First off: an all new trailer focused on the game's cast of memorable characters!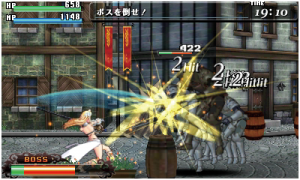 Also, we're quite excited to launch the full website for Code of Princess. Dive into the backstory, gameplay mechanics, and beautiful art work of the upcoming 3DS game by clicking below and giving the site a visit: http://www.atlus.com/codeofprincess/
Lastly, we can today confirm a final release date for the game:
FINAL RELEASE DATE = 10/9/2012
Code of Princess is set to release exclusively for Nintendo 3DS. Folks who reserve their copy can guarantee themselves the "Sound + Visual Book," a lovely extra full of art and music from the game. For more information, visit http://www.atlus.com/codeofprincess.