Posted on Oct 10 2012

Still need convincing that Persona 4 Golden is the first great RPG for PS Vita? This trailer is for you!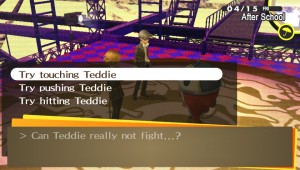 Persona 4 Golden for PS Vita is an RPG epic of tremendous scale. Easily lasting in excess of 100 hours for most players and packed with subtle and not-so-subtle improvements over the last release of the game, there simply isn't as compelling and as satisfying a handheld gaming package as this!
Still… Instead of giving you text and bullets about why Golden is:
a) The best version yet
&
b) A must-buy for Vita owners
…We've decided to just show you with this "New Features" trailer!
Still hungry for more information? Why not visit the game's official website?
Persona 4 Golden for PS Vita launches in stores and on PlayStation Network on 11/20… Tell a friend!