Posted on Aug 26 2012

Irvine, California — August 23, 2012 — Atlus, the video game brand of Index Digital Media, Inc., today unveiled Persona®4 Golden™: Solid Gold Premium Edition, an extremely limited deluxe version of the highly anticipated upcoming RPG for PlayStation®Vita (PS Vita) handheld entertainment system. With a production run of only 10,000 units, fans are highly encouraged to pre-order in order to secure their copy.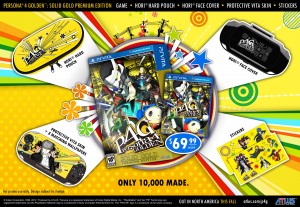 "What better way to celebrate the expanded and enhanced version of one of our best games of all time–not to mention Japan's best-selling PS Vita game of all time more than twice over–than a premium edition packed with rare extras?" mused Aram Jabbari, Manager of Public Relations and Sales at Atlus. "The release of Persona 4 Golden in Japan marked the single largest spike in hardware sales since the start of the year and it continues to be among the country's most popular games. Acknowledging comparable levels of excitement in North America–indicated by projections that P4G will be the most pre-ordered single-platform game in Atlus history–we are thrilled to offer the region-exclusive Solid Gold Premium Edition.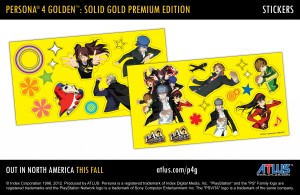 It is loaded with as many prized collectibles as possible, all of which are the exact same items made available in Japan, down to the use of the original title, Persona 4: The Golden. We hope it will be a treat for series faithful and an irresistible temptation for current and prospective PS Vita system owners. Fans are advised to resist the urge to test the Premium Edition's authenticity by biting on it."
Every copy of the Solid Gold Premium Edition includes:
The game: One of the best RPGs of all time is bigger and better than ever before, enhanced to take full advantage of the power of Vita.
Hori® Hard Pouch: Sturdily crafted and stylishly customized, this case has a flap for storing PS Vita cards that also guards the screen.
Hori® Face Cover: Offers lightweight yet effective protection without blocking any major ports, meaning you don't have to take it off to play!
Protective Skin: Adorns your PS Vita with the stylish, vibrant aesthetics of Persona 4 Golden and also includes 8 matching character wallpapers. This same skin is being offered in limited quantities as a bonus for fans who pre-order P4G at participating retailers.
Stickers: Featuring some of the popular stars of Persona 4, these stickers can be used to decorate anything you can think of!
Persona 4 Golden: Solid Gold Premium Edition releases with an MSRP of $69.99 this fall alongside the standard version of the game, both exclusively for PS Vita system. For more info, visit www.atlus.com/p4g.
About Atlus
Video game publisher Atlus has established itself as one of its industry's most consistent, celebrated companies. With proven success across a variety of genres and platforms, including enthusiast-oriented games like the Shin Megami Tensei® franchise of award-winning, fan beloved roleplaying games (including the hit Persona® sub-series of games and the prestigious Nocturne), the groundbreaking, genre-defying Catherine™, and the highly acclaimed Demon's Souls™, Atlus provides quality critically acclaimed interactive entertainment to a wide spectrum of customers.
Atlus is a brand of Index Corporation and its privately held subsidiary Index Digital Media, Inc.
For breaking news, special promotions, insider info, and more, visit http://www.atlus.com/faithful to join the ranks of the Atlus Faithful!